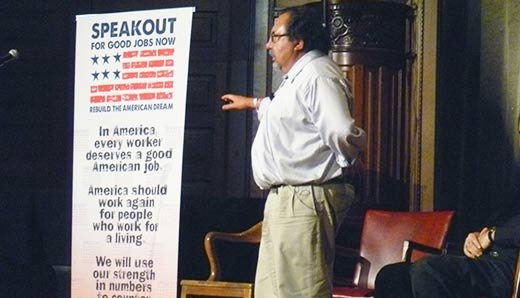 MINNEAPOLIS – The Wesley Church was host to the kickoff of the Congressional Progressive Caucus's "Good Jobs" tour in the Twin Cities last weekend.
The caucus's co-chair, Rep. Keith Ellison, D-Minn., welcomed the crowd to the public hearing, saying, "America should work again for people who work for a living." He continued, "Americans have to use their strength in numbers to counter corporate dollars."
The tour is being used to promote public support for addressing the unemployment crisis.
Ellison was flanked by caucus co-chair Reps. Raul Grijalva, D-N.M., Alan Grayson, D-Fla., Jared Polis, D-Colo., and former Congresswoman Mary Jo Kilroy of Columbus, Ohio.
Rep. Grijalva charged that the Republicans have shifted U.S. policy from concern for "the greater good to the good of a few."
Speaker after speaker testified at the hearing on the effect of the economic crisis on their lives. Several female Wal-Mart employees spoke about the company's alleged unfair business practices. The Supreme Court yesterday dismissed a class action suit brought by Wal-Mart's women workers. Some of the women had been involved in a group of Wal-Mart employees who recently took their complaints directly to the Walton family at Wal-Mart corporate headquarters.
Many of those testifying were women: a student spoke to her fear that a desired career in social work is now threatened by government cutbacks; another hotel worker related poor working conditions; an older worker explained the effects of being laid off without adequate training to find work.
The panel suggested to those gathered that there was a way to change things through activism and the upcoming elections. They urged the crowd to write their own stories and send it to Congress via the tour's website, or to call the Capitol switchboard and talk to their representatives directly to support the call for good jobs for American workers.
Public hearings will also take place in Milwaukee, New York, Miami, Pittsburgh, Philadelphia and many more locations. A full list of stops can be found online.
Photo: Jordan Farrar/PW