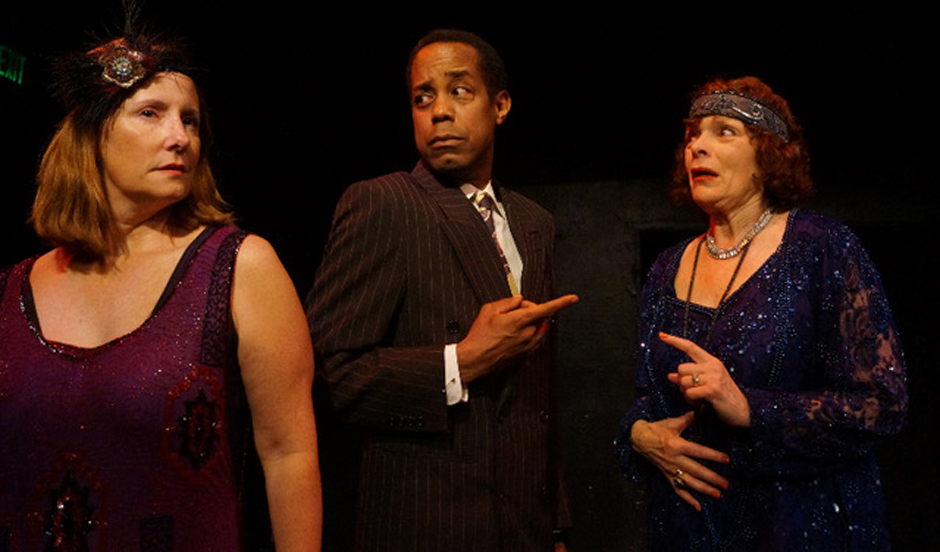 LOS ANGELES—Around 90 years before Stormy Daniels burst onto the scene, Mae West shook vaudeville, Broadway, Hollywood and then Las Vegas. Buzzworks Theater Company's Sex is a buzzworthy revival of West's play. After Sex's 1926 Broadway premiere, the comedy's playwright/star "was arrested, fined $500, and sentenced to ten days in prison," according to Gregory D. Black, author of Hollywood Censored, which features a picture of West from her 1933 movie She Done Him Wrong on the book's cover.
A faux radio news bulletin about West's bust (no pun intended—the actress was so well endowed she gave her name to life preserver jackets) cleverly opens this production. While the two-acter's dialogue may have seemed cutting edge during the Roaring Twenties, to 21st-century ears used to a discourse continuously coarsened, from pop culture to the presidency, many of the lines today sound corny and campy.
But if this period piece's vernacular is now outdated, Sex's subject matter remains edgy, as it deals with a demimonde of prostitutes and gigolos. Along with sex workers, lesbianism and cross dressing are also on display: Both David Errigo and Carla Valentine play multiple parts, including gender fluid characters such as a French maid and sailor. (West's defiant follow-up to Sex was a daring play about homosexuality called The Drag, which was prohibited from being performed on the not-so-Great White Way.)
Sex's action takes place in Montreal, Trinidad and New York, as it tracks the peregrinations of the hustler West originally played, Margy LaMont (here portrayed by Buzzworks founder Andrea Hutchman), as she in turn follows the fleet in pursuit of loot. Margy may be a sex worker, but in the show's liveliest scene set in a Caribbean nightclub, she and her fellow cast members clad in über-Carmen Miranda-type costumes sing up a storm, and Margy reveals herself to be a talented torch singer.
During this zany scene talented eye candy Kandace Lindsey also lights up the stage: A flute even delightfully descends from the rafters for her to go all Jean-Pierre Rampal on. Susan Edwards Martin (who also portrays the "slutty" matron Clara Stanton and played the Lady Blues character in Torch Song Trilogy on Broadway) also appears to tickle the ivories as she warbles in Sex's most enjoyable, vibrant sequence that is alone worth the price of admission.
Act Two, which takes Margy from the West Indies up to New York with her younger, naïve beau, the millionaire Jimmy Stanton (Ryan Phillips), has some clever plot twists that I didn't see coming before the intermission. In her homage to Mae West, Hutchman faces the same challenges other actors confront when portraying well known characters or actual historical personages familiar to audiences. Although Margy is not Mae per se, this is whom West depicted onstage in the play she wrote. In her impersonation of Mae, Hutchman captures West's haughty demeanor and sheer chutzpah, as well as the vulnerability beneath her persona.
For like Margy, Diamond Lil and other roles that woman whom W.C. Fields called "My Little Chickadee" created and/or acted, she is no mere golddigger per se. While Mae's characters often merrily used her beauty and considerable charms to profiteer off of men and their fragile egos and libidos, she actually sought men who could offer her true love, which included sexually satisfying and pleasing her. (Consider Cary Grant in the 1933 classics She Done Him Wrong and I'm No Angel, which made him a star, just as Mae's 1970 gender bending Myra Breckinridge propelled a pre-Magnum Tom Selleck towards stardom.) As Sex's suave British Naval Lt. Gregg, the dapper Wayne Wilderson may be another case in point.
Beneath her blonde wig, it's a monumental task for Hutchman to compete with West's renowned buxom beauty and persona, especially when Mae was only about 33 years old. (West was 40 when she took Tinseltown by storm with her legendary hourglass figure and outrageous one liners.) Nevertheless, by the end of the play—which grows on you as it unfolds, once the outdated dialogue has stopped distracting 2018 viewers—the zinger-slinging Hutchman's impersonation of West (and/or of a character Mae originated) won me over, as did the play itself. She done her right!
Other standouts in the ten-person cast well directed by Sirena Irwin include Lowam Eyasu, who plays the down-on-her-luck hooker Agnes. An immigrant from Eritrea, Eyasu's sparkling million dollar smile is easy on the eyes. When David Errigo smiled he reminded me of a young Jim Carrey, and the rakish actor does a bit of sly scene-stealing when he hilariously performs a song, about rowing boats, full of Mae West-like double entendre panache. His French chambermaid (wink wink nod nod) is also droll, just as Davey Johnson's sleazy man on the make Rocky will make you smile.
Mae West was not only a controversial gender iconoclast but also something of a racial trendsetter, as well. It's interesting to note that the Buzzworks cast is integrated, about evenly divided between Black and white actors. Miscegenation between the torch singer called the Frisco Doll (Mae's alter ego in 1936's Klondike Annie) and Chan Lo, the Chinese owner of the San Francisco Chinatown gambling den she croons in, is strongly suggested, including in the Doll's witty ditty with its eyebrow-raising title "I'm an Occidental Woman in an Oriental Mood for Love."
Beyond that, Mae's screen characters often had black maids. On the one hand, the hired help expressed race relations under white supremacy by reinforcing West's "complete control," such as when she gave Gertrude Howard a legendary order in Angel: "Beulah, peel me a grape!" But as Donald Bogle, the pre-eminent historian of the African American screen image, goes on to note in his seminal Toms, Coons, Mulattoes, Mammies, & Bucks: "the Mae West films represented…the domestic servant as trusted good friend." Maids such as Louise Beavers' Pearl in Wrong are also Mae's confidantes and perhaps even (platonic) girlfriends, which in the 1930s may have crossed the color line, just as West transgressed sexual boundaries. And although Lt. Gregg was probably not written by West as a Black character per se, the portrayal of one of Margy's suitors by an African-American artist is arguably in keeping with Mae's pushing-the-envelope sensibility.
The maestro and mistress of the double entendre, Mae West's biggest transgression was arguably that she was not only an openly sexual female, but a woman who derived pleasure from and enjoyed sex. As this naughty, bawdy bard and actress grew up in the Woodhaven neighborhood of Queens, as I—and Oscar winner Adrien Brody—did, I've always enjoyed going West. According to Gregory D. Black, in the 1930s the imposition of the Hollywood Production Code "effectively ruined the movie career of that saucy favorite, Mae West." But in our more enlightened age, like the immortal Mae West herself, you too, will enjoy Sex. Why don't you come up and see it sometime?
Sex plays Fri. and Sat. at 8:00 pm and Sun. at 7:00 pm through June 17 at the Hudson Theatre Mainstage, 6539 Santa Monica Blvd, Hollywood 90038. For tickets see here.