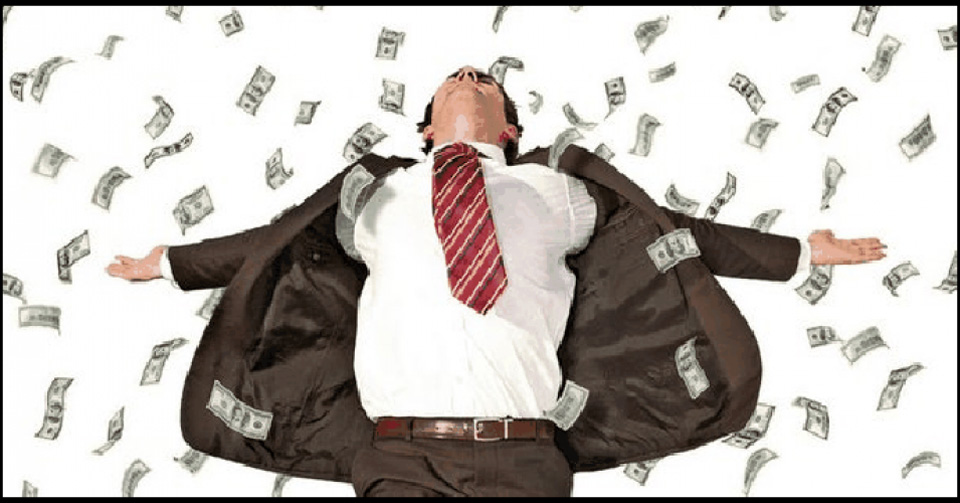 Meet Sundar Pichai, the $100 million man.
Pichai, chief executive officer of Google, led the AFL-CIO's annual Executive Paywatch listings in total compensation last year: $100,632,102 in pay, stock options and bonuses. It's his third straight year of nine-figure pay and perks, mostly in stock, other sources show. (People's World and PAI writer Sam Pizzigati wrote his own list of greediest CEOs last month and got a slightly different result.)
The second-place finisher, Thomas Rutledge of Charter Communications, was just over $2 million behind.
The outsize salaries to corporate CEOs such as Pichai and Rutledge show the chasm between the rich and the rest of us, says AFL-CIO President Richard Trumka.
The average CEO last year earned $13.1 million in pay and perks, compared to a median wage of $37,600 for U.S. workers, the Paywatch site notes. That means the CEO earns 347 times the worker earns, or almost as much in a day as the worker does in a year.
"This year's report provides further proof the greed of corporate CEOs is driving America's income inequality crisis," said Trumka. "Big corporations continually find ways to rig the economy in their favor and line their CEOs' pockets at the expense of the workers who make their businesses run.
"Too often, corporations see workers as costs to be cut, rather than assets to be invested in. It's shameful that CEOs can make tens of millions of dollars and still destroy the livelihoods of the hard-working people who make their companies profitable," he continued.
The Paywatch report not only discloses executives' high compensation, but notes that many well-paid CEOs export U.S. jobs overseas. Many keep profits offshore, too. That lets their firms evade U.S. taxes — $767 billion last year alone from 322 firms within the Fortune 500 — though they use U.S. services. Those firms collectively stashed $2.6 trillion offshore.
As for exporting jobs, that's what Irene Rosenfeld, CEO of Mondelez International, did last year to almost 600 union workers – members of the Bakery, Confectionery and Tobacco Workers and Grain Millers – at the Nabisco Oreo plant on Chicago's South Side.
Not satisfied with making $16.7 million, Rosenfeld demanded the Chicago workers cut their pay to Mexican levels of several dollars an hour, and eliminate their health care, or Nabisco would move its Oreo production line to Mexico. They didn't and she did.
"Greedy CEOs are continuing to get rich off the backs of working people," said Michael Smith, who lost his job last March. "I loved working at Nabisco, and I took pride in the work I did to make a quality product. It's not as if the company isn't profitable. The Oreo alone brings in $2 billion" annually "and the CEO makes more in a day than most of us made in a year. I just don't understand the disrespectful attitude toward working people," he told the AFL-CIO.
(BCTGM has called for a boycott of Mexican-made Oreos. For U.S. union-made Oreos, check the barcode. The union deciphered it to let consumers know which cookies are which.)
Other examples from the Paywatch report, gleaned from federal filings, include:
Apple led all companies in avoiding taxes, keeping $230 billion in profits overseas. It also paid CEO Tim Cook $8.75 million.
General Electric, whose former CEO, Jack Welch, once boasted about wanting to put factories on barges to evade U.S. taxes, unions, environmental standards and labor laws, stashed $82 billion overseas. It was fourth in that tactic, behind Apple, Pfizer and Microsoft. CEO Jeff Immelt, Welch's successor, took home $21.32 million in pay and perks.
GE was also one of 18 Fortune 500 companies to pay no U.S. income taxes at all from 2008-2015, the Paywatch report says.
The Dodd-Frank financial reform law, passed after Wall Street greed caused the Great Recession, ordered publically traded companies to start publically reporting the ratios between their CEOs' pay and perks and their median workers' pay and perks.
What the report does not say is that corporations challenged that rule in court and lobbied the responsible agency – the Securities and Exchange Commission – to delay writing regulations to force such disclosure. The SEC is still working on the rules.
Not satisfied with that solution, corporate lobbyists easily convinced House Financial Services Committee Chairman Jeb Hensarling, R-Texas, to repeal that ratio disclosure in his overall Dodd-Frank repeal bill, now pending.