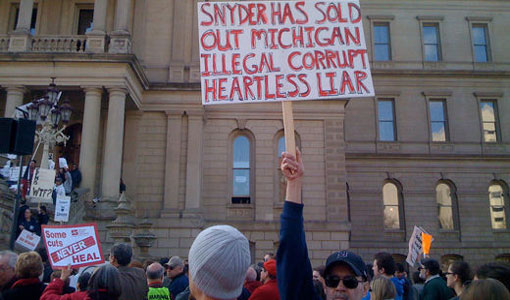 LANSING – Public school employees charged that Michigan State Senate Bill 1040 would severely slash retiree health and pension benefits. More outrageous is that those hired after Jul. 1, 2012, will not receive health care benefits upon retiring.
Incredibly, those slashed benefits come with higher costs and will carve out a bigger chunk of their pay.
"Why are we always being attacked?" asked JoAnn Webster Bird, a retired teacher from Zeeland, this past Wednesday at a State Capital press conference organized by the Coalition for Secure Retirement.
For those who think teachers carry a light load they need to listen to Bird. "I taught German 1, 2, 3, and 4, Spanish 1, 2, and 3 and always had two English classes. All those classes meant five different lesson plans every day."
She arrived at six in the morning and left 10 hours later. But her day was not done as she spent three hours every night grading papers. Free weekends? Forget about it. Bird spent 17 hours every weekend preparing lesson plans and grading papers. She did that every day for 30 years.
Was she an exception? Bird says she was "not too different from a lot of teachers."
SB 1040 says current teachers must wait until they're 60 before receiving retiree health benefits. Coming out of college you'd have to be a full time employee for 38 years. Bird said that is not possible. "It's a very demanding job, physically, emotionally, mentally." Bird herself ended up with three major surgeries.
Public school employees will be paying much more for their reduced benefits. For Bird it will mean her monthly fee for health care jumping from $155.00 to $239 for her and her husband. This is after prior increases in her Blue Cross / Blue Shield insurance premiums of $200.00.
Lynn Hotia, a retiree from Macomb County Community College, said, "I don't believe I'm going to be able to make it." She sees four doctors to deal with her medical issues and says, "I will have to make a choice of whether I see this doctor today and maybe in six months, I can afford to see that doctor. I'll have to pick and choose. My pension is not large."
What impact would these proposed changes have on those considering careers in education?
"I'm shocked with the continual attacks; the best and brightest will not enter the profession," said Gary Scott, student teacher at East Lansing Public Schools and a recent graduate from a five year program at Michigan State University.
"I'm going into teaching, spent five years at Michigan State, and I'm not going to have retirement benefits? Wages, salaries, benefits, working conditions; it's just attack after attack after attack and it doesn't stop," he said.
As bad as it is for teachers, many of those affected are the less well-paid paraprofessionals and administrative assistants.
Administrative Assistant Lois Murray who has 33 years in the system takes home just $1300 every two weeks. "If the proposed changes become law, we will not be able to afford to retire. I'll have to work until I die."
Where has the money for education gone? One could start with the decision by Gov. Snyder to take a billion dollars from schools to fund his tax break for big businesses.
At a town hall meeting in Ottawa County, Bird said Republican Senator Arlan B. Meekhof told his audience, "everybody out there could be a millionaire if they wanted to."
That outrageous statement was not going to be greeted with silence by Bird. She shot up her hand and asked, "What if our idea of success is not being a millionaire but making a difference in the world?"
As they go forward toward the November elections, those in the teaching profession plan to make a difference at the polls.
Photo: Michigan residents protest anti-union policies of the state's Republican Governor Rick Snyder. (by Rickroll'd/cc by 2.0/Flickr)
TOWN HALL May 2 – Confronting the COVID Economy: Women Fight Back