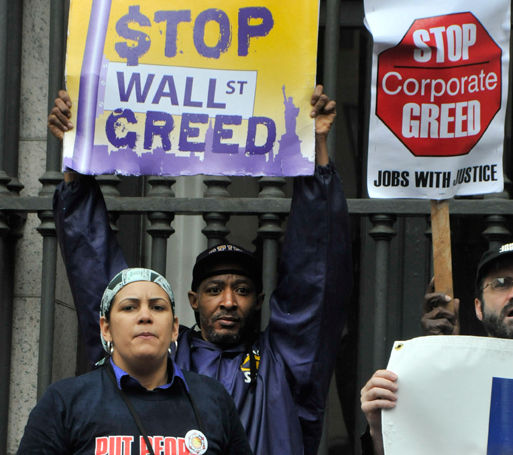 Millions of Americans are almost certain to lose their unemployment checks this month after Congress failed to extend benefits by the Nov. 30 deadline.
GOP senators blocked a motion by Sen. Jack Reed, D-R.I., to extend the benefits. Meanwhile Republican leaders, according to the Associated Press, quietly collected senators' signatures on a pledge to block action on any measure that Democrats support during the current lame duck session of Congress.
The pledge, if carried out, would doom attempts to repeal "don't ask don't tell" and pass the DREAM Act.
Mainstream economists were prominent among those who quickly condemned the GOP's threatened filibuster of an extension of jobless aid benefits.
Mark Zandi of Moody's Analytics said every dollar spent on jobless aid yields $1.60 into the economy. "If benefits are not restored holiday sales growth will be shaved by nearly a percentage point and fourth quarter economic growth will be cut by 0.3 percentage points. A million jobs could be lost in the next year as a result."
The benefits extension was blocked with Christmas only four weeks away. Jobless workers who gathered Dec. 1 at the Unemployed Action Center in Chicago's Bridgeport neighborhood expressed both frustration and fear.
"The Republican senators have good-paying jobs so I guess they don't care about our problem," said Janet Edburgh, a packer at a sheet metal company who was laid off almost two years ago. "It's immoral, what they are doing. No one should get away with treating a dog the way they are treating this country's working men and women."
In Kentucky, where Rand Paul, the tea partier, was elected to the Senate, 21,000 people lose their benefits this week, alone. The Lexington Herald-Leader reported that the Jobs Center in Lexington, where the unemployed go to register for benefits and look for work, is "flooded" with people unable to find jobs.
During an interview with MSNBC's Mike Barnicle Nov. 30, Rep. John Shadegg, R-Ariz., scoffed at the notion that unemployment benefits help the economy: "Unemployed people hire people? Really? I didn't know that," Shadegg jeered. Barnicle responded by saying, "Unemployed people spend money Congressman, 'cause they have no money.'" "Aha!," said Shadegg. "So your answer is it's the spending of money that drives the economy and I don't think that's right."
The hopes of some that GOP obstructionism would at least be limited to bills related to tax cuts and government spending were dashed Nov. 30 when AP broke the news about Republican lawmakers signing pledges to oppose just about anything Democrats support.
Democratic Senate Majority Leader Harry Reid had hoped to end the "don't ask don't tell" policy and to pass the Dream Act during the lame duck session.
The nuclear arms treaty with Russia that the president wants the Senate to ratify is technically not affected by the pledge to obstruct, since rules of debate for treaties are different than those for legislation. Ratification of the treaty is not assured, however, since the GOP is still seeking concessions in exchange for support.
Officials who disclosed the GOP "pledge to obstruct," according to AP, did so on condition of anonymity, leaving unknown the number of Republican senators who have signed on.
For the remainder of the lame duck session, Senate Democrats need 60 votes to overcome any delaying tactics, meaning they could be totally blocked if 41 Republicans sign the pledge.
Seen as further dimming the long term prospects of passing progressive bills or funding measures is a plan House Republicans are devising to slow spending bills by slicing them up. Incoming House Speaker John Boehner, R-Ohio, wants all government funding bills to be considered on a department by department basis.
The move would facilitate cutbacks in government programs and enhance right-wing oversight of agencies now run by progressive Obama appointees.
Photo by AFL-CIO, cc by 2.0