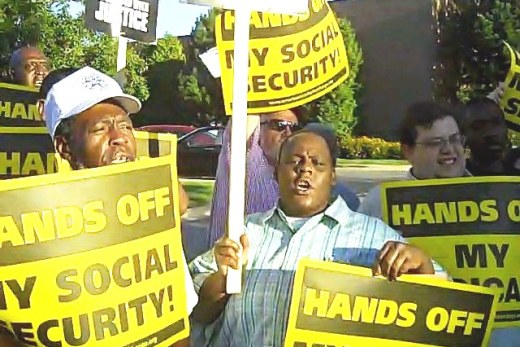 If Republicans have their way with the federal budget it would close Social Security offices across the country.
That means, if your mother or grandfather has any problem, they wouldn't get it straightened out; if you have a baby between now and the end of the year, he/she may not get a Social Security number; and if you are a disabled worker waiting for an appeal — you won't get it — or your benefits.
These are among the conclusions of a new report by Strengthen Social Security Campaign released today, Feb. 25, in a state-by state analysis of projected harmful impacts to Social Security from the U.S. House of Representatives-passed budget. The Republicans took over the House after the 2010 midterm elections.
On Saturday, Feb. 19, the House of Representatives passed a budget with $61 billion in cuts to domestic programs while protecting coal corporations, agribusiness and oil refineries, according to the Associated Press.
The budget was passed primarily along party lines, in a 235-189 vote. Its chances of passing in the Senate are a long-shot, but if it did pass, President Obama has said he would veto the draconian budget.
But the budget threatens to shut down the government, including the cherished Social Security programs, at least temporarily, experts say. The government shut down could come as soon as March 4 when the Continuing Resolution that has been funding the government expires.
If the House Republican budget was approved it would leave SSA with $1.7 billion less than the agency needs to fulfill its obligations, according to Ways and Means Committee Democratic staff analysis.
If Social Security shuts down for a month:
400,000 people nationwide would not have their retirement, survivors, and Medicare applications processed this year, resulting in a large backlog of unprocessed retirement and survivor claims for the first time in SSA history; and
290,000 people nationwide would not have their initial disability benefit applications processed, which means disabled workers, who already wait months for their applications to be processed, will wait an average of 30 days longer.
The report's sponsor, the Strengthen Social Security Campaign, is comprised of 270 national and state organizations representing more than 50 million Americans from many of the nation's leading aging, labor, disability, women's, children, consumer, civil rights and equality organizations, according to their website.
Campaign co-chair Nancy Altman said, "Social Security has a $2.6 trillion surplus today. It has not contributed to the budget deficit, and it should not be cut to reduce the deficit. Social Security belongs to the people who have contributed to the program, not to politicians in Washington who want to use it as a piggy bank."
The passage of the House Republicans' budget comes at the same time as public workers, teachers, firefighters, students, nurses and families fight anti-union and anti-democratic budget measures in Wisconsin, Indiana , Ohio and many other states face draconian budget cutting measures.
On Wednesday, March 2, a coalition of groups, American Federation of Government Employees, Strengthen Social Security Campaign, Alliance for Retired Americans, National Committee to Preserve Social Security and Medicare will host informational pickets in front of Social Security offices in 25 states. You can join them and find out more information here.
Photo: (John Bachtell/PW)