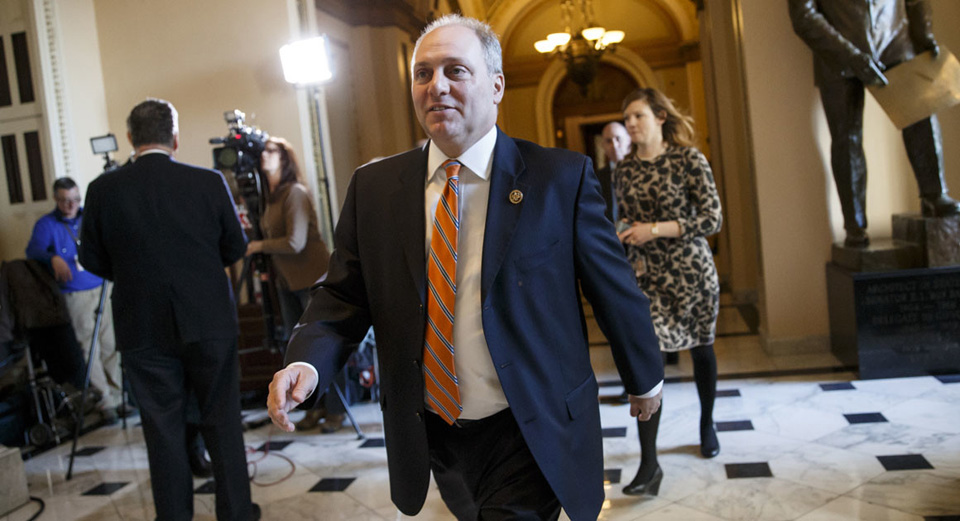 BATON ROUGE, La. (AP) — Rep. Steve Scalise, the Number 3 House Republican, was shot Wednesday along with several others during a GOP baseball practice in Alexandria, Virginia. He was in stable condition.
The Louisiana conservative was elected majority whip, the job of chief vote counter for the GOP leadership team.
His campaign for the whip job had a Louisiana flair that included distribution of "Geaux Scalise" T-shirts and a Cajun dinner with sausage, oysters and gumbo.
Scalise, 51, was first elected to the House in 2008 and served as chairman of the Republican Study Committee, a group of conservatives, before becoming whip in the leadership shuffle that followed the surprise defeat of then-Majority Leader Eric Cantor in a Republican primary.
In his whip campaign, he boasted about his conservative credentials and pointed out that he'd be the only GOP leader from the South, which had a major role in giving Republicans their largest House majority in decades.
At the time of the shooting, the lawmakers were preparing for an annual congressional game scheduled for Thursday night.
Scalise, who was shot in the hip, was transported to a Washington hospital and underwent surgery.
"Prior to entering surgery, the whip was in good spirits and spoke to his wife by phone. He is grateful for the brave actions of U.S. Capitol Police, first responders and colleagues," his office said in a statement.
Scalise has forged a close relationship with President Donald Trump, working together on the House health care bill and a pending effort to overhaul the tax code.
Trump, in remarks from the White House, called Scalise "a very good friend" and said, "He's a patriot, and he's a fighter. He will recover from this assault."
As the No. 3 House Republican, Scalise has a security detail assigned to him at all times. Lawmakers who were at the practice said the shootings could have been much worse if the security detail had not been there.
Scalise represents a district that includes some New Orleans suburbs and bayou parishes. Before entering Congress, he was a lawmaker in Louisiana for eight years. His signature legislation included a constitutional amendment outlawing gay marriage.
Scalise faced questions last year about some of his Louisiana ties. Six months after his election as whip, it came to light that he had spoken in 2002 to a white supremacist group founded by Ku Klux Klan leader David Duke. Scalise apologized for the speech and said he was unaware of the group's racial philosophy when he agreed to speak as a state legislator.
"I reject bigotry of all forms," Scalise said then.
Scalise is so unassuming and low-key that Louisiana politicians have often joked about his security detail.
"I've seen him a couple of times like in the Superdome and I often wondered, 'Well, why in the hell did he have all those security people with him?" said Louisiana Senate President John Alario.
"I see why now," Alario added. "It was an abundance of caution. I'm glad they did it."
Scalise and his wife, Jennifer, have two children.
Associated Press writer Kevin McGill in Metairie, Louisiana, contributed to this story.