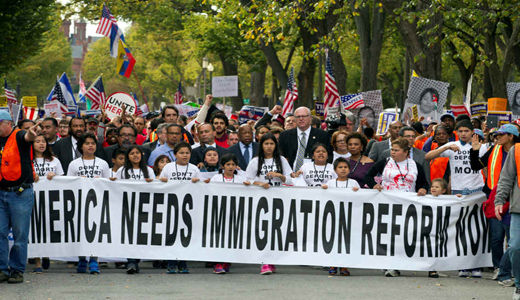 PHOENIX, Ariz. – Yesterday, the Republican-controlled House of Representatives passed a bill that would end the Deferred Action for Childhood Arrivals (DACA) program, which has helped over half a million young undocumented people to work and live without fear in the U.S. They have also voted and passed legislation to stop the implementation of the new program announced by President Obama (DAPA), which would expand DACA and grant parents of U.S. citizens and residents a work permit and halts their deportation.
"We condemn the GOP for continuing to use us and our families to attack the other party," said the Dream Action Coalition in a statement. "We understand that this is a symbolic vote that has a slim chance to pass the Senate and would obviously be vetoed by the President, but it is still an attack on the only significant immigration reform in decades.
"We are concerned that this vote will instill fear and misinformation in our communities, and therefore we urge those who might qualify for DACA to continue to apply and renew their applications. We strongly encourage those who qualify under DACA and DAPA to continue gathering their documents and be ready to apply for the programs as soon as they are implemented. The higher the numbers of applicants, the more power we will have to defend what we have won from future Presidents who might sacrifice the programs for quick political gain."
American Federation of Teachers president Randi Weingarten was among many in Washington who immediately blasted the Republican House vote.
"President Obama used his legal authority to sign an executive order last year because the Republican-controlled House failed to do its job by passing legislation on immigration reform," Weingarten declared. "Rather than offer solutions that address our comprehensive immigration crisis, Republicans are waging war in courts at the state level and in Congress on families who want to live the American dream.
"Defunding DHS is not only irresponsible-because it jeopardizes our national security by leaving our borders more porous and undermanned-it's bad policy. The president's executive action will save lives, keep families together and expand our economy-a formula that will help reclaim the promise of the American dream."
Photo: Jose Luis Magana/AP