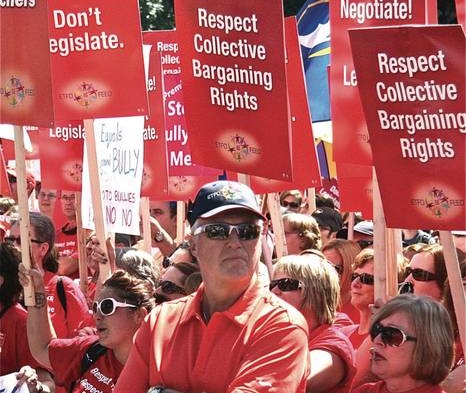 The GOP may try to permanently cripple the government's ability to protect workers rights when the Senate begins consideration May 16 of President Obama's nominees to the National Labor Relations Board.
The AFL-CIO called an emergency press conference May 14 to draw attention to what Richard Trumka, its president is describing as an "immediate crisis" for America's workers.
If Senate Republicans block the administration's nominations the board will be rendered inoperable once a current member's term expires in August.
The five-member board, created when the National Labor Relations Act went into effect in the 1930's, is responsible for enforcing labor law protections, including the right to unionize. It must have a quorum of at least three members in order to issue decisions and enforce workers' rights.
The board currently has the bare minimum quorum of three but it only has even that bare minimum because of President Obama's recess appointments to the board. The recess appointments have been jeopardized by what Trumka called yesterday "a Circuit Court gone wild." In January the District of Columbia Circuit Court deemed the recess appointments unconstitutional.
Larry Cohen, president of the Communications Workers of America, said that Republican refusal to agree to the president's nominees is a serious matter for all workers, not just union members.
"This is not what democracy looks like," declared Cohen in a telephone interview. "This is not about unions, this is about working people. The bottom line is that for 80 million private-sector workers, the NLRB is the only agency that protects their rights."
Making that same point at the press conference earlier, Trumka introduced Marcus Hedger, a worker fired three years ago from his job as a pressman at a print shop in Niles, Ill.
Hedger, who was elected shop steward for his Teamsters union local in 2003, said that three years ago, during negotiations over a contract, his boss warned him that the company was getting "fed up" with the union. Hedger was fired and the NLRB ruled that he was fired improperly, ordering the company to put him back on the job.
Because appointments to the NLRB have been held up by the GOP, the union has been unable to secure enforcement of that original ruling and Hedger is still without his job. "It is not fair," Hedger said. "As a result of this I could not pay my mortgage and I lost my home. It's just not right that they would cripple an agency designed to protect our rights. We pay taxes and we are a part of this country, aren't we?"
The hearings that begin tomorrow are being run by the Senate Committee on Health Education, Labor and Pensions. Trumka said President Obama has sent "a full bipartisan slate" for Senators to review.
The full slate includes two Democrats currently serving under recess appointments. Sharon Block and Richard Griffin. Two of the President's total of five nominees are Republicans, three are Democrats. When a Republican is president the breakdown is three Republicans and two Democrats.
Labor and its allies say they are not exaggerating when they claim the GOP wants to render the board inoperable. Sen. Lindsey Grahan, R., S.C., said, in 2011, that "an inoperable NLRB would be progress."
Right wingers, Graham included, were infuriated by the board siding with unionized workers in a case involving the Boeing Company in 2011. They have also expressed opposition to many board rulings including one that required corporations to hang posters informing workers of their rights under the law.
It was in response to a question concerning the D.C. Circuit Cout's recent overturning of that poster rule that Trumka made his reference to a "court gone wild. Even there, you see the Republican handiwork," he said. "They have held up the President's court nominations too. If we had a full and balanced Circuit Court perhaps we wouldn't be getting all these one-sided rulings against workers."
Democrats worry that the Republicans may use the recess appointment issue to try to scuttle the board this week. They point to some public statements by GOP senators that they say indicate intent to harm the NLRB.
"As the Senate considers the nominees, the two individuals who were unconstitutionally appointed (Block and Griffin) should leave," Sen. Lamar Alexander, R., Tenn., said last month.
Cohen has said that all public statements aside, "they (the GOP) stand for nothing except no board."
Trumka said at the press conference yesterday, "It's up to the Senate now to do the right thing, to act fast and confirm the president's full slate."
He tied action on the NLRB to the economy by adding, "The less the board works, the more America's economy falls out of whack, as we see today with record inequality and a shrinking middle class."
Photo: Radiolabour.net