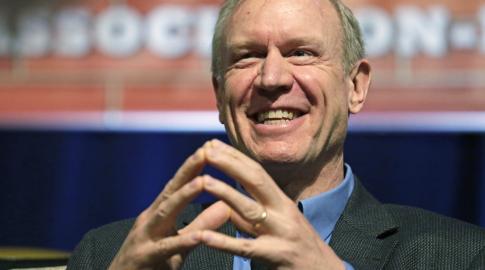 I'm worried. Bruce Rauner is our governor. He's a billionaire who made his money the old-fashioned way: by lying, stealing, and cheating. That's at least if you subscribe, as I do, to the theory that this is generally how a CEO of a Wall Street private equity firm gets his wealth.
Rauner is part of the new breed of billionaire politicians who pour tens of millions of dollars of their money into a campaign, buy votes, and project an image of a flannel shirt-wearing, motorcycle-riding dude who will take on "special interests." But in this breed's dystopian vision, "special interests" mean "the people."
Don't take my word for it. In a story published Nov. 29, 2015, The New York Times reported that the governor and a handful of "rich supporters" are out to "remake" the state, "rallying behind Mr. Rauner's agenda: to cut spending and overhaul the state's pension system, impose term limits and weaken public employee unions." It's ugly.
Illinois is in its eighth month of a budget crisis. The crisis is that we don't have a budget. So bills are not being paid, money is not being allocated, people are losing their jobs and livelihood, home-based daycares–often the only option for low-income parents– have closed. Colleges and universities are on the chopping block.
But Rauner is not operating in good faith when he declares that these cuts are needed. Rauner refuses to include in his budget "viable and economically fair revenue sources," according to a report by the Center for Tax and Budget Accountability, a bipartisan, nonprofit think tank. His is a budget that slices up education to feed the always hungry corporate and millionaire tax break industry.
The first casualty may be Chicago State University, an institution founded in 1867, which announced they are running out of money and will have to close its doors at the end of the month if something is not done. The university I attend, Northeastern Illinois, may be next, according to the university's president, Sharon Hahs.
Rauner is so extreme he would allow CSU, Governor State, Western Illinois, Northeastern and others to close. But students are stirring. Last week, students from Chicago State University courageously shut down the busy Dan Ryan Expressway, which runs right by the CSU campus, to call attention to the dire situation. Also last week, the Rev. Jesse Jackson rallied the NEIU community to take action, from registering to vote to marching on the state capital, Springfield. Public worker and teacher unions have been mobilizing and organizing for months on the budget, union rights and education.
"Your university's future is in jeopardy," he said, adding that, whether faculty, custodian, student or administrator, "you face an arrangement that threatens your future and life options."
Jackson linked the water crisis in Flint, Mich., with GOP attacks on worker rights, democracy and progress happening across the Midwest and the country.
Jackson warned that Illinois, Wisconsin, and Michigan face a "toxic wind" destroying "50 years of progress," referring to the broad democratic rights won by the civil and voting rights struggles of the 1950s, 60s and 70s.
At a Jan. 30 event organized by Jackson's Rainbow-PUSH coalition , students from CSU, NEIU, Columbia College, Governors State University and Fenger High School joined with Jackson and a half-dozen state lawmakers to call the public's attention to the fight for education. State lawmakers, trying to fix the situation, have already passed a funding bill for community colleges and student aid called MAP Grants (Monetary Award Program). Colleges have been covering these grants, awarded to approximately 125,000 students statewide, from their reserves in order to keep classes going. Rauner says he will veto the measure. Illinois Senate President John Cullerton, a Democrat, said he hopes the governor will change his mind and asked the audience to help him do so by calling 312-814-2121, writing and tweeting Rauner.
Cullerton also announced that President Obama will visit Springfield, Ill., on Feb. 10. Obama served as a state senator before being elected as U.S. Senator in 2004 and he announced his historic bid for president in Springfield nine years ago. The visit is sure to bring more media attention to the fight for education.
Brooke Ashleigh Thomas, a senior at Columbia College and the president of its Black Student Union as well as finance director of the Student Organization Council, said she brought the BSU executive board members to Rainbow Push in order for them to better understand what's happening.
"It's about us. Coming together empowered and being informed. A lot of our students don't understand it affects us, until it affects them," she said. When students learn about what is happening to education funding and other issues "it's enlightenment for them," she said.
Thomas explained that students' self-interest is a big factor in determining who takes action. "It's all about self, and when it happens to self then they care about the other person," she said, adding that once students begin to vote, "we won't have these problems."
When asked what she would wish to say to Rauner about the education funding, she said simply, "Sign. Pass it."
In Rauner's Jan. 27 State of the State speech, he did not mention the budget crisis, opting to attack the public workers union, play fast and loose with economic data on jobs and wages, and make disingenuous proposals on education. For example, Rauner claimed Illinois public workers make 30 percent "more than Illinois taxpayers in their own jobs for the same work"; but a University of Illinois study found state workers are paid 13.5 percent less than their private-sector counterparts. Rauner also claimed his goal is to create a "high quality, fully-integrated education system from cradle to career," meanwhile he refuses to pass education funding, demands budget cuts and pushes school privatization schemes.
If there's one thing that helps allay my worries, it's the growing fightback and unity among college and high school students, unions, teachers, and staff. If anything can force the governor to back off, it will be that.
Photo: AP