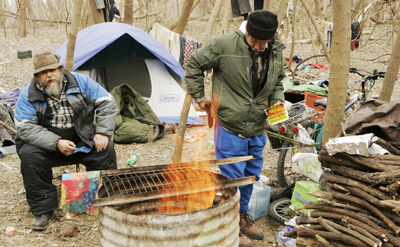 Despite the spreading job and foreclosure crises, with growing reports of people sleeping in alleys and tunnels, under bridges and highways, and in cars and tents, right-wing Republicans are trying to block President Obama's National Recovery Act.
They are cloaking their opposition in alleged concern for how quickly the $819 billion stimulus plan would create jobs, using that cover to justify their call to dump most of the recovery measure. The only part the Republicans are backing is the $475 billion that would go for tax cuts, which help the rich and businesses much more than ordinary people.
Labor and its allies are expressing their outrage over what they see as Republican obstructionism, and they are stepping up their fight for the recovery plan.
Some see passage of the measure as the first step in a strategy to prevent the right wing from ever again creating an economic crisis like the one the nation now faces. Passage and success of the Obama plan, many believe, would be a convincing blow to the "feed the rich" trickle-down economics that right-wingers have been pushing since the days of President Reagan.
At a Jan. 29 Washington press conference attended by an array of union leaders, Change to Win federation Chair Anna Burger made no attempt to conceal her anger at the "financial barons who ran to the federal government for help when it was their running amok that caused this crisis in the first place." She derided their
"backers in government who would now deny the people the help they need."
"In New York, if you call a child abuse hotline, you're on hold for half an hour," because workers have been let go due to budget cuts, Burger said.
"In Massachusetts, one quarter of the personnel in mental health services are on a list to be laid off. Those jobs would be saved and restored by funding in the Obama plan."
Right-wingers in Congress claim they oppose the Obama recovery plan because it contains too many "big government giveaways" to the states.
But American Federation of State, County and Municipal Employees President Gerald McEntee said his members are out stumping for the stimulus precisely because it does provide help for state Medicaid programs. "Their message is simple," McEntee declared. "Economic disaster is engulfing the states. Ohio has a $7 billion budget deficit, and you can just take that scenario across the country. Getting the Medicaid money into the hands of the states is the fastest turnaround of all things in the stimulus package."
The nation's governors, growing angrier by the day as they grapple with rising unemployment, more homeless people and growing numbers of sick people without health care, apparently agree with the union leader.
Vermont Gov. Jim Douglas, the Republican vice chairman of the National Governors Association, is among those who have come forward to back the Obama plan.
"If I were writing it, it might look a little different," said Douglas, sitting at Obama's side in the Oval Office. "But the essence of the recovery package is essential to get the nation's economy moving."
Douglas, one of a growing group of GOP governors who has broken with congressional Republicans on the stimulus, traveled to Washington to lobby for the Obama plan.
At the press conference leaders of both national labor federations debunked GOP claims that major parts of the stimulus package fail to create jobs. They said that two-thirds of the bill's cost would be for programs to put people to work and that jobs would be both created and saved by many of its provisions, including the parts that would close state budget gaps, provide for rewiring and retrofitting tens of thousands of buildings and fund green jobs programs to the tune of $100 billion.
At a major conference in Washington, Feb. 4, sponsored by the labor-environmental Blue-Green Alliance, Steelworkers union President Leo Gerard said, "We can create 2,000,000 or more good jobs by investing $100 billion in a green economy now. That's a lot of money. But we just saw AIG got $125 billion in the bailout and what did we get for that?"
David Foster, executive director of the alliance, said the thousands of trade unionists and environmentalists assembled there were "angry" about the Republican obstructionism. "It will boomerang on them," he predicted.
Organizing to send Republicans that message is under way.
MoveOn.org has sent an e-mail to its 5 million members, asking them to pledge money for TV ads against senators who vote against the stimulus package and to hold house parties to raise money for this purpose.
MoveOn is working with labor unions to co-sponsor TV and radio ads urging GOP senators to support the Obama plan.
Their latest group of ads is targeting Republican Sens. Dick Lugar in Indiana, Kit Bond in Missouri, Jim Bunning in Kentucky, Richard Burr in North Carolina and Mel Martinez in Florida.
jwojcik@pww.org