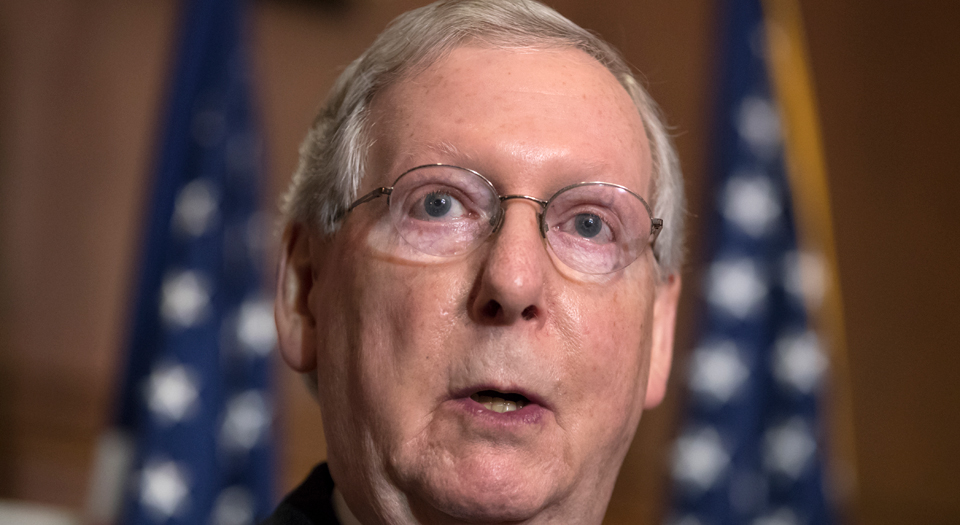 WASHINGTON—Even as people and businesses are running into problems getting the economic aid Congress earmarked for them last month, congressional Republicans and GOP President Donald Trump are digging in against channeling more money to financially hurting states, cities, hospitals, and people.
And Trump wants to completely stiff the U.S. Postal Service, which is vital for its "last mile" delivery of aid packages, food and medicine parcels and government checks, all needed to battle the coronavirus pandemic and the economic disaster its resulting shutdowns caused. It may run out of money by July 31 or Sept. 30, depending on who you talk to.
Instead, Trump and the GOP want to shove more cash at the corporate class, in so-called "small business" aid, without any oversight. But even that money isn't getting out the door to those who need it most, one notorious corporate lobby says.
The battle over further aid erupted starting on April 8 and is continuing. That first day, Senate Majority Leader Mitch McConnell, R-Ky., tried to ram through another $250 billion for "small business," as Trump demanded.
Senate Democrats blocked the measure, calling it "a political stunt" carried out without consulting anybody else.
They also demanded that if you're going to shove more cash at small business, you'd better include more food stamps for people, more money for hospitals to buy respirators, ventilators and personal protective equipment (PPE) for nurses and other health care workers, and more aid to states and cities which are going broke trying to cope with the crisis.
The prior $2.2 trillion economic aid bill to counter the impact of the coronavirus pandemic included $349 billion for small business, which is something of a sacred cow in Congress. That money apparently has been obligated, though the notoriously anti-worker National Restaurant Association says its members have seen little if any of it.
With almost all lawmakers unable to reach Capitol Hill due to the coronavirus quarantines, McConnell thought he could get away with approving Trump's demand by "unanimous consent" – in other words if nobody else objected. That maneuver is usually used for non-controversial measures, such as naming post offices.
Both Maryland Democratic senators learned of his scheme, and both raced in from their homes – Ben Cardin from Baltimore and Chris Van Hollen from nearby in the D.C. suburbs – and objected.
The two also made clear McConnell would get nowhere if he shut out the states, cities, people and especially hospitals, who are running out of cash people need to stay alive, states and cities need for essential services and hospitals need to buy personal protective equipment for workers.
The new $250 billion for new small business aid, through the new Payment Protection Program, "will not address the immediate need of small businesses in the legislation we passed" before, Cardin said.
But even the prior aid dollars aren't going where they're supposed to, Senate Minority Leader Charles Schumer, D-N.Y., tweeted after hearing complaints from constituents.
"Small businesses across America are telling us the @SBAgov Paycheck Protection Program isn't working. That loan applications are not being processed and businesses are not getting the money in time. Not acceptable. President Trump and his admin need to fix these issues NOW," he tweeted.
"I don't know if the majority leader," McConnell, "saw the letter from the National Restaurant Association," Van Hollen added, deadpan, in his floor speech against the Kentuckian's maneuver. The lobby's letter went to all senators.
"They say: 'The PPP is funded at $349 billion, and we expect lenders will reach that ceiling shortly. We appreciate the bipartisan calls to provide prompt additional funding for the program.' Then they go on to say, 'However, equally important' – equally important – 'is the need to address the limitations of the program that do not recognize the unique and evolving changes of the restaurant business cycle and our path to recovery.'"
"I got a letter around 12:44 a.m." on April 9 "from a small business owner who had been banking with Wells Fargo. Then, of course, Wells Fargo hit the cap," Van Hollen continued. "We thought we had dealt with that in recent days, but he's not sure he is still going to be able to get that loan through Wells Fargo. And he says, 'I have also now looked at more than 100 websites of 7(a)" small business "lenders in the greater D.C. area and have found NONE' –  capital letters – 'NONE that will accept a PPP application from any small business that did not bank with them before Feb. 15, 2020.'"
Schumer and House Speaker Nancy Pelosi, D-Calif., also made clear in an April 13 statement that any new economic stimulus to battle Depression-era unemployment caused by coronavirus shutdowns must have aid to the hospitals, workers, states, and cities.
"Small businesses, hospitals, frontline workers and state and local governments across the country are struggling to keep up with this national crisis. They need more help from the federal government and they need it fast – our nurses, doctors, and health care workers need it as much as anyone else," the two said.
As if Trump's and McConnell's demands to feed cash only to corporations were not enough, the Republicans also scheme to neuter needed oversight of the money.
The $2.2 trillion economic stimulus law Congress passed March 18 included three layers of oversight. Trump grumbled about them in his "signing statement" for the measure, which, however, did not stop him from trumpeting his approval on the White House website in big bold letters.
Almost a month later, he moved to kill one oversight layer: The panel of independent inspectors general, drawn from various agencies, to monitor and report immediately and in real time on the spending. He did that by firing the panel chair from his post as acting Inspector General for the Defense Department. The other IGs had named their DOD colleague as chair. No replacement has been named yet. "I'll be the oversight," Trump tweeted.
And then he nominated his own special Inspector General for the money, as the law required, subject to Senate confirmation: Brian Miller, a former inspector general who works in the White House counsel's office, and who helped defend Trump in the Senate impeachment trial early this year.
"The person who is Inspector General should be independent without fear or favor," Schumer said. "Somebody who comes from the president's counsel's office doesn't seem to meet that bill. I'm willing to listen to and hear what he has to say but color me dubious that that is the right type of person for somebody of this level of strength and independence."
As if that wasn't enough, congressional Republicans are trying to sabotage the third layer of oversight: The special bipartisan committee of lawmakers from both sides of Capitol Hill, which the $2.2 trillion economic aid bill set up to monitor stimulus spending.
Their simple tactic: Denouncing the committee and refusing to name GOP members. That prevents it from getting started – and gives Trump Treasury Secretary Steven Mnuchin a freer hand to pick and choose who gets money and who doesn't.
Pelosi named respected House Majority Whip James Clyburn, D-S.C., to be the overall committee chair, and Schumer named Bharat Ramamurti, a top economic advisor and presidential campaign aide to Sen. Elizabeth Warren, D-Mass., as his representative.
McConnell hasn't named anyone at all. Neither has House Minority Leader Kevin McCarthy, R-Calif., who told Fox the bipartisan panel is "redundant."
"Speaker Pelosi's ambition to create a select committee on the coronavirus crisis isn't about oversight. It's pure politics," McCarthy then tweeted. "She wants to exploit this crisis in order to fundamentally restructure America and advance her political agenda."