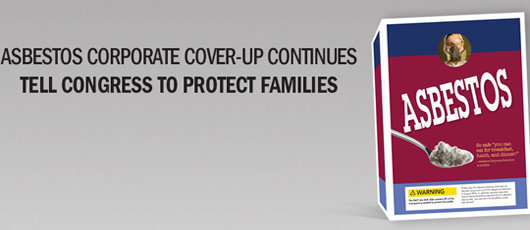 WASHINGTON – Taking advantage of the new Republican rule over Congress,, the remaining firms that manufactured items containing asbestos – the cancer-causing substance that sickened thousands of shipyard workers, factory workers, construction workers, among others, and that still kills 10,000 people yearly – are pushing legislation to limit if not remove their remaining legal liability to pay workers or their heirs for their illnesses and suffering.
Their bill, HR526, in a GOP-run House Judiciary subcommittee, drew opposition from the AFL-CIO and victims' advocates, and protests from one pro-victim attorney who testified on Feb. 4. As might be expected, business representatives denied that avoiding payment was their aim. They also brought in a law school professor who claimed the victims' attorneys inflate damage claims. No workers or workers representatives were invited to testify.
The so-called Furthering Asbestos Claim Transparency act would allegedly prevent fraud and direct more of the remaining money to asbestos victims, say its sponsors, Reps. Blake Farenthold, R-Texas, and Judiciary Committee Chairman Robert Goodlatte, R-Va. The legislation would do exactly the opposite, AFL-CIO Legislative Director Bill Samuel counters.
"This legislation would invade the privacy of asbestos victims by posting personal exposure and medical information online and create new barriers to victims receiving compensation for their asbestos diseases," he wrote to lawmakers prior to the hearing.
"Hundreds of thousands of workers and family members have suffered or died of asbestos-related cancers and lung disease, and the toll continues," Samuel said. Even the pro-business law school professor from Yeshiva University in New York admitted workers could die from past asbestos exposure could continue through at least 2047.
"Asbestos victims faced huge barriers and obstacles to receiving compensation for their diseases. Major asbestos producers refused to accept responsibility and most declared bankruptcy in an attempt to limit their future liability," Samuel explained.
A 1994 law set up asbestos bankruptcy trusts to pay the victims while reorganizing the asbestos-manufacturing firms to stay in business. Though the trusts have $30 billion-$37 billion, they lack enough money to fully pay claims, with the average victim or heirs receiving only one-fourth of the claim's value for medical suffering and treatment costs.
"The AFL-CIO is well aware the system for compensating asbestos disease victims has had its share of problems, with victims facing delays and inadequate compensation and too much money being spent on defendant and plaintiff lawyers," Samuel admitted. The fed has "spent years of effort" trying to solve the problem, he added. Though he did not say so, business opposition sank those prior efforts.
"HR526 does nothing to improve compensation for asbestos victims and would in fact make the situation even worse," Samuel adds.
"The bill is simply an effort by asbestos manufacturers who still are subject to lawsuits to avoid liability for diseases caused by exposure to their products," he said. And it opens individual asbestos victims to "personally identifiable exposure histories" and disease and payment information.
"This public posting is an extreme invasion of privacy. It would give unfettered access to employers, insurance companies, workers compensation carriers and others who could use this information for any purpose including blacklisting workers from employment and fightin compensation claims." Not only that, the asbestos trusts would have to give the asbestos makers any claim and payment information the makers demand, Samuel added.
"The only party that stands to benefit from this insulting bill is the asbestos industry, who will be able to delay and deny justice for the American families devastated by their deadly products," said Linda Lipsen of the American Association for Justice, the trial lawyers' group. "Meanwhile, victims of asbestos exposure and their loved ones will be forced to shoulder the burdens of this unnecessary legislation through delayed compensation and a loss of privacy.
"Do not let the name fool you – the so-called Fact Act is nothing more than a hand-out to the asbestos corporations that, for decades, knowingly poisoned and killed thousands of Americans," she warned.
Elihu Inselbuch, a Caplin & Drysdale attorney who's represented victims and their heirs and worked with the trusts, sounded the same themes, but even more strongly.
"HR526 is the latest, but not the first, attempt by asbestos defendants to minimize and ultimately extinguish their liability," he testified. "These defendants – the only beneficiaries of this bill – are the same asbestos companies who for decades have been determined liable for recklessly and willfully exposing unknowing workers and their families to the companies' deadly products.
"Had these companies shared the information they knew about the dangers of asbestos, or at the very least, provided adequate safety gear, countless lives would have been saved, and you would not be sitting here today" discussing "the longest-running public health epidemic in our history."
Samuel summed up the workers' and the AFL-CIO's position: "Congress should be helping the hundreds of thousands of individuals who are suffering from disabling and deadly asbestos diseases, not further victimizing them by invading their privacy and subjecting them to potential blacklisting and discrimination. The AFL-CIO strongly urges you to oppose HR526," he told lawmakers.
Photo: Take Justice Back Facebook page