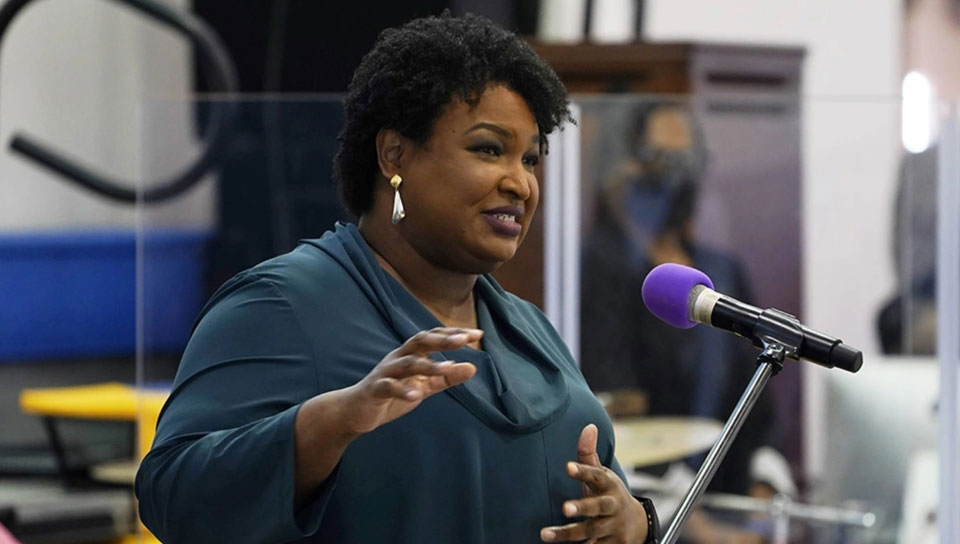 Outrage over a new Georgia voter suppression law may have helped boost voter turnout during the recent May 24 primary. The results suggest Republican efforts to dismantle democratic rights may backfire, only hardening the resolve of voters to defend democracy.
The November election battle lines are now set for one of the most hotly contested and consequential races. The outcome could determine control of the U.S. Senate and whether Republicans succeed in stealing the 2024 presidential election.
Democrat Stacy Abrams will face incumbent GOP governor Brian Kemp, and Democratic U.S. Senator Rafael Warnock faces former football star, Herschel Walker. Backing Abrams and Warnock is a mighty battle-tested grassroots multi-racial coalition rooted in the historic Civil Rights movement, labor, immigrant rights, LGTBQ, women, anti-gun violence, and other movements.
"We're at a turning point in the state of Georgia," said Latosha Brown of Black Voters Matter. "We are a new coalition that is rising up – white voters, Black voters, Latino voters, multi-racial, multi-generational voters."
"This is more than about participation. This is about power," said Brown. "When do you have enough power? When your communities are taken care of, your schools are adequately funded, and you have access to healthcare."
This rising coalition opposes a well-funded far-right-wing and fascist movement intent on assaulting constitutional democracy and institutionalizing white minority right-wing rule through the passage of SB 202, the new voter suppression law, new laws that lift restrictions on carrying concealed weapons, and pushing legislation to ban abortions after six weeks of pregnancy.
Alarmed Republicans passed SB 202 to undo the historic win by President Joe Biden in November 2020 and the election of Warnock and Jon Ossoff in a January 2021 special election to the U.S. Senate.
One of the most stringent voter suppression laws nationwide, the new law reduced early voting hours and absentee ballot drop-off locations. For example, in the heavily African American Fulton County, with 1 million residents, authorities reduced absentee ballot boxes from 38 to 8. It's now illegal to hand out water to voters, even those forced to stand for hours in long lines.
The law also opens the door for election subversion by allowing state authorities to take over local election boards, which in the past have administered elections, and run them on a partisan basis.
In one immediate impact, automatic voter registration fell off a cliff, and early vote applications were rejected eleven times over June 2020. Studies show only 39% of voters who have applications rejected will vote later on.
Predictably, the law has enraged voters, particularly African Americans, its primary targets. "I'm annoyed and frustrated," Cheryl Hines-Bryant told the Daily Beast. "The only reason I was able to vote today (May 24) is that I got laid off from my job."
Gerrymandered districts
Additionally, the GOP legislature further gerrymandered the state's congressional districts to grow and cement GOP control despite the state's rapidly changing racial demographics and shifting politics. Almost all of the state's one million population growth registered in the last census came from people of color and is on the verge of becoming a majority of people of color.
Republicans adopted a congressional district map that eliminates one solid Democratic district (now five) and adds a tenth reliable GOP district. The new map pitted Democratic Reps. Lucy McBath, who lost her son to gun violence, against Carolyn Bourdeaux. McBath won the primary.
Despite obstacles erected by the GOP, the early primary vote set a record, fueled mainly by hotly contested GOP primaries for governor and secretary of state. Former President Trump had endorsed two candidates who pushed his Big Lie that Democrats stole the 2020 election to unseat Kemp and Raffensperger who had refused to commit election fraud at his request. Although both strongly supported the passage of SB202.
But Democratic turnout, which exceeded the early vote of 2018, surged too despite Abrams and Warnock running uncontested. Nearly 50% of the Democratic primary early vote had not voted in the 2018 primary. More than 100,000 Black voters who hadn't voted in the 2018 primary also voted this year. Even though SB 202 eliminated Sunday voting in seven counties, "Souls to the Polls" mobilizations popular in the African American community took place on Saturdays.
More than 40,000 new white Democratic voters cast ballots, and Asian Americans and Latinos voted at double the rate compared to 2018. The only negative was the lack of participation of young voters. Only 2.6% of 18 to 24-year-olds and 3% of 25 to 34-year-olds voted. Democrats will surely target this group in November.
African American, Latino, and Asian American voters are finding ways to combat the suppression. New Georgia Project executive director Nse Ufot reported, "volunteers knocked on 545,000 doors statewide, made thousands of phone calls, and sent thousands more text messages. They've already registered 15,000 voters toward their 2022 goal of 55,000." On election day, 40 faith leaders monitored polls, and volunteers made water available for voters — though not in violation of the state law.
"There's clarity because of the work we've put in. We are battling for the future of Georgia."
Abrams faces Kemp in a rematch of the 2018 race when he abused his position as Secretary of State to carry out vast, targeted voter purges and suppression that catapulted him to victory.
Warnock faces Walker, the former football star recruited by Trump to run. Lies, allegations of domestic abuse, stalking, and physical threats mire Walker's campaign, not to mention the lack of a coherent program.
Democratic State Representative Bee Nguyen, running for Secretary of State, heads for the run-off election on June 21. Nguyen, backed by Abrams, emerged as a leading voice against the attempts to steal the 2020 election and the passage of voter suppression legislation. Nguyen is the first Asian American woman elected to the general assembly and could make history by becoming the first Asian American statewide elected official. Her parents emigrated from Vietnam.
Democratic voters also demonstrated a high level of sophistication in the primary. An estimated 37,000 Democrats crossed over to vote for Kemp and Raffensperger to defeat the election deniers and deal a blow to Trump. The crossover vote proved decisive for Raffensperger, who avoided a run-off.
"I feel strongly that our democracy is at risk. People holding up the big lie, as we call it, and holding onto the former president are dangerous to democracy," Diane Murray, who works at the University of Georgia, told AP. "I don't know if I'll do it again because of how I felt afterward. I just felt icky."