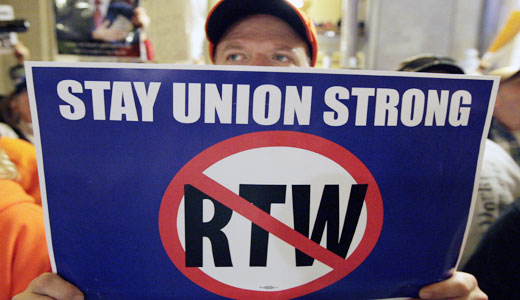 LANSING, Mich. – Passage of a right-to-work law was the big Cahuna for Michigan state Republican lawmakers in the legislature's lame-duck session in December, but they were also busy changing, and perhaps lowering, safety standards for Michigan workers.
GOP Gov. Rick Snyder signed two bills on Dec. 20 that affect safety standards, one each for construction and general industry. The biggest change, according to Snyder's office, alters state law to say Michigan workplace safety rules can exceed federal Occupational Safety and Health Administration (OSHA) standards only when unique circumstances can be shown "or when a broad consensus of union and non-union employers and employees agree" that a Michigan-specific standard is necessary.
The person who ultimately decides when "consensus" is achieved is the state director of Licensing and Regulatory Affairs (LARA) – an appointee of the governor.
An occupational safety specialist interviewed by The Building Tradesman said that many state job safety rules are stronger than federal OSHA's rules for a reason – at the time they were made, it was expected they would make workplaces safer.
Analysis of the Michigan bill by the nonpartisan state Senate Fiscal Agency says: "These requirements would help ensure a state-specific standard was justified and did not arbitrarily burden a regulated industry. If a broad consensus requested the standard, there would be assurance that it was not promulgated foe r a small segment of the industry."
Jonathan Byrd, legislative director for the Michigan Laborers District Council, said any changes to state safety rules for the construction industry would likely be minor. "In the near term, I don't think we're going to see much significant difference to what we've had. I think a lot of this was just a way for Republican lawmakers to make life a little easier for their unscrupulous friends in the ABC (Associated Builders and Contractors)," he said.
Snyder also signed bills that killed several health and safety panels: The General Industry Safety Standards Commission, the Occupational Health Standards Commission and the Construction Safety Standards Commission.
Todd Tennis, a Lansing IBEW lobbyist for Capitol Services, agreed that short-term, the state's construction industry probably wouldn't see many changes. "But that's only because this (Snyder) administration has pretty much been ignoring those state safety commissions for the last two years, anyway," Tennis said.
"And short-term, it's going to be hard to gauge the effect on workplace safety. With Michigan OSHA (MIOSHA), we had a built-in veto over unsafe conditions with our state regulations. Now they're just washing their hands of safety regulations and handing all the responsibility to the federal government.
"So you're an owner or a contractor and you want to save money or time and you see that they've eliminated Michigan's more stringent safety regulations. At first, maybe no one notices it much. Over time, maybe workers are using less-safe equipment. When you start lowering standards, that's when people start getting hurt."
In signing the bills, the governor said those health and safety commissions had previously had their rulemaking authority transferred to the LARA director in 1996. Snyder said "LARA and the Michigan Occupational Safety and Health Administration will continue to regularly engage with stakeholders to ensure worker safety."
Snyder has established an "Office of Regulatory Reinvention" to rewrite, streamline or eliminate rules affecting the spectrum of workplaces in Michigan. One construction industry workplace specialist we talked to last year said there were, in fact, a number of outdated rules affecting the building trades that could be eliminated.
Last March, a 271-page report by the Office of Regulatory Reinvention recommended 624 changes to 334 separate MIOSHA rules.
Two examples the state said last year were good candidates for elimination were a general rule for workers to report defective tools to the employer. It's "unenforceable," the state said.
The second rule said the height of a manually stacked pile of bagged material, weighing more than 30 pounds per bag, shall not exceed five feet. The report's rationale for eliminating this potentially back-saving rule: "There is not an equivalent OSHA rule, and this subsection is unnecessary."
Michigan State University Labor and Industrial Relations Professor Dr. Dale Belman told the Construction Labor Report that the changes "are not the result of careful, thought-about policy," but are instead "ideologically, even politically driven."
This story was distributed by Press Associates, Inc. Photo: Darron Cummings/AP