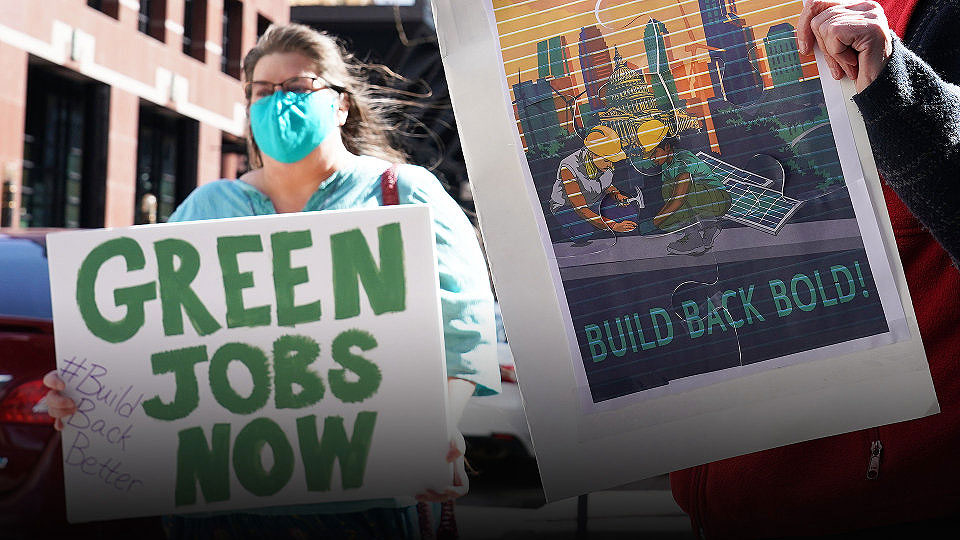 WASHINGTON—As world leaders came together at the invitation of President Joe Biden for an Earth Day summit to commit to saving a planet imperiled by global warming, a group of Senate Republicans engaged in political maneuvering which, if successful, could dash the hopes of ever addressing climate change in a meaningful way.
Trying to sound like earnest compromisers interested in saving us all some money, they unveiled what they called a "public works proposal" that they claim is more realistic than the president's and, they say, a lot cheaper. They also drastically narrowed the president's definition of what constitutes "infrastructure." Their proposal is a sad concoction of partial measures that fail to address the many problems that Biden's $2 trillion plan tackles head on.
The first problem is that, as far as the Republicans are concerned, only bridges and roads count as infrastructure. A school building crumbling on top of teachers and students is something else altogether.
The big selling point for the GOP plan, they say, is that it will cost only $568 billion over five years, compared to the $2.3 trillion that Biden has called for spending over eight years. Rather than raising taxes on the rich, they plan to pay for their plan with user fees for which the public, of course, has no enthusiasm. And that's really the idea behind the GOP plan. The user fee idea is not liked by most people, and they are counting on that situation to dampen public enthusiasm for any kind of government plan to fix infrastructure or anything else. They know the public literally loves the idea of big corporations and the wealthy having to pay their fair share to fix the nation's crumbling infrastructure, and they refuse to back a plan that counts on it.
Now, during Earth Week, Republicans are trying to hide the fact that their political maneuvering around infrastructure can kill the serious attempts underway to bring climate change under control.
With a straight face, West Virginia's Republican Sen. Shelley Capito is telling the press that "this is the largest infrastructure investment that Republicans have ever come forward with." She claims it "is a robust package."
She and the rest of the Republicans just don't get it. The nation is leaving them behind on many fronts, with infrastructure being just one of the areas in which their party is now totally out of touch. After the passage of the American Rescue Act, there is a growing understanding that the actions that must be taken on so many fronts to solve a myriad of crises are major, sweeping, and radical ones. The minor Band-Aid approaches of the past just won't cut it, and people are in agreement with the administration that sweeping change is needed if we are going to repair infrastructure and slow the harmful effects of climate change.
The unveiling of the GOP proposal made clear that the two parties are leagues apart on the size and scope of what's needed. Biden is taking the time to listen to Republicans, but he and the Democrats generally are intent on passing a major infrastructure plan this year with or without GOP support. They have made clear they are willing to use the budget reconciliation process to bypass Republicans altogether, just as they did on COVID relief earlier this year.
Republican fealty to the rich on the issue of taxes is what is behind much of their opposition to a serious jobs and infrastructure bill. Similarly, subservience to the fossil fuel industry motivates their refusal to take radical action to help slow global warming.
Their so-called plan offers no specifics whatsoever. They say, for example, that they would take unspent dollars from other federal programs to fund their plan, but they make no mention of any of the programs from which such funds would be taken.
Biden put forward a plan to raise the corporate income tax from 21% to 28%. Unlike the Republican plan, Biden's has the ability to raise the kind of money needed to pay for a massive infrastructure overhaul. Wall Street and the Republicans, however, become extremely fearful whenever there is even a hint of making the wealthy pay their fair share.
Nevertheless, the GOP's slimmer infrastructure plan was not rejected outright by the White House, with press secretary Jen Psaki characterizing it as a "legitimate" starting point for negotiations.
Republican lawmakers have shown no such grace toward the president's proposals, however. They attack the Biden plan, saying just a fraction of the spending would go to what they call "traditional" infrastructure. Biden's plan devotes $400 billion to expand Medicaid support for caregivers, and substantial portions would fund electric vehicle charging stations and address the racial injustice of highways that were built in ways that harmed Black neighborhoods. All of this is part of infrastructure whether Republicans like it or not.
The Republican plan would dedicate $299 billion to roads and bridges, $65 billion to broadband internet, and $61 billion to transit. Another big-ticket item: $44 billion for airports. Absent from the plan are Biden priorities like the electric vehicle stations to lower oil consumption and caregiver support, as well as billions of dollars to renovate schools and public housing.
"We take the part of the president's plan that most Americans agree is real, hard infrastructure, we give it our touch, and we think we have a very good number here," said Sen. Roger Wicker, R-Miss.
Sen. Bernie Sanders, I-Vt., scoffed at Wicker's statements and found little to like in the Republican proposal.
"It goes nowhere near what has to be done to rebuild our crumbling infrastructure, and the funding is totally regressive and anti-working class," Sanders declared. Sanders noted that the rich, not workers, should be paying to revamp infrastructure.
Republicans have been dismissive also of the aspects of Biden's plan that focus on easing the country's reliance on fossil fuels. Sen. Pat Toomey, R-Penn., said the Republican plan "consists of actual, real infrastructure."
Democratic leaders beyond just Sanders and the progressives are rejecting the entire approach the Republicans are taking on infrastructure.
"Any infrastructure proposal has to be green and cannot be paid for on the backs of working people," Senate Majority Leader Chuck Schumer, D-N.Y. said.
It's not the first time Republicans have tried to draw Democrats into "negotiations." Often in the past, they have succeeded in watering down the Democratic plans and in the end, have voted against the legislation anyway.
Progressives hope that there will be a repeat of the way Democrats handled the massive COVID relief bill earlier this year. Republicans offered a counterproposal to Biden's $1.9 trillion COVID-19 relief plan. Their price tag came in at about one-third of what the president wanted but, more importantly, left all kinds of real needs unmet. Biden declared it inadequate, and Democrats went forward on their own and passed the relief bill without the support of any GOP lawmaker.
Republican point-person Capito said she is optimistic that compromise can be found this time.
"I've been reading this very closely," she said. "I feel like the White House and other counterparts on the House side want to try to reach a consensus." Capito, of course, gives no assurances that if the GOP did succeed in watering down the president's plan it won't turn around and do what it has always done in the past—walk away from making any meaningful change.
Further angering the right wing, Biden's team is finalizing its "American Families Plan" to be outlined next week during the president's joint address to Congress. That proposal would likely seek to extend the expanded child tax credit through 2025 and implement universal pre-kindergarten and free community college by raising taxes not just on corporations but on the wealthiest Americans, too.
Judged by the legislation it has proposed so far, the Biden administration appears to be working hard, on the domestic front at least, to earn the title of most progressive administration since that of Franklin Delano Roosevelt. Republicans are nervous about the appeal of Biden policies to broad sections of the American public. Yesterday, for example, the Senate passed an anti-Asian discrimination bill backed by Biden, one that GOP Minority Leader Mitch McConnell said would never pass. The final vote was 94 to 1, with most Republicans supporting it. Missouri GOP Sen. Josh Hawley was the lone "no" vote. It's never a good sign for a political party when the leader of that party's caucus in the Senate can't keep track of how his members will vote.
On the American Families Plan, Psaki said the president is meeting "over the coming days to finalize details of the package" and how to pay for it.
The New York Times reported Thursday that Biden would make good on a campaign pledge to nearly double the capital gains tax on people earning more than $1 million, increasing it from 20% to 39.6%. White House officials declined to confirm the precise numbers, but they emphasized that taxes would not increase for anyone making under $400,000. This change would reverse a long-standing provision in U.S. law that taxes investment income at a rate lower than wages earned on the job.