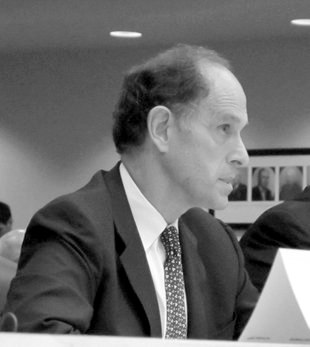 TACOMA, Wash. – Yet another Republican-named federal judge has taken another hack at the National Labor Relations Board (NLRB), ruling that President Obama illegally named its top enforcement officer, Acting General Counsel Lafe Solomon, three years ago.
As a result, federal Judge Benjamin Settle of the western district of Washington, in Tacoma, threw out the agency's case against Kitsap Tenant Support Services, a home care agency for the disabled in Bremerton, Wash.
The Kitsap case itself applies only to the firm, which the NLRB charged with labor law-breaking during AFSCME's organizing drive among Kitsap's security guards. What is important in Settle's ruling was not what he threw out, but who – Solomon.
Solomon's office brings all NLRB enforcement actions around the U.S. If higher courts extend and uphold Settle's August 13 ruling nationwide, then all the agency's enforcement actions starting in 2010, below the board level, are in doubt.
The GOP, business groups, and the Radical Right, relying on a federal appeals court ruling in D.C., have already challenged rulings by the board itself. They claim Obama's two "recess appointees" to the NLRB, which governs labor-management relations for 85 million workers nationwide, were illegal.
Three GOP-appointed D.C. appeals court judges issued that ruling, which throws doubt on more than 1,000 NLRB rulings since those two appointees, who are now off the board, took office. Anti-worker GOP President George W. Bush nominated Settle, a former member of the military's Judge Advocate General's corps, to the federal bench in 2007. The Senate routinely confirmed Settle.
The case involving the power of the board itself, and the status of the recess appointees, is already pending before the U.S. Supreme Court. The NLRB had no immediate comment on whether it would appeal Settle's ruling about Solomon.
Kitsap, too, argued Obama illegally named the recess NLRB members. James Kobe, NLRB's acting regional director, said even if Settle agreed they were illegal, Solomon still could charge Kitsap with labor law-breaking. Settle said Kobe was wrong, because Obama broke a federal vacancies law by appointing Solomon. That law, Settle ruled, lets presidents name only top aides to departing officials to succeed their bosses. Solomon, who is still NLRB's acting general counsel, was a career board attorney.
Photo: Lafe Solomon. Bruce Smith/AP