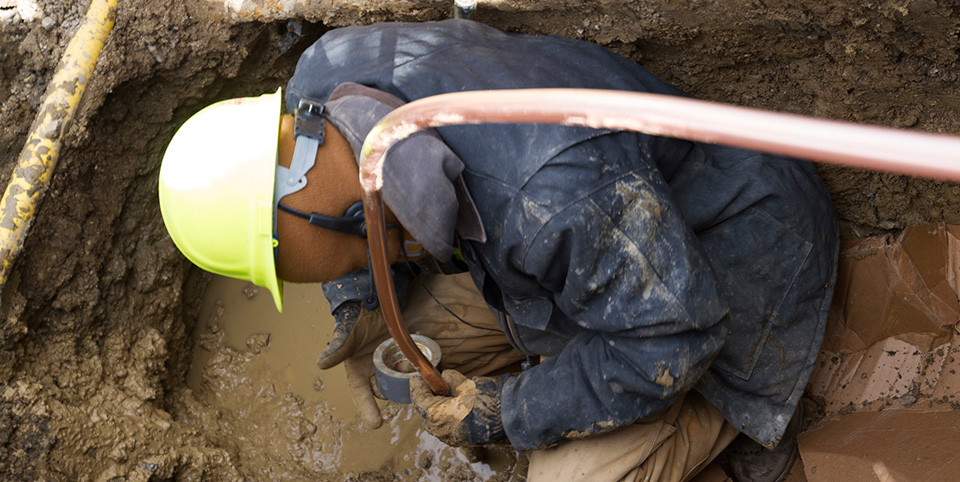 MILWAUKEE, Wisc. — It's a pipe dream for Trump followers to believe he has done anything concrete on his Buy American pledge. There are no big new pipeline projects on the horizon to boost hiring or American steel production and misleading pledges in his promises about American steel.
In contrast, a sensible proposal by a Democratic senator to buy American has been blocked by the GOP.
Wisconsin Senator Tammy Baldwin D., Wis., worked hard last September – when Republicans were more responsive, anticipating a Clinton win – to add a bipartisan buy America proposal to a big water infrastructure bill aimed at saving lives through assuring more Americans have access to clean drinking water.
But in December, when Trump in his victory speeches was pushing the Buy American- Hire Americans slogan as his own invention, the GOP House leadership removed Baldwin's Senate-approved amendment from the bill
"It was actually amusing," Baldwin told me. "In a rally in Cincinnati, the president elect said a centerpiece of his campaign would be buy American, hire Americans. The next day Paul Ryan stripped my language from the water bill!"
No one has explained why buy American is good for one party but not the other, but insiders say the reasons are obvious. First, the GOP didn't want to give Baldwin a leg up in her campaign for re-election in 2018. (She is already facing ferocious secret right-wing money though there is yet no named GOP opponent).
The Trumpites said, effect, "How dare Baldwin require American made iron and steel products and workers in water safety issues – only Trump should be able to do that!"
By quietly benching her amendment at a time few reporters were paying attention, the GOP avoided being exposed as anti-safe water or anti U.S. worker. Also by staying under the radar, the GOP made sure Trump continued to dominate the headlines.
Senator Baldwin's proposal to put into action Buy American-Hire Americans would use a long-standing EPA funding mechanism – a federal-state partnership to help ensure safe drinking water. Known as the Drinking Water Revolving Fund it was created in 1996 as an amendment to the Safe Drinking Water Act (SDWA) to provide funds to state water programs and U.S. water systems.
There is a tremendous need to upgrade water delivery systems across the U.S. Flint, Michigan is just one example. Baldwin's proposal would fill this need and at the same time create jobs for Americans. It has the support of both the United Steelworkers (USW) and the steel and construction industries. Of course, Trump's Environmental Protection Agency, with its climate change denying director, Scott Pruitt, is nowhere to be found.
On the other hand, while Baldwin's proposal would create work for Americans, Trump's frenzied round of executive orders are taking away opportunities from American workers.
For instance, Trump quickly approved the Keystone XL Pipeline and ordered the last thousand feet of the Dakota Access Pipeline (DAPL) be approved. Then he promised all pipelines henceforth will be built with American steel. About the steel to be used for Keystone, he said "either it comes from the United States, or we're not building one.
Only in March did his administration sheepishly admit the Keystone project is exempt from his buy American pledge and that in any case the pipeline required a wider diameter pipe not made in America. Also exempt (because it is nearly built) is the Dakota Access Pipeline.
In other words, Trump's actions created no new American steel manufacturing jobs even though he used this as a justification for ignoring the fact that both the Keystone and the DAPL will devastate the environment and that the DAPL also tramples sacred Sioux land.
Furthermore, pipelines such Keystone and DAPL endanger the already diminished supply of safe drinking water in the U.S.
For example, there was a giant oil spill January 30 near Blue Ridge, Texas, spewing 30,600,000 gallons of Alberta tar sands oil. The culprit, Seaway Pipeline, is often likened to Keystone XL because it, too, originates in tar sands. Also, Seaway Pipeline is owned by Enbridge, the equity partner in the Dakota Access Pipeline.
Hollow Trump promise.
Signing executive orders that pretend to create jobs but do not is fairly typical of how Trump works, Baldwin told me. She brought up his long promised "massive" infrastructure project.
"So far," she said, "[Trump] has given no details of what he means by a public-private partnership."
Or will it, like American made pipelines, be nothing more than a hollow Trump promise?"
All the Keystone XL pipe has already been purchased and stored in a North Dakota field.
In its press releases, the Keystone XL company claims that 57 percent of the steel it is using is "steel from America." It mentions one steel source, Strupp Construction in Louisiana, but says it produces less than a plant in Arkansas which turns out to be owned, managed and operated by a $3 billion Indian company, Welspun.
Both the Keystone and the DAPL are not only mostly made in Canada, but they  heavily benefit Roman Abramovich, the Russian oligarch who helped elect Putin. Steve Horn points out in DeSmog that Abramovich owns 41 percent of Evraz North America, a subsidiary of the Russian steel giant Evraz, a chief opponent of Senator Baldwin's buy American proposal.
The main pipeline jobs available in the U.S. have not been created by Trump. They have been in existence for quite a while – guarding the storage fields in the Dakotas.
And it might take quite a while before we see any new jobs at the new pipelines. DAPL is tied up in lawsuits and the Keystone XL is facing routing, delivery and payment problems.
Even if completed, the Keystone will mainly involve temporary pipe section construction jobs and only a few dozen permanent jobs.
On the other hand, Senator Baldwin's proposal to require that American steel and American workers be used to meet the nation's need for delivery of clear water, will create many jobs for a long time.
Baldwin is not giving up.
This Friday she will reintroduce her amendment as a standalone buy America bill in the Senate and will make the announcement March 25 from the Neenah Foundry, one of oldest such companies in the U.S.
In the past, Balwin's language was buried in a complicated bill about many sorts of water projects. This time, Baldwin said, "it will be much harder to ignore."
Dom Noth is former editor-in-chief of the Milwaukee Labor Press.