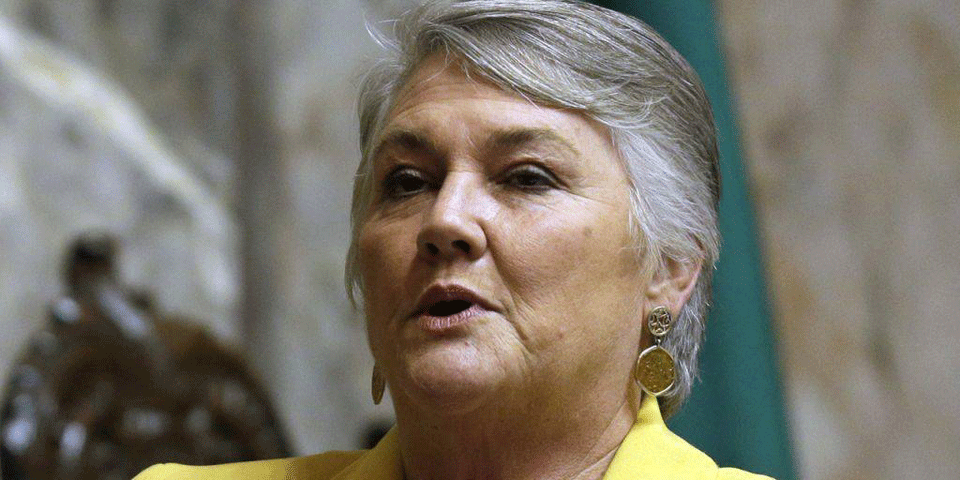 OLYMPIA, Wash.—File this one under the category of "Open mouth, insert foot."
A GOP state senator from Walla Walla, Wash., Maureen Walsh, said nurses spend their time on the job playing cards.
Walsh used that to denounce legislation to mandate that hospitals and nursing homes must give their nurses time for lunch, set standards for shifts and overtime, and give uninterrupted rest periods between shifts. Walsh schemed to exempt 40 rural "critical access hospitals."
Her opposition to SHB1155 in the Democratic-controlled state legislature went viral. So did the deluge of responses.
"By putting these types of mandates on a critical access hospital that literally serves a handful of individuals, I would submit to you those nurses probably do get breaks. They probably play cards for a considerable amount of the day," Walsh told her colleagues during debate the week before.
The general reaction, both from nurses' unions and on social media was "You gotta be kidding me." A petition on change.org against her remarks has already drawn more than 500,000 signatures. There were so many outraged denunciations on the Washington State Nurses Association (WSNA) website that it temporarily crashed.
And it gave added impetus to a rally on April 24, called by the Washington State Nurses Association, Service Employees Local 1199NW and United Food and Commercial Workers Local 21. They want to give the legislation the final push it needs to get to Democratic Gov. Jay Inslee's desk – and without the exemption for the 40 critical access hospitals.
"No, senator, nurses are not sitting around playing cards. They are taking care of your neighbors, your family, your community," Mathew Keller, WSNA's policy and practices director of nursing. posted on the union's website, before the crash.
"Trust me, nurses haven't earned the title 'most trusted profession' for 17 years running by 'playing cards' on our shifts. WA Sen. Maureen Walsh should be ashamed to use #nurses to score cheap political points like this. #1U #nurseslife" tweeted Bonnie Castillo, RN, executive director of National Nurses United.
But the rally is needed because Walsh found enough allies, even in the Democratic-run state senate, the week before, to put an amendment in the draft bill exempting those hospitals she cited from having to give their nurses meal breaks and rest periods.
"After 10 years of seeking legislation to ensure that nurses and other frontline healthcare workers get uninterrupted meal and rest breaks, and after 10 years of opposition by hospital administrators, this labor-supported patient safety legislation is tantalizingly close to passage," WSNA explained in announcing the rally.
But the GOP amendments not only exempted critical access hospitals – the ones Walsh talked about – from coverage but also said the measure wouldn't cover medical techs, either.
"This isn't over. There is still time for state legislators to pass a good bill with strong break and overtime protections for all nurses/frontline healthcare workers and all patients in all communities across our state. But we need all healthcare workers and their allies in organized labor and the community to call for passage of this bill without these dangerous amendments," WSNA said.
SEIU Local 1199NW released a study of what it's actually like for nurses on the job. "Hospital nurses and technicians are fighting to remove the loophole, planning the rally and releasing a new analysis showing critical access hospitals should have no problem complying with the bill's patient safety standards," the union said.
Walsh says most of the hospitals are in the red. State figures, cited in the study, show they're not. "Over the last four years of reports, the total net income (surplus) for Washington's 40 critical access hospitals is $208,657,776, with an average surplus of $5,216,444 per hospital," it said. And the nurses told Local 1199NW questioners they don't have time to play cards.
"As a nurse at the critical access hospital in Pasco, I flew to Olympia to meet Walsh to ask my fellow Republican to support the bipartisan bill mandating rest breaks for hospital nurses and healthcare technicians," said orthopedic nurse Nicole Worley of critical access hospital Lourdes Medical Center in Pasco.
"I explained our orthopedic unit is often filled to capacity because Lourdes handles more knee, hip, and spinal surgeries than the other two regional hospitals combined. We may be small, but we're just as busy as big hospitals," the UFCW Local 21 member added. Lourdes, the state reported, earned $7.1 million over the last four years.
Social media postings were even blunter. "If Walsh ends up in the hospital, don't treat her. Just hand her a deck of cards," one tweeted.
"Nurses are probably one of the hardest working individuals around. If half the CEO of those corporations that steal billions were to work that hard, they would be in the hospital for exhaustion and possible Congestive Heart Failure," Melly Padre, RN, tweeted.
Several cast about for someone to oppose Walsh next year. She ran unopposed in the deep-red dyed-in-the-wool-GOP 14th District in 2018.  "She likely has not spent much time in a hospital. My take? Don't send decks of cards as she already has them.  Like many Republicans, she's probably projecting and spends most of her day playing cards instead of legislating.  In this case, that's a good thing. Vote her out!" one concluded.  Another added to that solution, by saying "find a nurse" to run against her.