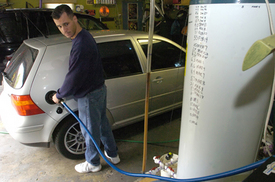 Under the pretense of doing something about gas prices, President Bush and Republican leaders in Congress are seeking to gut the nation's 30-year-old system for mandating fuel efficiency of cars and trucks. At the same time, their effort to weaken environmental restrictions on refinery construction failed in the House, with many Republicans joining Democrats in opposition.
It was part of a flurry of activity as public outrage over soaring prices and eye-popping oil corporation profits, coupled with deepening concern over the nation's energy and environmental policies, has Republicans worried about whether they can hold onto their lock on Congress in the fall elections.
Last week the Bush administration asked Congress to allow the White House to radically change rules established in 1975 requiring auto corporations to meet "fleet-wide" fuel efficiency standards for the vehicles they produce.
Consumer advocates and environmental groups are pushing the administration to raise the miles-per-gallon requirement, currently 27.5 mpg, as a way to lower gas prices by reducing fuel demand, and help the environment. The Sierra Club says technology exists to make all new vehicles average 40 mpg within 10 years. That would save the average driver more than $5,000 over the life of the vehicle, even including the added cost of fuel-saving technology. It would also save the U.S. 4 million barrels of oil per day, "equal to what America currently imports from the entire Persian Gulf and could ever get out of the Arctic Refuge, combined," the group's Global Warming Program director Daniel Becker said in a statement.
Instead, the administration wants to throw out the current system, known as corporate average fuel economy (CAFE) standards, substituting one that sets fuel efficiency standards by vehicle size with higher standards for smaller cars and weaker ones for bigger vehicles like the profit-laden SUVs, Sierra Club energy spokesperson Brendan Bell told the World.
"This is not the first time this administration has engaged in smoke and mirrors," said Mark Cooper of the Consumer Federation of America. Rather than promoting fuel efficiency and lower gas prices, Bush's corporate-friendly plan offers automakers "tremendous incentives" to push sales of gas-guzzlers, Cooper said.
On May 2, 10 states sued the federal government seeking to force the Bush administration to strengthen gas mileage requirements for SUVs and pickup trucks. Connecticut Attorney General Richard Blumenthal called the Bush plan "a complete sham and a gift to the auto industry."
Several bills before the House call for raising fuel efficiency standards as well as promoting alternative energy sources, mass transit and similar steps. A measure introduced in the Senate by Byron Dorgan (N.D.) would impose a windfall profits tax on energy corporations. Even though many of these have bipartisan support, the Republican leadership has bottled them up in committees. Meanwhile, the administration and many Republicans in Congress are pushing expansion of oil drilling in protected coastal and wilderness areas, including the Arctic National Wildlife Refuge.
Last week, the House overwhelmingly passed legislation making energy price gouging a federal crime. But that move is seen by some as empty posturing, since the administration itself would define price gouging. "The problem is they are setting a standard nobody is going to cross," said Carl Wood, a former California public utilities commissioner who now consults for unions. "I think it's a red herring. I don't think you're going to end up with any definition of price gouging that the industry is going to agree to. It misdirects the public."
Unfortunately, said Wood, in Congress "there's more than a reluctance, there's an absolute terror of doing anything that would fundamentally reduce the profits of the oil companies."
Steps to reduce demand for oil, like raising car mileage requirements, are "one of the fundamental solutions," Wood said. But more is required. Regulating the refinery industry is "a biggie," he added.
The California-based Foundation for Taxpayer and Consumer Rights charges that oil refiners, most of which are directly owned or controlled by the oil giants, are manipulating the market and deliberately restricting supply. The group urges California residents to send an online letter to their state lawmakers, demanding regulation of oil supplies and a windfall profits tax on oil companies. The letter (available at www.consumerwatchdog.org) says the Legislature should act to "return some of the oil companies' windfall to consumers who are suffering these unaffordable pump prices."
Gasoline prices nationally are up about 70 cents over a year ago. Increases have been particularly sharp on the east and west coasts, with California — at an average $3.34 a gallon —showing an 82-cent rise.
A May 4-8 New York Times/CBS poll found 79 percent disapproved of Bush's handling of gas prices. In a late April USA Today/Gallup poll, 70 percent favored gasoline price controls, two-thirds favored a "significant" additional tax on oil company profits, and 56 percent favored breaking up big U.S. oil companies.