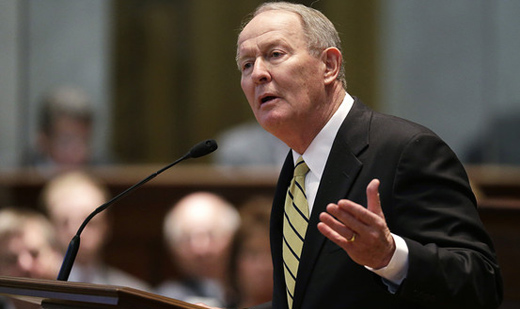 WASHINGTON (PAI) – In an obvious bid to cater to the radical right, Sen. Lamar Alexander, R-Tenn., top Republican on the panel that handles workers' issues, launched a bid to repeal the Davis-Bacon Act. Though Alexander's bill, unveiled July 17, will go nowhere in Congress, it precedes the August Tennessee primary, where he faces a right-wing challenger.
Davis-Bacon says contractors undertaking federal work must pay locally prevailing wages, set by the Labor Department, to their workers. That prevents anti-worker contractors from winning bids by low-balling their workers, paying rock-bottom wages with no benefits.
Like other Republicans, Alexander, an ex-governor once known for good sense, insults Davis-Bacon as "a handout to labor unions." The GOP insinuates that prevailing wages are union wages nationwide. Other right-wingers – including several tea party'ers – also back repeal: Sens. Ted Cruz and John Cornyn, R-Texas, Marco Rubio, R-Fla., Tim Scott, R-S.C., Jeff Sessions, R-Ala., Tom Coburn, R-Okla., Ron Johnson, R-Wis., and David Vitter, R-La.
Photo: Lamar Alexander. Mark Humphrey/AP