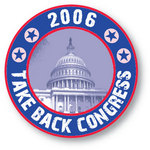 WASHINGTON — The civil rights movement has appealed for an outpouring of messages to Congress demanding that it stop far-right Republican stalling and pass HR 9, a bipartisan bill to extend the Voting Rights Act of 1965 for another 25 years.
Wade Henderson, executive director of the Leadership Conference on Civil Rights, denounced as "saboteurs" a band of ultra-right Republicans who succeeded in blocking a House vote on the bill scheduled for June 21. The bill had 152 co-sponsors and the endorsement of both the Democratic and Republican leadership. The White House claims to support HR 9 but has done little to whip the renegades into line, which suggests administration operatives may be using them as stalking horses in a covert Republican-right drive to gut the Voting Rights Act, which expires in September 2007.
"Those members who held up today's vote represent retrograde forces that America hasn't seen at this level since the 1960s," Henderson charged. They are demanding termination of the law's most effective enforcement mechanisms. This includes Section 5, which requires pre-clearance from the Justice Department for changes in voting procedures in states, counties and towns with a record of impeding minority voting rights. They also seek to terminate Justice Department monitoring of these states to insure VRA compliance.
They also demand repeal of Section 203, which requires multilingual ballots and voting information. The Mexican American Legal Defense and Education Fund urged letters, e-mails and visits to lawmakers' offices demanding HR 9 passage without weakening it.
"Many of those trying to derail this bill represent states with the most egregious records of discrimination in voting," MALDEF charged. Providing bilingual ballots to Spanish-speaking and other non-English-speaking voters is "essential to permit all eligible voters to participate fully in the democratic process by casting informed and meaningful ballots," the group added.
The Rev. C.T. Vivian, a close aide to Dr. Martin Luther King Jr. who helped organize voting rights marches in Selma in 1965, called extension of the Voting Rights Act a top priority.
"We need to preserve Section 5," he told the World from his home in Atlanta. "Latinos are fighting for bilingual ballots. We support that. We are fighting for real inclusion, to insure voting rights for all citizens. But the Republicans want to cut out Section 5 and eliminate the bilingual ballots. The Southern states have gone Republican and I'm very concerned that our voting rights not be cut out forever."
Ultra-rightist Rep. Charles Norwood (R-Ga.) was a kingpin in derailing the vote. "What people are really upset about is bilingual ballots," he ranted. "The American people want this to be an English-speaking nation." Rep. John Carter (R-Texas) said, "I don't think we have racial bias in Texas. I simply believe you should be able to read, write and speak English to be a voter in the United States."
But Rep. John Lewis (D-Ga.), nearly beaten to death by Alabama troopers while leading a voting rights march across the Edmund Pettus Bridge in Selma, Ala., in 1965, said Georgia is "the last place" that should seek to relieve itself from Voting Rights Act oversight. Georgia's new requirement that voters obtain a photo ID "is a modern day poll tax that disenfranchises rural voters, the elderly, the disabled, students and other minorities who have no government photo ID," he said.
The Justice Department has filed more than 80 complaints of voting rights violations against Georgia since the law was last reauthorized in 1982, and nationally more than 1,000 violations have been handed down by the DOJ, Lewis noted.
"The evidence shows that voting discrimination in America is not dead and the Voting Rights Act must retain its original power to insure that democracy prevails in every hill and valley," he said.
The Republicans wanted to postpone a Voting Rights Act extension vote until the Supreme Court ruled on an appeal from Texans asking it to throw out a redistricting plan drawn up by disgraced former House Majority Leader Tom DeLay. DeLay's scheme added five Republicans to the Texas congressional delegation. On June 28 the high court upheld most of the DeLay plan but threw out parts of it on grounds that the map failed to protect minority voting rights. At issue was the shifting of 100,000 Hispanic voters into a new, oddly drawn district. The lawsuit argued that this was an unconstitutional racial "gerrymander" outlawed by the Voting Rights Act.
In the 2000 presidential election, flagrant violation of the act was key to Bush's theft of the White House. Florida Republicans illegally purged nearly 90,000 voters, mostly African Americans, from the voter rolls, falsely identifying them as "felons." Most of those votes would have gone to Democrat Al Gore.