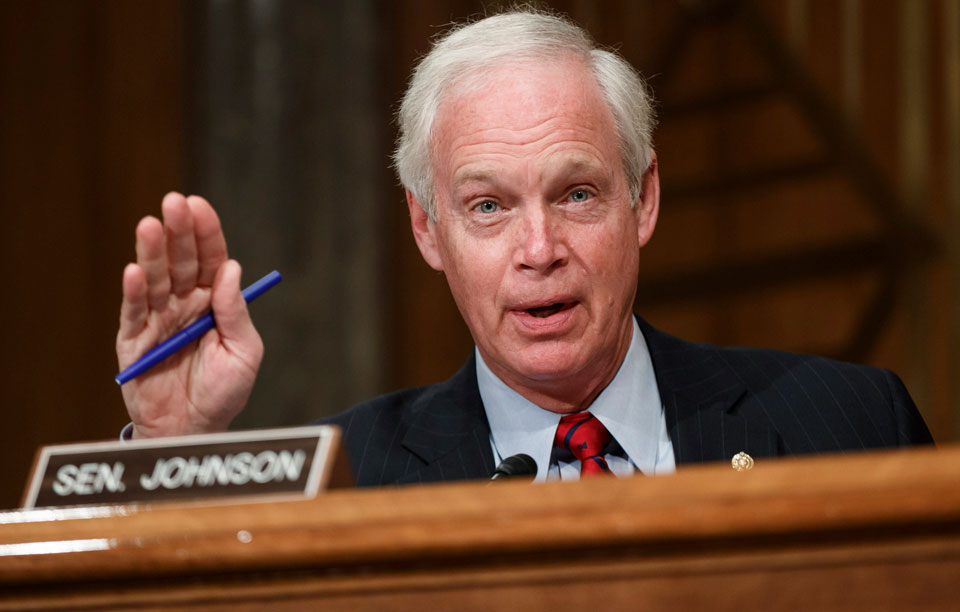 Over the past few days, we've seen yet again a major indication that top Republican lawmakers are defending and promoting the white supremacists who attempted to overthrow the government on Jan. 6.
Sen. Ron Johnson, R-Wis., has intensified his prior defense of the right-wing insurrectionists by saying that he had nothing to fear from them when they took over the Capitol because they were "patriots" who love their country. He added to that outrage with a racist statement that he would have been afraid had the demonstrators come from Black Lives Matter or "antifa."
Johnson made his remarks in an interview with radio host Joe Pagliarulo. "Now, had the tables been turned—and Joe, this is going to get me in trouble—had the tables been turned and [former] President Trump won the election and those were tens of thousands of Black Lives Matter and antifa protesters, I might have been a little concerned," the senator said.
Soon after the senator made his remarks, exposing once again the white supremacist and fascistic views of top lawmakers in his Republican Party, the FBI made an arrest that reflects the influence of those right-wing ideas in the U.S military.
The Army reservist charged with taking part in the attack on the U.S. Capitol was known as a Nazi sympathizer who wore a Hitler mustache, coworkers told federal investigators. Timothy Hale-Cusanelli, 30, was employed as a security contractor at a Navy base when he was alleged to have breached the Capitol on Jan. 6, authorities said.
One Navy seaman said that Hale-Cusanelli told him "he would kill all the Jews and eat them for breakfast, lunch, and dinner, and he wouldn't need to season them because the salt from their tears would make it flavorful enough."
Other coworkers recalled Hale-Cusanelli making derogatory remarks about women, Black people, and other minorities. Prosecutors said in their court filing that Hale-Cusanelli, one of Sen. Johnson's apparent "patriots," is a danger to the public and should remain jailed while he awaits trial.
Then, just this morning, two more men were charged with assaulting Capitol Police during the attack. George Tanio of Morgantown, W.V., and Julian Khater, of Pennsylvania, were arrested Sunday. It is believed they may have sprayed officers with poisonous chemical bear spray, possibly leading to the death of officer Brian Sicknick.
As the investigations of the Jan. 6 Trumpite coup attempt continue, the connections between the insurrectionists, lawmakers, police, and the military continue to be exposed.
Johnson's remarks are eliciting reactions of shock from Democrats, progressives, and people all over social media, who note that Johnson has publicly admitted now that the Trumpites who stormed the Capitol, killing one police officer and injuring dozens of others, were his own (Johnson's) supporters, while Americans who speak out against police brutality and racism are not.
"For him to say something as racist as that," a Wisconsin African-American state Sen. LaTonya Johnson (D) said, "It's a totally racist comment and the insult to injury is he didn't mind saying it in the position that he holds because for some reason that's just deemed as acceptable behavior for people who live in and are elected officials in this state."
"Ron Johnson's racist comments make it clear he stands with violent criminals who threaten our democracy," tweeted Sarah Godlewski (D), the state's treasurer.
"Ron Johnson said the racist part out loud," added the anti-Trump Lincoln Project organization in a tweet.
Johnson was defending a crowd that used pepper spray against police who were trying to protect the Capitol. His latest open defense of the attackers follows by several weeks his failed attempts to blame the insurrection on antifa, saying that the attackers were disguised members of that non-existent group.
What Johnson and other Republican lawmakers are doing is unprecedented. Their racism is par for the course, but their boldness in openly backing fascist insurrectionists has reached a new level, underlining the importance of rejecting the notion put forward by some lawmakers that Democrats should just "forgive and forget" what happened on Jan. 6.
At least five people died as a result of the attack on the U.S. Capitol, including one Capitol Police officer. Police officials reported in the days after the siege that dozens of officers faced serious injuries resulting from the riot, including one who lost an eye. Two other officers died by suicide in the days after the attack. Dozens of Metropolitan Police officers were also injured.
"I have officers who were not issued helmets prior to the attack who have sustained head injuries," the Capitol Police union's chairman, Gus Papathanasiou, told the press. "One officer has two cracked ribs and two smashed spinal discs and another was stabbed with a metal fence stake, to name some of the injuries."