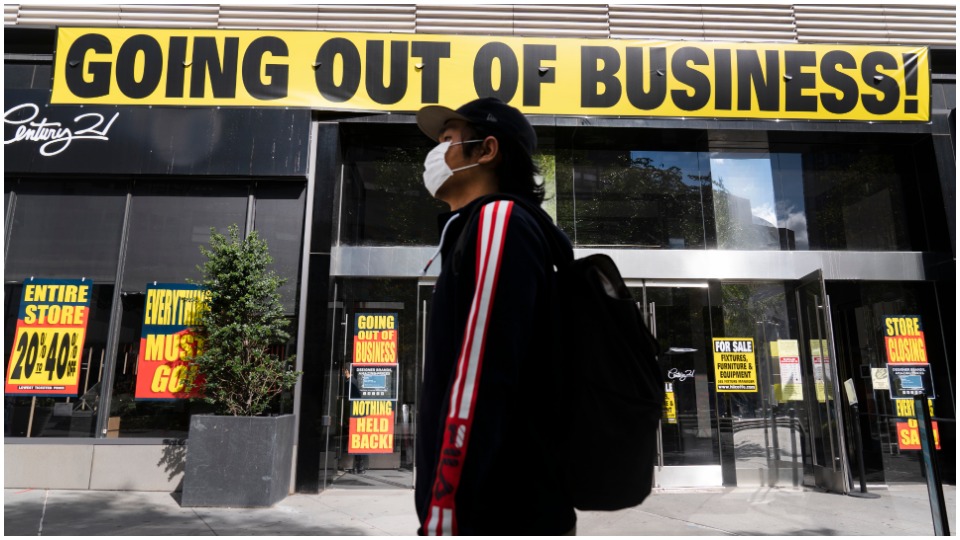 WASHINGTON—The Republican Senate majority, led by Mitch McConnell, has sidelined further economic aid for millions of people, including the 24.736 million, who are either getting state or federal jobless benefits or are seeking them, according to the latest federal data.
Instead, McConnell declared, senators will debate GOP Oval Office occupant Donald Trump's nomination of right-wing "originalist" federal appellate judge Amy Coney Barrett to the U.S. Supreme Court over the weekend of Oct. 24-25, and take a final vote on Oct. 26.
The GOP-run Senate Judiciary Committee approved Barrett's nomination 12-0 in a 15-minute session at 9 a.m., Oct. 22. The panel's ten Democrats boycotted it, calling her nod rushed and the vote a sham. They've been saying for weeks that senators should concentrate on coronavirus relief, not Barrett.
"We are not going to have business as usual while the Republicans try to use an illegitimate process to jam through a nominee," Senate Minority Leader Charles Schumer, D-N.Y., told an Oct. 22 outdoor press conference an hour later.
Democrats contend Trump and McConnell want Barrett on the court so she can vote to kill the Affordable Care Act, a decade-long GOP goal. The court will hear the GOP's anti-ACA case on Nov. 10. Senate failure to help the jobless and peril to the ACA motivated demonstrators outside the Capitol.
People's World Election Town Hall – Oct. 25th – Register here.
They'll keep it up. For example, UnitedWomen.org, representing a coalition of youth and women's groups, plus the Alliance for Justice, plan a phonathon, starting with training, on Oct. 23. Details are on its website.
Business as usual should mean helping the jobless and other workers by Senate agreement to the House-passed Heroes Act. McConnell has ruled that out, and his own "skinny bill" failed on Oct. 21. The latest $2.2 trillion version of the Heroes Act (HR925) would restore federal jobless benefits—the extra $600—for those whose eligibility ran out on July 31, among other pro-worker sections.
Some 3.3 million of those workers—home health care workers, gig economy workers, "independent contractors," adjunct professors, and others—have had to turn to a special 13-week federal jobless aid program, federal data shows.
Overall, the numbers break down to 23.15 million jobless workers who were getting state, federal, or special coronavirus pandemic unemployment aid as of Oct. 3, and another 1.586 million who sought state jobless benefits in the two weeks since then. Together, 16.9% of all U.S. workers are getting the aid, a Bureau of Labor Statistics table shows.
The protesters are turning to phone banking and other ways to pressure lawmakers to vote Barrett down. "No confirmation without inauguration!" is their mantra, referring to the goal of having the next president, who they believe will be Democrat Joe Biden, fill the vacant High Court seat.
The combination of action on Barrett and inaction on the House-passed Heroes Act also hit the campaign trail in North Carolina's ultra-close U.S. Senate race. Carolina workers support Democrat Cal Cunningham over GOP incumbent Thom Tillis, a down-the-line Trumpite who backs Barrett. Cunningham's lead in opinion polls—the latest is 49%-47%—is within the margin of error. North Carolina is one of the 10-13 key races, all but two involving GOP-held seats, that will decide Senate control in the next Congress.
"Since March, we've seen illness, lockdowns, and kids going to school at their kitchen tables. But many of us have survived because of the support provided in the Cares Act," CWA Local 3640 President Keedren Gantt told a press conference in Charlotte on Oct. 21. That was the $2 trillion economic aid bill Congress passed after the House's ruling Democrats crafted it in March.
"When so many of us were on leave, Congress provided an expansion of unemployment insurance that allowed us to pay the rent, buy food, and keep the lights on in our homes, so we were OK," added Gantt, an American Airlines reservations agent. "That expansion of unemployment ran out weeks ago. New furloughs have begun and people have no idea where to turn to just survive the next weeks and months."
"Tillis and other elected officials were calling us essential back in March," said Uschi Woronin, a furloughed American Airlines flight attendant from Huntersville, where Tillis, a former right-wing state House Speaker, lives. "If they were more honest about how they feel about us, a better word would have been 'expendable' or 'disposable' because that's how it feels we're being treated."
"We can't afford to wait while Thom Tillis plays politics with the Supreme Court. Lives are at stake," said John Motsinger, jobless 14-year stagehand from Winston-Salem.
"As each day passes, the dire situation worsens for millions as bills for rent, car, mortgage, credit cards, and utilities add up, and these Republicans like McConnell and Tillis do nothing to help. Trump and the GOP-controlled Senate have completely abandoned millions of families," said CWA Government Affairs Director Shane Larson concluded.