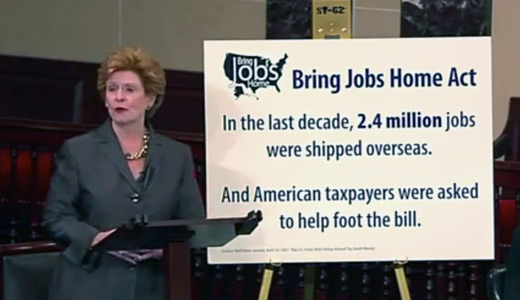 WASHINGTON – Once again, a planned Senate Republican filibuster brought down a jobs bill, the Bring Jobs Home Act.
The 56-42 vote on July 19 to open debate, and the later real vote on the measure, was not enough to cross the 60-vote threshold lawmakers needed to halt the scheduled Republican talkathon against it. So the bill died.
The measure banned firms from deducting from their taxes the expenses of shifting U.S. jobs overseas, while giving firms that bring outsourced jobs back here an additional 20 percent tax credit for doing so.
Four Republicans – including two in tight re-election races, Scott Brown of Massachusetts and Dean Heller of Nevada – joined 50 Democrats and both independents in voting to debate the measure by Sen. Debbie Stabenow, D-Mich. The AFL-CIO pushed it and asked members to call and e-mail senators for it.
"Too many of our tax and trade policies continue to reward multi-national companies who offshore jobs," federation Legislative Director Bill Samuel wrote senators. "This important legislation will create and keep jobs here at home."
"Every other major industrial country has a strategic plan to create and keep good jobs. It's time for the U.S. to implement a real plan…to put our people back to work and end the tax breaks and flawed policies that encourage rampant offshoring," he added. "The Bring The Jobs Home Act is the first step" in doing so, Samuel said.
Before the vote, Stabenow, Sen. Barbara Boxer, D-Calif., and other backers discussed the jobs bill, anyway. "In the last decade, companies shipped 2.4 million jobs overseas," Stabenow said. "To add insult to injury, American taxpayers were asked to help foot the bill. It is amazing. When I explain that to folks in Michigan, they say you have to be kidding – or they say other things I cannot repeat on the floor of the Senate.
"Just imagine if you are one of those workers in Michigan or Virginia or Ohio or Wisconsin or anywhere who maybe was forced to train your overseas replacement before you were laid off…When an American worker is asked to subsidize the moving expenses and costs so their own job can be shipped overseas," as they do now, "there is something seriously wrong with our tax code and our priorities."
"This is about making sure we see the words 'Made in America' again," Boxer said. "We need the jobs here. Shipping jobs overseas became a trend and a lot of important voices were heard saying: That is just the way it is. It is not just the way it is. If we have policies in place that incentivize manufacturing and production here, we are not going to lose those jobs."
Photo: Sen. Stabenow speaking on the floor of the Senate.