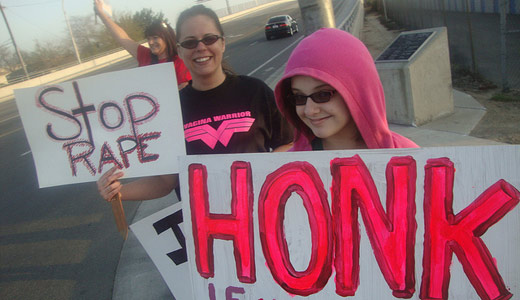 Renewal of the Violence Against Women Act is tied up in Congress. The reason: Republicans reject extending the law's protections for women who are undocumented immigrants, Native Americans, LGBT, or students on campuses.
The Violence Against Women Act, originally enacted in 1994, requires periodic reauthorization. Usually that happens easily with substantial bipartisan support. In 2005 it was renewed nearly unanimously. This year, it passed the Senate with a bipartisan vote. But the Republican-controlled House, on a party-line vote, insisted on passing a version that excluded the added protections for those categories of women. Among those voting for the exclusionary version were Rep. Paul Ryan – MItt Romney's pick for vice president, and Missouri Rep. Todd Akin.
Vice President Joe Biden, who drafted the original 1994 bill, noted in an Aug. 1 op ed that the Violence Against Women Act "established several critical new protections: first, it provides law enforcement with new tools to prosecute domestic violence crimes and put offenders behind bars. Second, it helps victims find safe places to stay so they don't have to choose between living on the streets or living with someone who is hurting them. And third, it gives women a crisis hotline they can call when they need immediate help." Since it was established the National Domestic Violence Hotline has received millions of calls from women. It takes calls in over 170 languages.
Each time VAWA has been reauthorized, the hotline website explains, improvements have been included. For example, the 2005 reauthorization added protections for immigrants; protected victims of domestic violence from evictions; provided new federal funding for rape crisis centers; added services for children and teenagers, and culturally- and linguistically-specific services for communities.
Terry O'Neill, president of the National Organization for Women, points out that women have for the last few years raised the fact that the law still has gaps. Two years ago, women from around the country visited all members of Congress "to make the case for a more inclusive VAWA. We went to both Democratic and Republican offices," O'Neill said in an Aug. 9 statement. Among those they met with was Sen. Charles Grassley, R-Iowa, ranking member of the Senate Judiciary Committee.
"We told Grassley and his staff two years ago that three serious gaps exist: a dearth of services for LGBT, immigrant and tribal victims," O'Neill said. "So imagine my surprise last week, when I heard Sen. Grassley, on behalf of Senate Republican leadership, complain on the floor that the addition of protections for these three populations was the result of Democrats' 'election year politics.'"
As Dominique Paul Noth of the Milwaukee Labor Press reported here, Rep. Gwen Moore, D-Wis., related her own life experience with sexual assault and rape in a House floor speech on March 28 supporting a fully inclusive reauthorization of the Violence Against Women Act. "The fact the act was being treated as a political football because it expanded to protect more women clearly angered her into speaking out that all women need protection," Noth wrote.
In fact, it has been a political football for Republicans for decades. A year after the law was enacted in 1994, House Republicans tried, unsuccessfully, to defund it. John Kasich, then a House member and now Ohio governor, was among those seeking to limit the funding.
Biden, in his op ed, said, "Congress must make the protections in the Violence Against Women Act available to every person in this country who may ever need them. This simply cannot be up for debate in a civilized society like ours."
NOW is urging calls to Congress members during the August recess, urging them to support the Senate's bipartisan, inclusive version of the Violence Against Women Act.
Photo: Julie Gordon Scott // CC 2.0