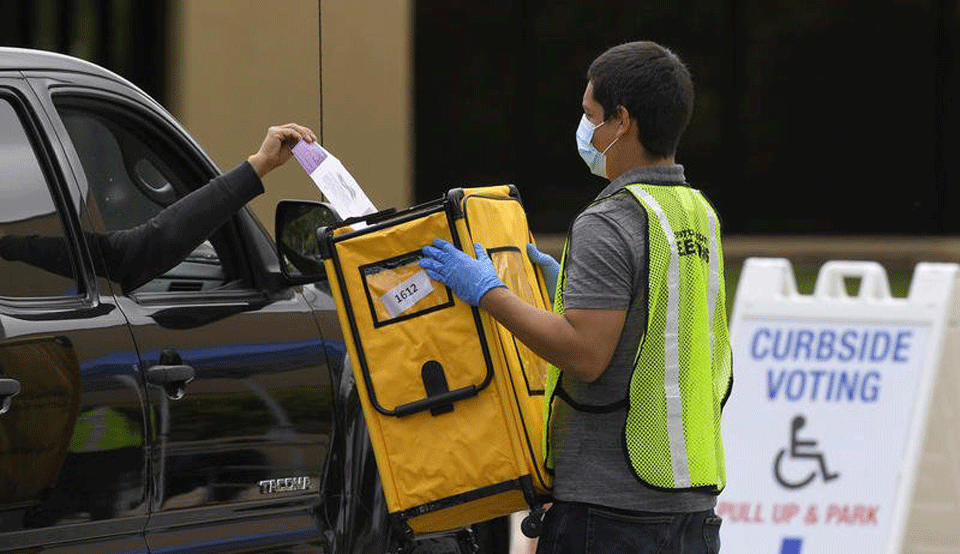 LOS ANGELES—In a special election held Tuesday in California's 25th Congressional District, a first-time Republican office-seeker, Mike Garcia, defeated the Democratic hopeful, California Assembly member Christy Smith.
This seat opened up on Nov. 3, 2019, when Rep. Katie Hill, elected in 2018 in a historic, though narrow upset of incumbent GOP Rep. Steve Knight, resigned after a scandal broke out surrounding nude pictures of her released by her estranged husband, and allegations of an affair with a congressional staff member.
The 25th C.D. occupies the northern tier of Los Angeles County and an eastern part of Ventura County, encompassing the communities of Santa Clarita, Simi Valley, Palmdale, and Lancaster.
In the March 3 primary, Christy emerged first among Democrats but did not win an outright majority, which would have elected her to the congressional seat. Garcia came in second.
The special election on May 12 served to fill the congressional seat only for the remainder of Hill's term, which ends in January. In the coming general election, Smith will face Garcia again in a race that will surely attract a much larger electorate.
In a concession statement released to her donors and campaign workers Wednesday, Christy stated, "I look forward to having a vigorous debate about the issues in the upcoming November 2020 election, from health care access to job creation, aid for working families, investments in local classrooms to wildfire protection, women's rights, and more in the months ahead…. This campaign is about you—and our community—and there is no doubt in my mind that together, we will prevail in the fall general election."
Mike Garcia, a former Navy fighter pilot, is a defense industry executive who was employed as a defense contractor for Raytheon Technologies. He campaigned against strict "socialist"-inspired government-imposed regulations. He enjoyed the enthusiastic endorsement of President Trump, who cited Garcia's stances on guns and immigration. Trump rejoiced at his victory, the first time in over 20 years that a congressional seat in California has flipped red. At the same time, Trump also celebrated a GOP congressional victory that day in conservative northern Wisconsin in which Tom Tiffany defeated Democrat Tricia Zunker.
Although by election night some 20,000 votes had not yet been counted for a final tally, if the current percentages hold, Garcia will have won by an estimated 12-point spread. Most votes were submitted by mail. Each candidate spent in the vicinity of $2 million.
Apparently Garcia's Trump endorsement did not weigh him down, as Democrats had expected. "Knowing nothing for sure," opined Tony, an election observer who did not allow his last name to be used for this story, "I shall hazard that Latino voters shot selves in foot just because of a Spanish surname on ballot."
The Republican Congressional Leadership Fund (CLF) contributed generously to Garcia's election. Its President Dan Conston gloated, "Winning in California bodes extremely well for the GOP's ability to win anywhere else in the country."
Garcia's victory statement made it "clear that our message of lower taxes and ensuring we don't take liberal Sacramento dysfunction to Washington prevailed."
Christy Smith's backing from Barack Obama, Hillary Clinton, and other prominent Democrats, as well as the Los Angeles County Federation of Labor, did not serve to sufficiently convince voters of the urgency of this election.
The 25th C.D., like other California districts that the Democrats captured from the GOP in 2018, must still be considered a swing district. The congressional seat flipped back to blue only in 2018, so this is not a seat with long-established Democratic legacy. Racially, the district comprises a population that is 45.83% white, 8.54% Black, and an almost identical 8.53% Asian, 35.32% Hispanic, and under 1% Native American.
While Democratic Party registration in the district exceeds the GOP, it remains true that in outlier elections with but a single seat or issue on the ballot, it is an older constituency of longtime, dependable voters, mostly white, that turns out. That seemed to apply on May 12.
Barack Obama won the district in 2008, but significantly, Mitt Romney won it in 2012. In 2016 Trump lost this district by 6 percentage points. That Democratic wave lifted Katie Hill high enough to defeat Steve Knight, as it also helped to defeat six other Republican Congressmembers in the state. Now some of the Democrats who won those elections are understandably a little more anxious about retaining their seats.
This time, most voters, distracted by the coronavirus pandemic and unable to see the candidates close-up in public campaign appearances, likely tuned out.
Still, this result may serve as a wake-up call, not just to Californians but to the country, about complacency even in a district they presumed to be safe for Democrats. How could a Republican, and a vocal Trump supporter at that, win an election in Los Angeles County? Longtime political analyst Bob Mulholland put it succinctly in the Los Angeles Times: "They let Christy Smith down."
Despite the vagaries of political campaigning in this epoch, Smith remains an attractive candidate. In 2018 she secured a decisive win in the race to represent the 38th Assembly District, which comprises 58% of the 25th C.D. She won that seat by over 5,000 votes, flipping a seat blue that had been Republican-held since 1978. With a strong record of leadership in public education, she started her career in public service as an analyst at the U.S. Department of Education.
A far larger voter turnout is expected in November. California is already known for his high percentage of mail-in balloting, but this percentage will be even higher now that the state has decided to mail every voter a ballot, whether or not they had previously requested an absentee ballot. That should considerably increase voter response to the all-critical 2020 vote when the re-election of the impeached Donald J. Trump is to be decided.
"By October," says Mulholland, "Garcia will have a Trump tattoo on his forehead. Democrats had better not fail."