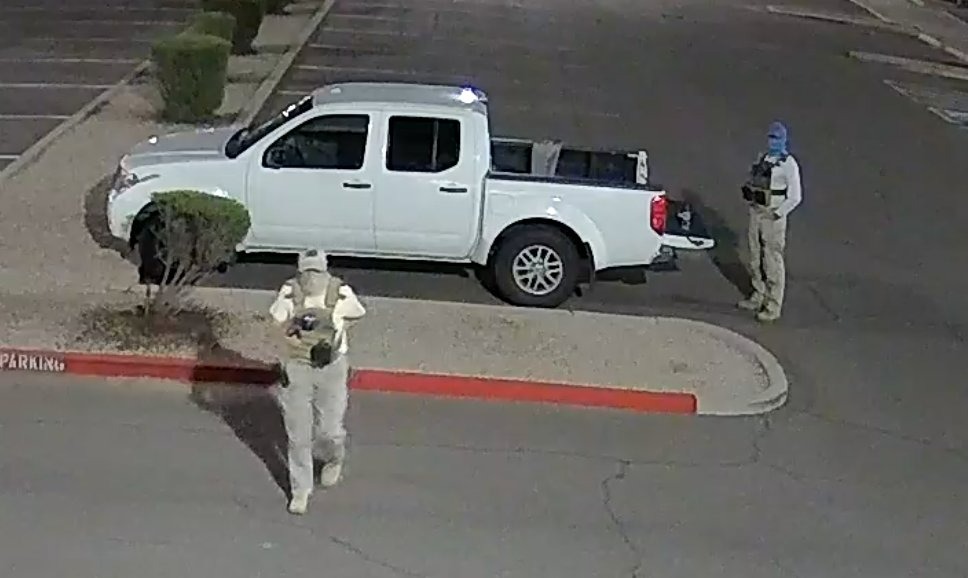 WASHINGTON—Even as a top union leader, Teachers (AFT) President Randi Weingarten, blasts voter and election intimidation—by white nationalists and their ilk—reports from key swing states, polling places and the ACLU show it's already occurring.
And in those states, the threats, voter challenges, intimidation of county and local elections officials by self-appointed monitors and more could swing the outcomes of key races. Among them: The Nevada U.S. Senate and governor's races, the Michigan governor's race and virtually everything in Arizona.
The threats hit home in a recent poll Reuters commissioned, published October 27. Two-thirds of the 4,400+ voters surveyed worry about "threats of violence from extremists" after the election if extremists, white nationalists and 2020 election deniers don't get their way.
In other words, Jan. 6, 2021, all over again, except this time in the states themselves.
That poll reported 43% of all voters "were concerned about threats of violence or voter intimidation while voting in person," including 51% of Democrats and 38% of Republicans. One-tenth of Democrats and a quarter of Republicans feared their votes would not be counted.
No wonder Weingarten, a longtime New York City civics teacher, is ringing alarm bells, even before her #AFTvotes pre-election bus tour, including swing states such as Arizona, Nevada, Michigan, Ohio, Pennsylvania, Minnesota, Wisconsin, Georgia, and New Mexico.
"Who is stoking resentment, anger and fear?…Who is enabling autocracy, at this vulnerable time for our democracy? As Pete Seeger sang, 'There are no neutrals' here," Weingarten she wrote in a pre-tour column.
Democracy under "gravest" threat
"American democracy is under the gravest threat since the Civil War," the  longtime New York City civics teacher warned. "According to the Public Religion Research Institute, an alarming 30% of Republicans believe 'true American patriots may have to resort to violence' to save the country.'
"Election deniers are seeking control over future elections, putting our free and fair elections at risk. That is why we must counter the factions that threaten our freedoms with an even more powerful coalition that transcends politics and parties."
Weingarten's right, except for one phrase. The election deniers—via intimidation and by brandishing guns at the polls, among other tactics—are trying to control this election, too.
The worst case may well be Arizona, which is ironic because the overwhelming majority of the state's voters cast ballots by mail, and many already have voted.
Nevertheless, Reuters reported on October 27 that Arizona officials asked the federal government "to probe a case of possible voter intimidation, after people casting ballots were conspicuously filmed and followed." Defend Democracy reported five of Arizona's 15 county elections administrators have left since 2020, including one who reported being threatened.
The Brennan Center for Law and Justice elaborated on Arizonan rightists' intimidation. "Guns and voting don't mix. Bringing weapons to a polling place doesn't promote election security. It intimidates lawful voters and risks bloodshed," it said.
"Last weekend, armed vigilantes in tactical gear were spotted lurking around a ballot drop box in Maricopa County. It's impossible to view this incident as anything other than blatant voter suppression." Maricopa, including Phoenix, dominates Arizona elections.
"Just a few days earlier, a voter reported being approached and followed at a second voting site in Maricopa County. It all grows directly out of the Big Lie of a 'stolen' 2020 election that has sent misinformed extremists into the street to counter a threat that doesn't exist."
The Brennan Center left unsaid that all Arizona Republican nominees who, if elected, would control the 2024 balloting, repeat former Oval Office occupant Donald Trump's Big Lie. They include the top two: Kari Lake (governor) and Mark Finchem (Secretary of State).
If Arizona leads the league, Nevada, also a swing state, may be running second.
The Silver State features tight races pitting Democratic Gov. Steve Sisolak and Sen. Catherine Cortez Masto against election deniers Adam Laxalt (senator) and Joe Lombardo (governor). Laxalt was Trump's attorney in trying to overturn Joe Biden's 2020 narrow win there by trumpeting Trump's lies about fraud and "a stolen election."
And Jim Marchant, an even more virulent election denier, is the Republican candidate for Nevada Secretary of State, facing Democrat Cisco Aguilar. The secretary would control the statewide voting in 2024. Washington Post columnist Dana Milbank filed a story showing the winner may already have wide sway—because intimidation left many holes in running the vote.
Trumpite says they are out to "fix" country
"We're going to fix the whole country, and President Trump is going to be president again," Marchant, leader of a Trump-recruited pack of Secretary of State nominees nationwide, said recently, Milbank reported.
The Nevada "fix" means finding vote administrators for 10 of the state's 17 counties, including Washoe (Reno), the state's second most-populous. There, the elections chief was forced out by an anti-Semitic conspiracy theorist, whose campaign led to death threats against her and her family. Later Washoe sent out absentee ballots rife with errors, Milbank noted—including one race not on the ballot at all.
Four rural Nevada counties junked their Dominion voting machines—again under pressure—in favor of paper ballots. In one of the four, Nye, the new acting administrator, Mark Kampf, was a fake Nevada 2020 elector for Trump, who falsely charged Dominion rigged machines nationwide in 2020. The ACLU challenged Nye County's decision for a complete hand count. It lost in a lower court and is appealing.
Voter intimidation has occurred elsewhere, the ACLU and others report. Examples:
"The insurrection failed, but MAGA lives on," Michigan ACLU Legislative Director Kelli Weisberg reports. "The Michigan ballot is filled with candidates who continue to trumpet the lie the 2020 election was stolen. Equally concerning are the intense efforts the MAGA-verse has put into recruiting poll watchers and workers. This is no time for people who support civil liberties to be complacent."
Florida Republican Gov. Ron DeSantis, a Trump clone, got the gerrymandered Republican legislature to give him his own "ballot protection" police force at the polls. Its officers—state troopers–have already arrested 20 voters for "fraud," 12 of them voters of color. Floridian judges tossed out all cases so far, but civil liberties groups warn of the chilling effect of DeSantis's cops on voters, especially voters of color, going to the polls.
The U.S. Justice Department is appointing assistant U.S. attorneys in each state as Designated Elections Officers to head task forces to monitor the polls for intimidation of and threats to voters and other crimes, as well as fraud—and not just in swing states. The latest two appointments were in Colorado and Rhode Island.
"It is a cornerstone of our republic that every citizen be able to vote without interference or discrimination and to have their vote counted in a fair and free election," Rhode Island U.S. Attorney Zachary Cunha said in naming Assistant U.S. Attorney Terrence Donnelly to the job.
"And it is equally critical that election officials and staff be able to serve without being subject to unlawful threats of violence. The Department of Justice will always work tirelessly to protect the integrity of the election process."
"Complaints about possible violations of the federal voting rights laws can also be made directly to the Civil Rights Division in Washington, D.C., by phone at 800-253-3931 or by complaint form at https://civilrights.justice.gov," the department said in its releases.
"We see a disturbing trend to excoriate and threaten the physical safety of election administrators and their families"—not to mention voters—"if the outcome of an election does not have a desired result," the American Bar Association concludes. "These threats are impacting the ability of our elections to run smoothly due to attrition resulting from these threats and verbal abuse."