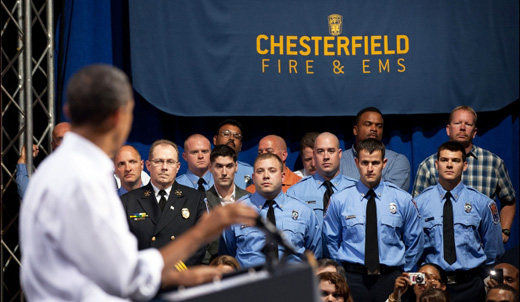 Twice in less than two weeks now, the GOP has killed attempts to put Americans back to work. The Senate blocked a key part of President Obama's bill and said "No" to 400,000 teachers, firefighters, paramedics and police officers.
In this second rebuff to job creation yesterday, they killed a smaller version of the president's original bill. The new, smaller bill would have provided $35 billion to state and local governments to prevent layoffs of teachers and first responders. Republicans objected to the bill's surtax of 0.5 percent, starting in 2013, on income in excess of $1 million.
Senate Democrats tried Oct. 20 to overcome a Republican filibuster of the Teachers and First Responders Back to Work Act but the 50-50 vote, with every Republican voting "No," fell short of the 60 needed.
"That's unacceptable," President Obama declared after the vote. "We must do what's right for the country and pass the common-sense proposals in the American Jobs Act. Every American deserves an explanation as to why the Republicans refuse to step up to the plate and do what's necessary to create jobs and grow the economy right now."
Only a day earlier, Obama told cheering firefighters in Chesterfield, Va., "If they (the Republicans) vote against these proposals, if they say no to steps we know will put people back to work right now, they're not going to have to answer to me. They're going to have to answer to you."
Stumping for his $447 billion jobs bill this week in North Carolina and Virginia, the president said that since Republicans "could not understand the whole thing all at once, we're going to chop it up into some bite-sized pieces."
Republicans killed the first of those pieces Thursday, only 10 days after they blocked consideration of the bill in its entirety. The Senate Republican leader, Mitch McConnell of Kentucky, derided the proposal as "a government jobs bill."
The defeat was almost, but not quite, along party lines. Two Democrats, Senators Ben Nelson of Nebraska and Mark Pryor of Arkansas, and Sen. Joseph Lieberman, independent of Connecticut, joined all the Republicans in blocking immediate consideration of the bill.
Democrats plan to hold votes on other elements of the American Jobs Act in coming weeks, including money for building roads and schools, tax credits for businesses that hire veterans and the long-term unemployed, an extension of benefits for unemployed workers and an extension of a payroll tax holiday.
Polls show that providing money to pay teachers, police officers and firefighters is overwhelmingly popular as state and local budget cuts have resulted in teacher layoffs, larger class sizes and elimination of school art, music and recreation programs.
Widespread support for job creation is also seen as helping fuel the immensely popular Occupy Wall Street movement.
Occupy Wall Street has spread now from big cities to small towns where young people are being joined by grandmothers and grandfathers.
Unions and union members concerned about jobs are increasingly joining the protests. Occupy Wall Street protesters are demanding not just Wall Street accountability for its abuse of power but that financial institutions invest some of their trillions in profits for job creation.
Transport Workers president James Little, whose union was among the first to back the occupy movement, said refusal by lawmakers to address job creation and other critical concerns helps explain the rapid growth of the Occupy Wall Street movement..
"If these people don't get together and try to change some of the inequity that's out there," Little said, "No one's going to do it. It has to be done. It's not being changed in Washington, not by legislators."
While many union members in big cities have been joining Occupy Wall Street actions, they are doing so also in small towns.
Union workers and members of Occupy Pocatello, a town in Idaho, marched together this week, demanding jobs. The march was backed by the Pocatello Central Labor Council.
In Peoria, Ill. unions and Occupy Peoria activists rallied outside Republican Rep. Aaron Schock's office. The West Central Illinois Labor Council and Building Trades then joined Occupy Peoria for a march and rally for jobs. The unions in Peoria have made meeting rooms and office space available to the occupy movement.
Photo: President Obama speaks to a rally to support his American Jobs Act. White House photo.