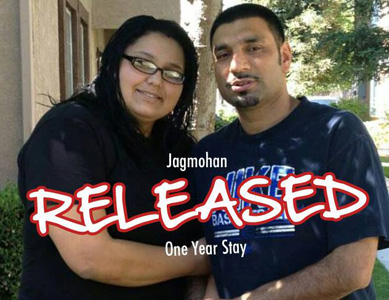 On June 13, the House of Representatives voted on a mostly partisan line to prevent the Obama administration from giving undocumented immigrants brought here as children a break. This happens as the full Senate begins to debate S 744, the main Senate immigration bill that was approved by the Senate Committee on the Judiciary, and as efforts are made to create bipartisan legislation in the House also.
Pressed by the immigrants' rights movement and its labor and civil rights allies, President Obama announced last year that the government would indefinitely suspend the deportation of undocumented immigrants who were brought into the United States without papers before their 16th birthdays, and who had not yet turned thirty. This program, called DACA (Deferred Action for Childhood Arrivals), was widely hailed in the immigrant and Latino communities and its implementation has been proceeding.
A second program initiative of the Obama administration, called "Prosecutorial Discretion," was supposed to instruct officials of the Department of Homeland Security, Immigration and Customs Enforcement (I.C.E.) to confine deportation action to people with criminal records or who represent a threat to the public. This has not worked nearly as well as DACA, apparently because I.C.E. personnel are interpreting these criteria in a way maximally unfavorable to the immigrants.
The vote was on an amendment to a funding bill for the Department of Homeland Security. The amendment was offered by Rep. Steve King, R-Iowa, who has a long history of opposition to immigrant rights. The vote was 224 in favor, 201 opposed and nine not voting. Only six Republicans voted against the amendment, and only three Democrats voted for it.
Many of the Republican congresspersons who voted for the King amendment are expected to support some kind of immigration reform in the end, and this will probably include a provision allowing these young people to acquire legal status. The House's own "Gang of Eight" is soon to announce its own immigration bill, which is expected to resemble the Senate one in this and other respects. President Obama has said he will veto the main bill with the King amendment for other reasons anyway.
So why this amendment, and why the party-line vote on it?
To some extent, it probably represents a slap at President Obama as much as an attack on immigrant youth. It comes in the middle of great uproar about Obamacare, Benghazi, the IRS questioning of tax exempt organizations, the investigation of the Associated Press' sources, and now the issue of massive government spying on electronic communications. The Republican posturing on these things is hypocritical to put it mildly, but any pretext for attacking the administration is considered legitimate right now, no matter what the "collateral damage."
The administration and the Democrats have denounced the Republican move.
There is still a lot of debate going on about the nature of a bipartisan House bill. One of the members of the House "Gang of Eight," Rep. Raul Labrador, R-Idaho, resigned from the group because they would not accept his idea that immigrants undergoing legalization must purchase health insurance from private companies or be deported.
Such immigrants cannot be covered by federal subsidies of any kind, and will not be allowed to buy insurance under the exchange system built into Obamacare. Many cannot afford such private health insurance.
In a statement, Labrador explained, "Like most Americans, I believe that health care is first and foremost a personal responsibility." This is an obvious slap at Obamacare also, and shows a gross lack of understanding of the whole concept of "public health."
The uncertainty about immigration reform actually materializing this year is one reason that grassroots protests against the fast current pace of deportations have increased to an unprecedented level, with marches, rallies and civil disobedience going on in numerous communities, behind the demand for a suspension of or moratorium on deportations until the legislative situation is settled. This week there were protests in Los Angeles, Chicago and Washington.
On June 14, the National Day Laborers Organizing Network carried out civil disobedience in the streets of Los Angeles near the site of a Democratic Party fundraiser at which President Obama was the featured speaker.
On June 12, a delegation of some 40 children, including "dreamers" and U.S. citizen children of parents who have been deported, met with members of Congress to ask that final legislation allow a mechanism for return of their parents. The group was headed by Saul Arellano, age 14, who was born in the United States but had to go and live in Mexico after his mother, Elvira Arellano, was deported after a year in a sanctuary church in Chicago. Besides their own letters, the children also delivered letters to President Obama and Congress from many other U.S. citizen children who have effectively been deported because of the deportation of a parent.
Photo: National Day Laborer Organizing Network Facebook page. Jagmohan Singh spent more than 100 days in detention but his wife, family, the IYC, and supporters fought and got him out the day he was to be deported.