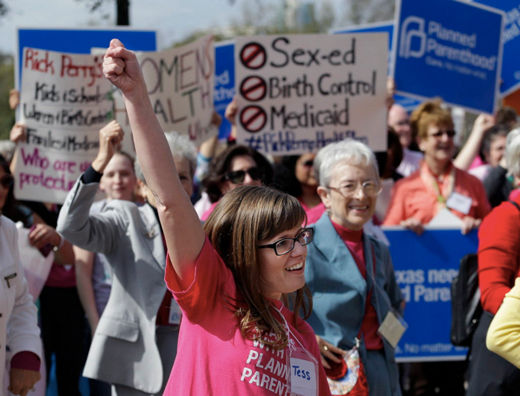 Planned Parenthood and the Affordable Care Act, also known as Obamacare, have been targets of the GOP for some time now, and just days ago the Republican party aimed to strike another blow to both. On Thursday, Dec. 3 the Republican-dominated Senate voted to approve a bill, H.R. 3762, that would remove the funds for investment in public health programs. This would mean an end to the tax credits that subsidize the cost of health insurance. It also reduces the number of employers required to provide healthcare benefits, along with repealing Medicaid expansion.
The bill states that "for one year, no federal funds may be made available to a state for direct payments, or payments through a managed care organization, to an entity" engaged in birth control services including abortion in cases other than ones involving rape, incest, or life or death matters concerning the woman's health. I
The bill, which singles out Planned Parenthood in its wording, was pushed through the Senate in a close vote of 52-47 vote and is more than likely to get pass in the GOP-run House, where it will then make its way to the White House. President Obama has already promised a veto.
Since the Republicans lack the two-thirds House and Senate majorities needed to override vetoes, it is clear that the attack on Planned Parenthood and Obamacare are being used as political talking points. Republican and Senate Majority Leader Mitch McConnell has stated, "President Obama will have a choice. He can defend a status quo that's failed the middle class by vetoing the bill, or he can work toward a new beginning and better care by signing it." Republican Sen. Richard Shelby of Alabama said of the symbolic bill, "The value is to let him know – the president – and others that there's a big division in this country, and a lot of us don't like it, and the American people don't like it."
It would appear that although there are more pressing bills that have been piling up in Congress for some time, such as funding the government and passing a highway bill, the GOP has decided that a guaranteed-to-be-vetoed bill is more worth their time. Not even the domestic terrorist attack on the Planned Parenthood clinic in Colorado has slowed down the momentum to defund the organization. Republican Sen. James Lankford of Oklahoma spoke from the Senate floor on Wednesday stating, "Individuals who speak out for the life of children shouldn't suddenly be silenced by being screamed down because an insane person does a shooting in a clinic."
The Senate had previously tabled an amendment from Senators Patty Murray (D-Wash.) and Ron Wyden (D-Ore.) that would have created a fund to support the safety of women's health clinics for staff and patients in the wake of last week's deadly shooting at the Colorado Planned Parenthood facility. It was voted to table that measure with a vote of 54-46. When speaking on H.R 3762 Murray explained, "This will undo the progress we have made. And it's not what our families and communities want."
When addressing the criticism of taking time to vote on symbolic measures, Republican Sen. John Cornyn of Texas countered, "We've reached a pretty scary time in our nation's history where we have Americans writing and calling their elected representatives saying they need relief from their own government. We have a mandate, I believe, to repeal this terrible law." Democratic Sen. Dick Durbin of Illinois was more critical on the Republicans' strategy. Durbin noted, "The fact that we blow off a day, two or three in the closing hours of this session for this political posturing, which is doomed to a presidential veto, is a waste of the time of the Senate."
A press release from Planned Parenthood Executive Vice President Dawn Laguens stated, "It seems implausible that less than a week after a tragic shooting at the Planned Parenthood health center in Colorado Springs some in Washington chose politics over compassion." Laguens went on to say, "There exists an extraordinary disconnect between the agenda and rhetoric of extreme politicians and the realities Americans face every day. Whether it's accessing reproductive health care free from fear of violence and harassment, or keeping our communities safe for everyone, it's time for Congress to act. It is time to say 'enough is enough' to the indignity and violence suffered by those who seek reproductive health care, those in the black community, immigrants, refugees, and the transgender community." The statement concluded by saying that the organization had no plans to stop its practice of "providing high-quality, compassionate health care to people all across this country," despite "cynical political attacks like this."
Photo: AP