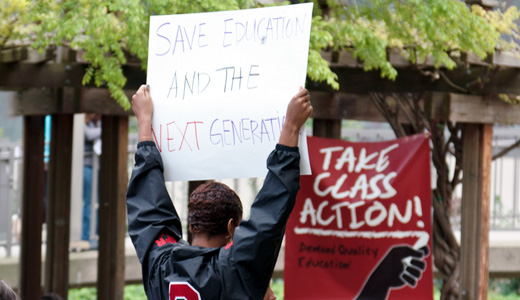 Calling the economy "not as good as it's been, but definitely on the mend," California Governor Jerry Brown released a revised budget proposal on May 16 . He told reporters at a state capitol press conference the new budget reflected billions in increased tax revenues while still ending "gimmicks" and addressing a $10 billion structural deficit and a nearly $35 billion "wall of debt."
The revised budget would increase funds for education while cutting 5,500 state jobs, eliminating 43 boards and commissions and merging others. Funds would be moved into projects to create jobs and improve infrastructure, and underused state properties would be sold.
Brown continues to seek five-year extensions of earlier temporary increases in the sales tax and vehicle license fee, but now wants to delay extension of the income tax surcharge until next year, extending it for just four years.
The governor's initial budget proposal, in January, sought to address a $26 billion-plus gap roughly half-and-half through cuts and tax extensions. Legislators have signed off on over $11 billion in cuts, mostly to human services, but Republican legislators have so far balked at Brown's plan to put the tax extensions before voters in a special election. Though Brown is a Democrat and Democrats control both legislative houses, they fall short of the two-thirds majority needed to put such measures on the ballot.
Calling his budget "a stable, balanced program," Brown predicted across-the-boards harm to the state if it is defeated, either in the legislature or by voters.
While they praised Brown's proposal for prioritizing education and public safety, state Senate Republican leaders Bob Dutton, Rancho Cucamonga, and Bob Duff, Diamond Bar, claimed it "goes too far on taxes and not far enough on reforms" and "sets the state on a course of excessive spending growth in the future."
Senate President Pro Tem Darrell Steinberg, D-Sacramento, countered that Brown "has laid out the only credible framework for achieving a long-term resolution to California's budget challenges." He said the new proposal achieves the "necessary balance" between deep cuts and ensuring that cuts to education, public safety and other vital services "are no deeper then they have to be."
California Budget Project head Jean Ross emphasized that the governor's plan "remains the only credible path to a balanced budget that protects the critical public structures and systems." But she said Brown's retention of controversial Enterprise Zone tax breaks for businesses while keeping deep cuts harming children, families and seniors "does not reflect Californians' values and priorities."
California Labor Federation head Art Pulaski called Brown's budget "a pathway to free California from the perpetual budget crises" and urged legislators to adopt it promptly to prevent further cuts. "An all cuts budget flatly ignores the values Californians share," he said. Pulaski also criticized Brown's back-tracking on his original plan to end enterprise zone tax credits.
Last week legislative Republicans for the first time offered their own budget proposal, including deeper cuts to human services, layoffs or pay cuts for state workers, and temporary shifts of funds from voter-approved early childhood development and mental health programs. Their proposal rejected Brown's call to extend the temporary tax hikes.
Meanwhile, Assemblywoman Nancy Skinner, D-Berkeley, May 16 introduced her bill to raise taxes by 1 percent on the wealthiest 1 percent of Californians – those with annual incomes of $500,000 or more. She said this would bring in an additional $2.3 billion per year. The measure would restore the top personal income tax rate to the level under Republican governors Ronald Reagan and Pete Wilson.
Skinner also noted that the affected taxpayers benefited from Congress' late 2010 extension of Bush-era tax cuts for the wealthiest.
All last week, tens of thousands of protesters thronged the capital, Sacramento, and held "State of Emergency" rallies around the state, urging full funding for education. Dozens, including California Teachers Association President David Sanchez, were arrested when they refused to leave the Capitol building at closing time.
Photo: Sacramento rally for full funding for education. CC 2.0.