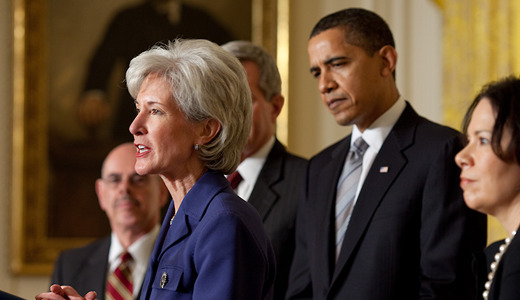 The Department of Health and Human Services is using its authority under the recently enacted health reform law to push state oversight of insurance premiums and rate hikes.
It marks the beginning of "round two" in the battle for universal and affordable health care, health activists say.
HHS Secretary Kathleen Sebelius on June 7 announced $51 million in Health Insurance Premium Review Grants through the Affordable Care Act signed by President Obama in March. It is the first portion of a new $250 million grant program for states to create and strengthen insurance rate review.
The grants will subject insurance company rates to "new public scrutiny, said Jay Angoff, director of the department's Office of Consumer Information and Insurance Oversight. "These funds will help states strengthen their oversight capabilities and will allow states that do not currently review rates to establish a program," he said.
To receive a grant, a state must submit a plan for how it will use the money to develop or enhance its process of reviewing and approving, disapproving, or modifying health insurance premium requests.
The new grants, Sebelius said, "will help states protect consumers and small employers by holding insurers accountable for unreasonable insurance rate increases that have made coverage unaffordable for many American families."
This is part of "the next generation of health reform," health care advocate Diane Archer said at the America's Future NOW! conference in Washington June 7. Archer is co-director of the Health Care for All Project at the Institute for America's Future, and founder of the Medicare Rights Center, a consumer education and advocacy group. She said the struggle to pass the health care bill had raised public expectations, and fulfilling those expectations is "going to take another round of reform."
Ethan Rome, executive director of Health Care for America Now (HCAN), said the passage of the reform bill was a big plus for those who favor a single-payer system. It "changed the relations of power so we can make more change," he told conference participants, and by making a "concrete and immediate difference in people's lives," it showed the possibility of winning and "moved the entire debate to the left."
The role of the federal government in ensuring health care will be a central focus in the next phase of the struggle.
Calling passage of the health bill "a major accomplishment," Archer said it includes new consumer protections, and the federal government has "new and important oversight." The insurance and pharmaceutical industry "has every reason to try to kill the gains," she said. Therefore, "the federal government will have to play a big role" to ensure the bill's reform measures are carried out.
The new round in the fight for universal and affordable health care has three focuses, Archer said:
* States lack skills, resources, and often the will, to keep the insurance industry in check, she said. Health care advocates in and out of government need to urge states to let the federal government to create health insurance exchanges, establishing a uniform national "floor" of basic coverage.
* Health activists need to spotlight insurance company abuses, "call their bluff," and demand an alternative.
* The insurance industry will continue to drive up premiums. If the insurance companies can't push down costs, the government needs to do so with a public option, Archer said.
"We have to demonstrate over and over and over again that we need the federal government," that "we can't trust to unfettered private interests" to provide health care, she said.
HCAN released a report last month showing that the five largest for-profit health insurance companies "cashed in on double-digit rate hikes to record huge profit gains in the first three months of 2010 while providing skimpier benefits to hard-pressed consumers."
The five companies – WellPoint, UnitedHealth Group, Aetna, Humana and Cigna – reported combined net income of $3.2 billion, a 31 percent leap from the same period in 2009.
"It is an obscene business model: they sell people a product, make it worse and cost more over time, and then deny people the care they've paid for when they need it most," Rome said. "How do they do it? Greed. They put profits for Wall Street and bloated CEO salaries above all else."
Sen. Dianne Feinstein, D-Calif., and Rep. Jan Schakowsky, D-Ill., who joined HCAN in releasing the report, have introduced the Health Insurance Rate Authority Act of 2010. It would empower the Health and Human Services secretary to block excessive premium increases.
"I've come to the conclusion that the driving force in this sector of our economy is profits for shareholders – it isn't good coverage for beneficiaries, and that's a problem," Feinstein said.
HCAN is urging public pressure to pass the Feinstein/Schakowsky bill.
Photo: Health and Human Services Secretary Kathleen Sebelius. (White House/Pete Souza)