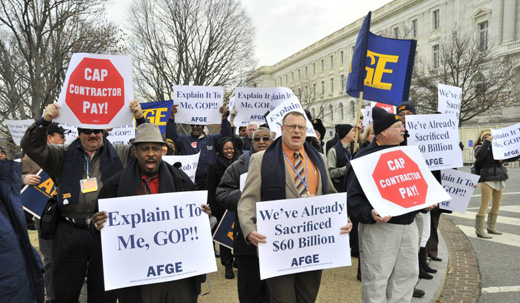 WASHINGTON – Saying federal workers "must take our case" to the U.S. people as well as to Congress, American Federation of Government Employees (AFGE) President J. David Cox outlined the devastating impact that automatic budget cuts would have on vital services all over the country.
In a stem-winding Feb. 11 speech to his union's legislative conference, meeting in D.C., Cox said the cuts could affect everything from food safety to services for veterans.
AFGE, with 300,000 members, is the largest union representing federal workers, who would take big hits in their pay if the $85 billion in automatic cuts, called sequestration, start March 1. Congress enacted those cuts last year and originally scheduled them for New Year's Day, but then pushed them back for two months in the tax hike deal with Democratic President Barack Obama.
But lawmakers, notably tea party Republicans, appear ready to let the cuts take effect without trying to change or stop them or make sensible trims in the federal budget, Cox said.
The cuts, economists warn, could throw the U.S. right back into a second recession, and Cox reminded the crowd that Wall Street shenanigans and shady financial deals caused the first one. Yet those financiers aren't being asked to sacrifice, while federal workers have already foregone $122 billion in canceled pay raises and higher pension premiums, he added.
"We have to tell Capitol Hill that $122 billion is enough, that 22 days of unpaid furloughs is enough. Tell them what the furloughs would do to you," to families and to middle-class jobs, he declared.
"I want you to tell them, 'I'm protecting you by screening people at our borders,' and 'I'm not going to let somebody hijack a plane,' and 'I'm at a veteran's bedside as he's dying," from wounds in Iraq or Afghanistan, Cox declared. All those services – and more – would be cut by the sequester, he said.
Other services that could suffer, an AFGE fact sheet says, include meat and poultry safety inspections – thus reducing the amount of food in the nation's grocery stores – and air traffic control.
"Tell them you keep us safe and tell them 'Stop the sequester now!" Cox said.
Joined by AFSCME, the largest union of state and local workers – whose members are also in D.C. for their legislative conference – AFGE rallied on Capitol Hill on Feb. 12. After speeches from Cox, AFSCME President Lee Saunders, AFL-CIO President Richard Trumka and sympathetic lawmakers, the thousands of unionists fanned out to congressional offices to oppose the sequester and urge alternatives.
Food for everyone would be particularly vulnerable, Trevor Holland, of AFGE Local 638 in St. Joseph, Mo., told the Feb. 12 crowd. He's one of 6,500 Food Safety and Inspection Service inspectors to be furloughed, in rotation, starting March 1.
"The way FSIS intends to cut their spending is to send the food inspectors home," Holland declared. "The president says up to 2,100 fewer food inspections would occur. Mr. President, you underestimated the impact.
""As soon as you take a food inspector off the floor, a" meat, poultry or egg processing "plant shuts down," Holland emphasized. The shutdowns "would affect several hundred thousand workers" who toil at the plants, not just the 6,500 inspectors.
"They wouldn't get paid. They'd lose $400 million in wages. There would be higher food prices and food safety would be compromised. It would be horrible."
AFGE's top goal, at the conference, the rally and in its lobbying, is to end the sequester. But if Congress won't do that, the union offered an alternative: Saving billions of dollars by reducing the frequency of some contracted-out services or by forcing the contractors to rewrite – i.e. reduce the cost of – their contracts, under threat of cancellation. It presented a study of how to do so, by a University of Baltimore law professor who specializes in studying federal contracting.
Congress, however, seems to be moving towards doing nothing and letting the sequester kick in. The tea party Republicans, who rule the U.S. House, are content to let the automatic budget cuts start.
And the House was scheduled to vote this week on a bill, HR273, by tea party Rep. Ron DeSantis, R-Fla., to cancel a scheduled 0.5 percent federal pay raise planned for the last half of this calendar year. It would be the first raise in two and a half years.
Plus, Democratic President Barack Obama's White House Office of Management and Budget told agency chiefs to look at cutting federal workers' pay – through the furloughs – instead of reducing the high costs of outside contractors, Cox said.
That didn't sit well with either Cox or the crowd. He said there's a "lack of leadership" by Obama on the issue. Some employees of the contractors make more than $700,000 yearly, virtually double Obama's pay.
Photo: 2012 AFGE legislative march to Capitol Hill, from AFGE Facebook page.