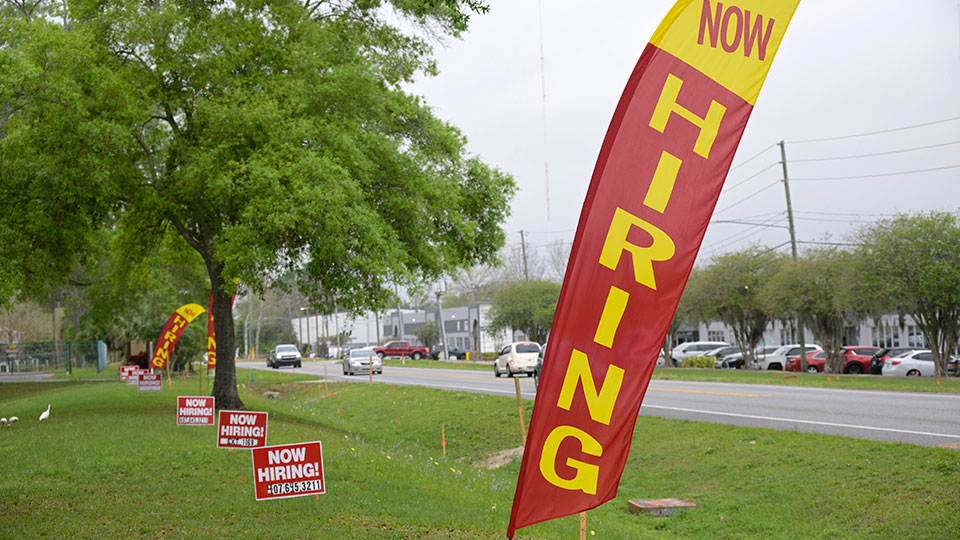 WASHINGTON—The coronavirus-caused economic Depression is apparently over, at least for workers, for now, Bureau of Labor Statistics data show.
But the public mood is different, and that's a problem for the Biden administration. And with Republicans in Congress hamstringing further funds to battle the modern-day plague—despite the threat of yet another variant—that could quickly change, too.
Nevertheless, U.S. unemployment dropped 0.2% in March, to 3.6%, virtually matching the 3.5% rate in February 2020, the last month before the crash. And private businesses claimed to create a net of 426,000 new jobs this March. Governments added 5,000 workers.
The additions brought total jobs to within 1% of pre-pandemic numbers, Economic Policy Institute Senior Analyst Elise Gould pointed out. There were 5.92 million jobless workers in March, compared to 5.717 million in February 2020, BLS data showed.
The next month the crash hit and the number of jobless jumped to 7.165 million. It then more than tripled in April 2020, to 23 million. This March's figure is one-quarter of that number.
Now, even people who stayed jobless have shorter stays on unemployment rolls: A median of 7.5 weeks in March, down two whole weeks from February, and down from 13.4 weeks six months ago. The median is the point where half the group is above and half below.
The March gains weren't the only ones BLS reported. As more, and more complete, reports from employers came into BLS, it revised job gains in the first two months of 2022 upwards by 95,000, to a total gain in January and February of 1.25 million jobs.
The catch is that those two sectors are still the lowest-paying. Private-sector workers earned an average of $1,098 weekly in March, but the bar and restaurant workers earned less than half of that ($511.68) and didn't work as long: 26.8 hours weekly, compared to 34.6 hours for all non-supervisory private workers.
Factories claimed to add 38,000 jobs in March, rising to 12.657 million, still 1% short of their numbers before the crash hit, BLS said. Car and part plants (+6,400 jobs) and chemical plants (+7,200) led the way in the March gains.
Construction contractors claimed to add 19,000 jobs in March, to 7.628 million, and the firms have now gained back all the jobs the sector lost to the crash, the BLS survey showed. Just over half (+10,200) of the new construction jobs were at specialty trade contractors.
Warehouses and transportation firms added 1,000 workers in March, and that sector has 608,000 more jobs than before the crash. BLS did not speculate why, but warehouses—and Amazon in particular—added hundreds of thousands of jobs during the pandemic to accommodate massive increases in Internet-driven demand. Warehouses alone added 158,000 jobs in the last year, rising to 1.765 million.
Most of the private sector gains in March were in sectors—led by motels, bars and restaurants, and retail trade—that lost the most jobs when the crash, needed to stop "community spread" of the coronavirus pandemic, began. In March, the bars and restaurants alone added 61,000 jobs. But the leisure and hospitality sector, which includes them, still has 1.47 million fewer workers than it did two years ago, Gould noted.