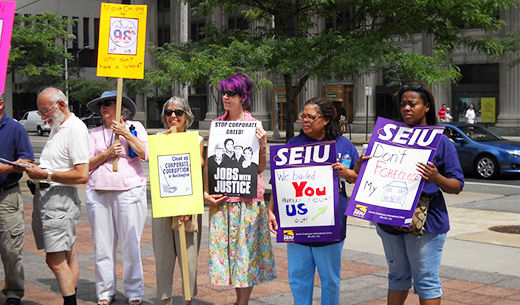 As the nation's poverty rate rises to 15 percent, the highest level since the 1960s, the Obama administration announced this week new measures to help struggling homeowners prevent foreclosure.
Nearly 10 percent of all homes in the U.S. are at risk of foreclosure. Unemployment is the main reason homeowners cannot keep pace, and U.S. government efforts are finding it difficult to match the scale of the crisis.
Over $1 billion is being allocated under the Department of Housing and Urban Development's Neighborhood Stabilization Program. The new monies are the third in a series of grants provided since President Obama took office.
"So far we've spent $7 billion to stabilize neighborhoods, " said HUD's Deputy Secretary Ron Sims.
The money can be used to demolish or rehabilitate abandoned homes and for down payments on new ones. Land banks can also be created to take over and manage vacant properties.
"In addition to a third round of NSP funding, the Dodd-Frank Reform Act creates a $1 billion Emergency Homeowners Loan Program to be administered by HUD," announced the government agency.
Grants to cities are between $1 million and $2 million. However, large cities are getting more. Los Angeles, for example, will receive $22 million and the state of California $149 million.
Another HUD program, First Look, allows local residents a two-week window to examine and bid on properties before they are opened up to the general market.
Youngstown and Warren, Ohio, are among hundreds of cities around the country receiving grants.
"On Wednesday, HUD announced that Youngstown would receive about $1.1 million and Trumbull County roughly the same amount in neighborhood stabilization funds. The money would be used for demolition, the creation of land banks, redevelopment, acquisition and incentives to help residents purchase houses," a business journal reports.
The former steel town, along with Hartford, Conn., sport the highest poverty rate in the country.
Newark, N.J., also is using the program. "Mayor Cory Booker announced that the city will receive $2 million, which will be used to purchase and rehabilitate 47 foreclosed homes, and sell them to low- and middle-income Newark residents."
Despite these efforts, the problem dwarfs administration efforts to address it, government officials acknowledge.
In April, a report by HUD Secretary Shaun Donovan said, "Treasury's response continues to lag well behind the pace of the crisis. As of February 2010, only 168,708 homeowners have received final, five-year loan modifications – a small fraction of the 6 million borrowers who are presently 60+ days delinquent on their loans."
Republican policies helped spark the financial meltdown and the foreclosure crisis, officials are quick to point out.

Photo: (SEIU)