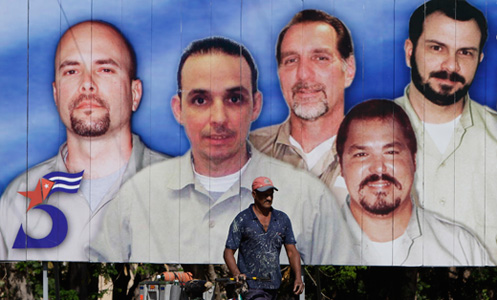 The U.S. government has taken extraordinary measures to defeat the Cuban revolution and undo Cuban independence. For sheer wrongness, the most notorious include the Bay of Pigs invasion, terrorist attacks, medical supplies blockaded, and persecution of the Cuban Five political prisoners. Now proceedings in the latter case take up previously neglected material confirming its place on the short list.
On August 20 lawyer Martin Garbus filed an affidavit with the trial judge in the Cuban Five case on behalf of prisoner Gerardo Hernandez, who is serving two life sentences. His earlier appeals having been denied, Hernandez filed a Habeas Corpus appeal on June 14, 2010. The affidavit is part of that process. It details a story of illegality and arrogance.
Garbus and Bill Norris, lawyer for prisoner Ramon Labañino, participated in an August 20 telephone press conference organized by the National Committee to Free the Five. Summarizing the affidavit, they indicated that the Miami Herald, Nuevo Herald, and other Miami area newspapers and television outlets blanketed the region with reports and editorials directed against the Five before and during their trial that ended in 2001. The affidavit demonstrates, they said, that the U.S. government's Broadcasting Board of Governors (previously USIA) paid the responsible reporters, editors, and broadcasters, ostensibly for services to Radio Martí, the propaganda outlet beamed at Cuba and based in Miami since 1996.
The idea, Garbus said, was to influence the community, sway the jury, and convict the Five, who came to Florida as Cuban agents in the 1990's to monitor and report on private groups carrying out anti-Cuba terror attacks. They were arrested on September 12, 1998.
The court never considered the issues of government money and U.S. assistance to the prosecutors. "The defense team had absolutely no knowledge… we were not able to do anything that would have protected our clients." lamented Bill Norris. Asked about legal precedents, Garbus explained that although cases of harmful publicity are legion, there has never been "a case where you have seen so much government involvement in trying to influence a jury." This one "stands by itself."
According to the affidavit, El Nuevo Herald published 806 prejudicial articles during 194 trial days; the Miami Herald, 305 articles. "The entire community" knew who the 12 jurors were. Most of the factual material contained in the affidavit had been unearthed by the National Committee using the Freedom of Information Act.
Separate but overlapping Habeas Corpus pleas are underway for four of the prisoners still in jail. Antonio Guerrero, Ramon Labañino, and Gerardo Hernandez received one life sentence each for conspiracy to commit espionage. On appeal, Guerrero was re-sentenced to 21 years, 10 months, Labañino to 30 years. Convicted on lesser charges, Fernando González and René González received 19 and 15 year sentences, respectively. Fernando's sentence was reduced to 17 years. René González was released on probation in 2011. Hernandez' second life sentence stems from conviction on a murder conspiracy charge. .
Hernandez' habeas corpus appeal filed in 2010 calls for his conviction being vacated on grounds of ineffective counsel, a biased trial venue interfering with due process, prosecutorial misconduct, governmental failure to disclose evidence favoring Hernandez, and a "separate denial of due process resulting from the Government's payments to journalists."
Defense lawyers, unable to introduce new facts into their habeas corpus appeal like payments to journalists, took steps. On June 6, 2012, Hernandez' lawyers filed a motion asking for "an opportunity for discovery prior to an evidentiary hearing." Garbus filed the affidavit in support of that motion. It produces the facts he wants on the record. The motion "asks only for discovery [on] the claim relating to paid journalists." It leaves Hernandez' other claims for another day.
Garbus' affidavit, which follows a government critique of the June 6 motion, covers the journalists' personal histories, how much U. S. money they received, and what their articles, editorials, and broadcasts said. Radio Marti is castigated for illegally serving as a conduit for domestic propaganda. The affidavit notes prosecutorial and defense agreement that the government did make the payments.
Concluding the affidavit with the essence of Gerardo's legal claim, Garbus writes: "Every dollar for every article, image, radio or television show that was spent on this secret program violated the integrity of the trial."
That the Miami atmosphere remains poisoned five years after the trial was clear following the Miami Herald's publication on September 8, 2006 of a report titled, "10 Miami Journalists Take U.S. Pay." Author Oscar Corral and his story were discussed at the press conference and in the affidavit. For disclosing facts elaborated upon in the affidavit, Corral was accused of being a Cuban spy and threatened with death. Forced to move to a secret location together with his family, he soon resigned from the paper.
Photo: A billboard with images of the "Cuban Five," in Havana, Cuba, around the time Rene Gonzalez, whose photo appears third from left, arrived in Havana after a Florida judge granted him permission to visit his gravely ill brother. Franklin Reyes/AP