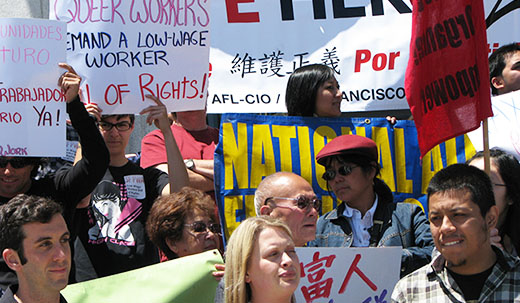 WASHINGTON (PAI) – Saying wage theft is moving beyond its once-usual occupational fields of construction, trucking and household help, a panel of experts on the issue urged stronger state and federal laws against firms that cheat workers, tougher legal definitions that make it hard for employers to define workers as cheatable "independent contractors," and increased and more-coordinated enforcement.
The National Consumers League, the labor-backed group which has been battling wage theft – and for workers' rights – for 114 years, convened the panel on Capitol Hill to brief congressional staffers on the hugeness of an ignored problem.
But wage theft comes through arbitrary employer rulings that workers are "independent contractors." That's a form of fraud that hurts workers, honest employers and governments, too, panelists said.
Millions of workers are arbitrarily called "independent contractors." That cheats them of pay, forces them to pay double in Social Security payroll taxes, denies them unemployment insurance and workers compensation and robs them of job safety and health law protections, said Kim Bobo of Chicago-based Interfaith Worker Justice.
Calling workers "independent contractors" also puts them outside the protection of already weak U.S. labor laws, denying them e the right to organize and join unions.
The panelists also included Carpenters wage specialist Matthew Capece, Massachusetts Labor Standards Department Director Heather Rowe and National Employment Law Project attorney Sarah Leberstein. Capece said wage theft lets cheating contractors gain a 30% bidding advantage over honest ones.
The panel also said wage theft is not just a case of small local firms cutting corners, but often of national companies with deliberate decisions to make their workers "independent contractors." Among the biggest offenders are FedEx, the nation's largest package express firm and Pulte Homes, its second-largest homebuilder. Though the panel did not say so, both are also notoriously and often illegally anti-union.
Panelists urged passage of laws that end misclassification of workers as "independent contractors." They suggested coordinating wage theft enforcement across states and different agencies. They also applauded crackdowns by Kentucky, Tennessee, California, New York, Illinois and a Connecticut-Massachusetts combo.
And Bobo, author of the definitive book on the issue, said Congress should double the current 1,000 wage and hour inspectors the Labor Department now employs. Those probers are supposed to deal with wage theft, overtime denial, underpayment of the minimum wage and more, for 135 million workers, she said.
Photo: Marilyn Bechtel/PW