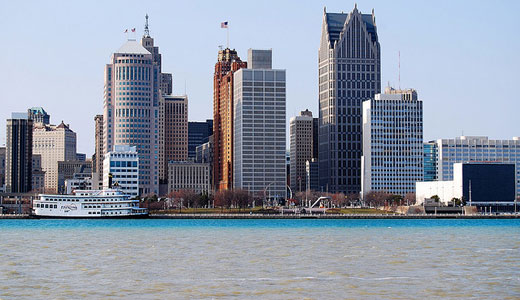 DETROIT – Governor Snyder and Emergency Manager (EM) Kevyn Orr should listen to the audio, said Detroit bankruptcy judge Steven Rhodes, in hearing objections to the city's Chapter 9 bankruptcy application.
Rhodes was referring to testimony of city retirees expressing fears and anger upon learning their pensions are on the chopping block.
It may have been an unusual scene in a bankruptcy court, often ruled by lawyers for high priced clients, but the Judge gave Detroit's residents and workforce, the "small" creditors the city owes money to, three minutes to tell their story. More than 100 signed up to do so.
Reading the live coverage provided by the Detroit Free Press newspaper one hears the moving and sometimes heartrending voices of workers – some fighting back tears – who are stunned and very stressed their pensions are in jeopardy after decades of hard work.
One retiree said, "I go to sleep at night worrying about being a debtor when, from the age of 17, I worked."
They were workers from the city's water and sewage department, building inspectors, police, and many more.
One stated her goal was "always to make the city better." Working at the water and sewage department she had risked health and safety to provide safe water. "We did our part. We need the city of Detroit to continue to do theirs,' she declared.
They argued the pensions owed to them by the city cannot be compared to the monies owed Wall St. Banks and other creditors. Who could rationally argue otherwise?
Their jobs were not an attempt to make a fast buck, or get rich quick. Nor were their jobs one of many investments in a large portfolio that many of the city's large creditors have. Theirs was not a wild hope that they would hit the lottery or win a big jackpot rolling three of a kind on a one armed bandit at the casino.
The pensions they earned and counted upon for a modicum of security were modest, averaging $19 thousand a year. Many are for much less.
On the "Stand with Detroit" page of the American Federation of State City and Municipal Workers are the stories of a cross section of the city's retirees. One is Ora Mae Mott who worked for the city of Detroit in the Finance Department for 30 years. She is 81 years old and her monthly pension is $1100.
"There's no way in hell I'm living large," and she says she has to "keep my clothes well because I cannot afford to go shopping."
Objections in court yesterday were also raised to the self defeating cut-off-your-nose-to-spite-your-face method of cutting expenses.
A Detroit resident said selling and privatizing public lighting department will mean less revenue coming into the city.
Another said the severity of the crisis might not be as great if the city hadn't laid off its tax collectors.
Photo: Patricia Drury/Flickr