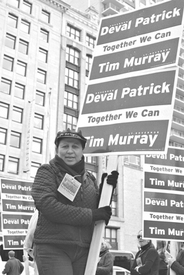 Massachusetts is not one of battleground states for Congress. None of the 10 representatives is in danger of losing their seat. The last GOP congressman from Massachusetts was Silvio Conte, and he was a liberal Republican who voted against the first Gulf War.
The big electoral news here is the fight for the governor's office, largely between Democrat Deval Patrick and the Republican Lt. Gov. Kerry Healy. Two other candidates in the race are independent Christy Mihos, who originally was planning on running as a Republican, and Green-Rainbow candidate Grace Ross. All four have participated in the debates.
Healy has been running a negative campaign, attacking Patrick, former assistant attorney general for civil rights during the Clinton administration, for his stand in support of undocumented immigrants and his role as a defense attorney in private practice. Nevertheless, Healy's negative ads have given her only a small bump in the polls, and she still trails 20 points behind Patrick, who seems poised to be the first African American governor in Massachusetts.
Massachusetts voters will also consider a number of progressive ballot initiatives.
The "Home from Iraq" initiative, on the ballot in 36 legislative districts, demands that the state representative from that district "vote in favor of a resolution calling upon the president and congress to end the war in Iraq immediately and bring all United States military forces home from Iraq." The 36 state representative districts cover all or part of 139 cities and towns.
Labor organizations and independent political organizations have put an initiative on the ballot that would permit a candidate to be nominated by more than one political party, a process known as "fusion." Supporters of the initiative are also supporting the campaign of longtime labor activist Rand Wilson, who is running as the Working Families Party candidate for state auditor. If he gets 3 percent of the vote, the Working Families Party will be designated a major party under Massachusetts law.
Another labor-led initiative would permit private home, state-subsidized childcare workers to join a union, which could then negotiate with the appropriate state agencies.