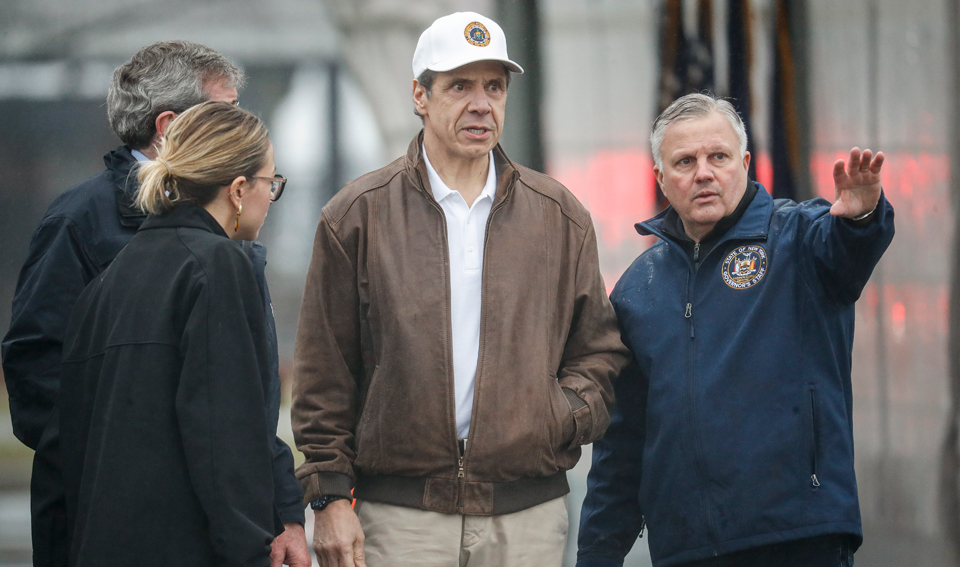 As states left without a coordinated national plan to battle the coronavirus pandemic cobble together a patchwork of emergency measures, President Donald Trump said yesterday the states should continue to take care of matters themselves.
The governors in the states, desperate to stop hospitals from being overwhelmed, are asking for ventilators, protective equipment, and ICU beds, which are in short supply. Health care workers across the country are saying they are going to be forced to ration healthcare because of the shortages of needed equipment.
The fear is that the situation is rapidly approaching what is already happening in Italy. There were reports on MSNBC this morning that patients over 80 may have to be left to die in the health care rationing that is going on in that country, with resources being devoted to those patients who are younger or who have better recovery prospects.
Among the governors stepping forward to provide the leadership lacking from the federal government is New York's Gov. Andrew Cuomo, who demanded yesterday that the Army Corps of Engineers be mobilized to fight the coronavirus by quickly turning military bases, armories, college dormitories, tent cities, and other buildings into temporary hospitals.
Cuomo demanded a national set of standards—not just for the shutdown of commerce and institutions but for a mobilization of the military to bolster the nation's ability to deliver medical treatment.
"States cannot build more hospitals, acquire ventilators, or modify facilities quickly enough," Cuomo said, saying the expertise and equipment of the Army Corps is "our best hope."
This morning, Cuomo said further: "I am telling you this state government cannot meet this crisis without the resources of the federal government. We need their help, we need FEMA, we need the Army, they have a capacity we simply do not have. I said to the president I put my hand out in partnership, I need your help, I want your help. The federal government will have nothing but cooperation and partnership coming from us. There is no time for the hyper-partisanship."
Trump had lashed out at Cuomo via Twitter just hours earlier, saying he (Cuomo) must "work harder to get the job done." He also attacked the governor of Michigan, calling her a "failed governor" and saying he "stands with" the people of Michigan.
Cuomo said yesterday he does not believe official figures on the numbers of people who are already infected tell the whole story. He said it is possible that tens of thousands of New Yorkers already have the disease.
The coronavirus causes symptoms such as fever and a dry cough for most people. For some, especially older adults and people with existing health problems, it can cause more severe illness, including pneumonia.
Cuomo said this morning that there are 30,000 hospital beds in New York state. Based on the experience of other countries, Cuomo said, we can expect that the infection peak will come in about 45 days, with as many as 110,000 hospital beds needed in the state. There could, in addition, be 30,000 ICU beds needed with ventilators, because the acutely ill will need them to breathe. The lack of sufficient beds, he said, is the big healthcare challenge.
The first step already taken by the state, he said, is to flatten the disease curve with the closings in the hope of slowing the flow into the hospitals. Italy, he said, got to the point where everything but grocery stores and pharmacies were closed. Across the U.S., similar measures are gradually being implemented.
Another step, he said, is to come up with an increase in the allowed capacity of hospitals. He announced a team that will be studying this and making proposals. "What is the maximum number we can get into your hospital, and what do you need to achieve this?" are the questions that will be asked, Cuomo said.
The third part, he said, is the construction of temporary hospital facilities that need to be built, and that is where his demand for help from the Army Corp of Engineers comes in.
In other impacts, Ohio canceled its primary elections today despite a court order to allow them to go forward. Florida, Illinois, and other state primaries are going forward today.
Many public school systems, including those in the nation's large cities, such as Chicago, Los Angeles, and New York, are shut down. Some shuttered school systems are in certain cases providing "grab-and-go" meals to youngsters who need them.
There are reports of several state lawmakers around the country being infected and under quarantine, with state capitols being cleaned and disinfected.
Bars, restaurants, and movie theaters have been closed in numerous cities and states coast to coast, with enormous impacts on businesses especially today, St. Patrick's Day, which is one of the busiest of the year for many of these places. Hoboken, N.J., was the first of many towns across the country to impose curfews from 10 p.m. until 5 a.m.
The entire San Francisco Bay area is under a total lockdown, with authorities ordering residents to stay home, going out only for food or medicine. Asked on CNN whether a similar lockdown was under consideration in New York City, Mayor Bill de Blasio said, "Every option is on the table in a crisis."