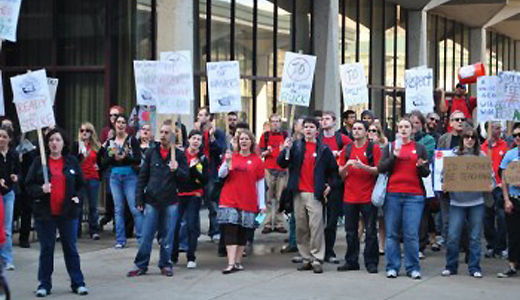 CHICAGO — The University of Illinois-Chicago Graduate Employees Organization and the UIC administration reached an agreement regarding the GEO's contract late last night, April 6.
At issue were guaranteeing tuition waivers (a traditional benefit of employment for graduate employees) and tuition differentials, a special tuition which is assessed in addition to regular tuition for students in certain programs. These differentials can change from year to year with little notice, making financial planning for a student's education exceptionally difficult. For example, some graduate students to pay up to $11,000 per year in fees, despite the fact that most GEO members make less than $15,000 per year.
At the subsequent mediation session, the UIC administration and the GEO came to agreements on these two core issues. The university also agreed to other concessions that would provide more economic security for graduate employees in the form of pay raises and contributions to health care costs, according to a GEO press release.
The UIC-GEO had voted 84% in favor of calling for a strike as early as April 6 if contract negotiations had failed.
The GEO's first agreement expired in August 2009, and GEO members have been negotiating a new contract since April 2009, including yesterday's marathon 13-hour session. The GEO held a rally April 6 morning outside where the mediation session was taking place.
Addressing the crowd, sociology and Asian American studies professor Anna Guevarra urged the university's bargaining team to "produce the best possible university and not the cheapest university."
Although the lengthy mediation session was "grueling," according to GEO bargaining team leader Sarita Heer, "it was worth every second to know that we have successfully settled our contract without having to go on strike."
The next step is membership ratification of the contract, which will happen next week, the GEO said. "We are happy that the university valued graduate employees enough to guarantee our financial security as we teach undergraduates at UIC and complete our research," GEO President Charles Moss said in a statement.
The Graduate Employees Organization, AFT local 6297, AFL-CIO, is the labor union representing more than 1,400 teaching and graduate assistants at UIC. These assistants teach undergraduate classes, grade papers, work in offices, design websites, maintain databases, and perform other work crucial to the teaching and research missions of the university.
Check UIC-GEO site for the most recent updates: http://www.uic-geo.net/?q=news.
Photo: Rachel Hewitt/GEO