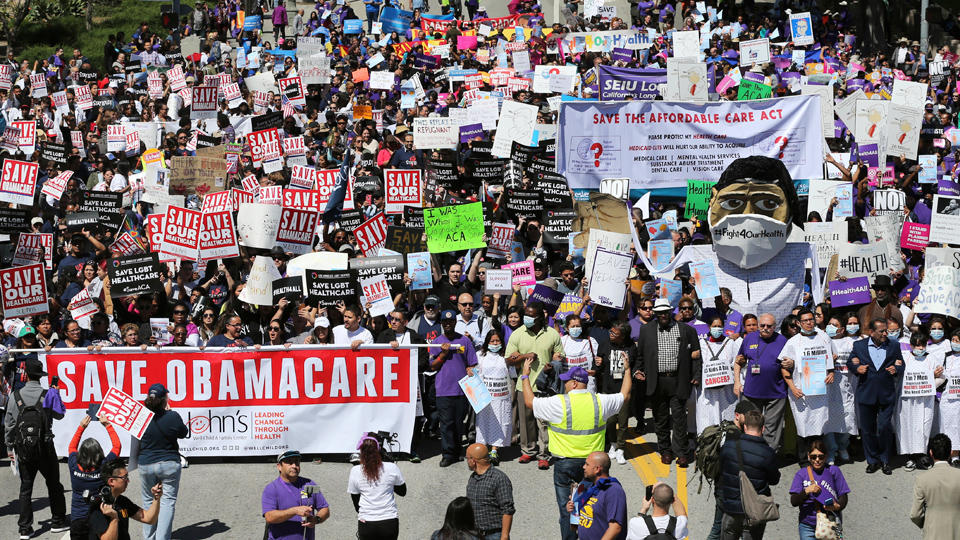 OAKLAND, Calif.—Health care advocates in California say the latest attempt in Congress to repeal the Affordable Care Act would cut the state's health care funding by a devastating $28 billion per year by 2028, rising to $58 billion in 2027 and beyond.
Republicans are driving for a vote on the measure by Republican Sens. Lindsay Graham, S.C., and Bill Cassidy, La., by Sept. 30 so it can be conducted under "budget reconciliation" regulations, allowing it to pass with 50 senators and a deciding vote by Vice President Mike Pence. After that, it will again be possible to filibuster the measure, making a 60-vote majority necessary for passage. At present, all Senate Democrats are solidly opposed, and several Republicans are reported to be opposed or equivocating.
In a Sept. 19 blog post, Anthony Wright, executive director of the broad Health Access coalition, said the bill "would intentionally and disproportionately" slash the state's health care spending, leaving 6.7 million more Californians uninsured, and targeting the state "for harsher and earlier cuts."
In its fact sheet about the bill, the coalition pointed out that California's cuts would constitute over a third of the rollbacks nationwide. "This cut is even more, in both dollars and in percentage, than under previous ACA repeal proposals," Health Access said. "Graham-Cassidy deliberately shifts resources from large, densely populated states that embraced and implement the ACA."
New York, Maryland, and Massachusetts are also targeted for disproportionate cuts.
Funding for Medi-Cal, California's Medicaid program covering nearly 14 million low-income Californians, would be gutted. Individuals buying insurance through the Covered California exchange would lose income-based subsidies, and the mandate requiring that everyone have coverage would end.
Sarah de Guia, executive director of the California Pan-Ethnic Health Network, pointed out that a majority of Californians affected by the cuts would be people of color, who "will lose access to affordable health care, including mental health care services and preventive care." She called on the state's 14 Republican members of Congress to "denounce" the bill "and its calculated attempt to harm vulnerable Californians and destabilize our entire health care system."
The Graham-Cassidy bill would turn most federal health programs into block grants to states, starting in 2020. The states could then choose who to cover and how much, making it possible to discriminate against women, people of color, and those with pre-existing conditions.
It would also cripple community clinics caring for millions of Californians.
Health Access says the main difference between Graham-Cassidy and earlier efforts to repeal the ACA is that "insufficient" block grants would replace the present funding for tax credits, cost-sharing payments, and Medicaid expansion. The block grants would end after 2026, and then no federal dollars would be available for marketplace subsidies and Medicaid expansion.
"Federal resources to states would be redistributed to states based on criteria unrelated to actual coverage and spending needs and in ways that favor Republican states," the coalition said.
In fact, former Republican Sen. Rick Santorum—an author of the Graham-Cassidy measure—made that goal explicit in an Aug. 22 interview with Breitbart News: "What you can do is redistribute this money that has been heaped upon … ultra-blue, very wealthy states. … If California simply wants to expand Medicaid with this money, good luck. They're going to have to cut their program dramatically because they don't have the money with what they're funding now."
Protests have taken place or are planned at the offices of the state's Republican members of Congress, calling on them to reject the Graham-Cassidy bill. Several have many ACA beneficiaries among their constituents. Among them are David Valadao of Bakersfield, Jeff Denham of Turlock, and Dana Rohrabacher of Costa Mesa.
Virtually every professional health-care-related organization opposes Graham-Cassidy, along with associations of hospitals and insurance companies.
A very broad spectrum of labor-related and peoples' organizations—among them the AFL-CIO—are pressing hard for its defeat.