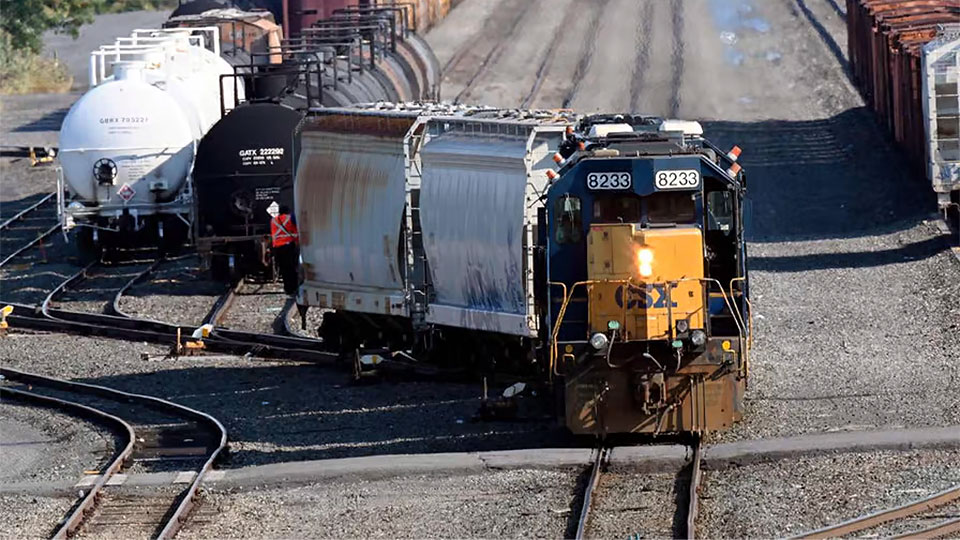 WASHINGTON—A grass-roots movement of railroaders, who believe their national union leaders fell short of getting them what they deserve in a tentative agreement the Biden administration brokered between their unions and freight railroads, will conduct informational picketing nationally on September 21.
The organization, Rail Labor for Coordinated Bargaining in 2025—which is when the next contract comes up—is planning protests at rail yards in cities from coast to coast, though an e-mail to the group has yet to produce a list of where and when their members will picket. They said information will be at raillabor@gmail.com, adding workers should picket and leaflet before and after their shifts.
"The Freight Railroads have abused us and our communities far too long," a flyer put out by the group says. "The rail infrastructure is a ticking time bomb and the lack of workers has made an unsafe situation even worse."
The rail labor group is drawing support from Railroad Workers United, a grass-roots organization of unionists from across all rail crafts. In telephone interviews with People's World, RWU Co-Chair Ross Grooters and RWU Organizer and spokesman Ron Kaminkow said they were surprised by how quickly opposition to the proposed pact arose. RWU's put out an extensive bulletin supporting the movement and urging its members to join in.
"Their goal is to make sure their voices are still being heard" as a real settlement is reached, added Grooters. "It's also an attempt to keep this" struggle with the freight railroads "in the public eye.
Workers see themselves now as having more leverage than they did in the past. The nation's freight railroads cut almost 30% of their workforce even before the coronavirus pandemic hit and are now extremely short-staffed. To make up for it, they exploit their workers. It is not past them at all to commit corporate extortion on shoppers, enlisting them in a fight to get Congress to impose settlements on railroad workers.
In the past, the government has often sided unequivocally with the railroads with anything up to and including threats to force them to stay on the job by threatening to draft them into national service. This is the first time that a president of the U.S. has gone on national television to condemn the rail companies for trying to deny something as basic as sick days to the workers.
The pro-worker Biden administration faced pressure from both the prospect of a legislative settlement and a deadline of 12:01 a.m. on September 16, when a "cooling-off period" where rail workers could not strike and freight railroads could not lock them out. So it literally shut the freight rail bosses in one room in the U.S. Labor Department, shut union leaders in a second room, and put Labor Secretary Marty Walsh, a Laborers Local 223 member, in a third room as facilitator and mediator. The two sides kept shuttling back and forth to him, working out a deal.
Reaching a settlement was in Biden's interest, too, as well as that of consumers and working people at large. That's because freight railroads ship 30%-40% of all U.S. commerce, including everything from coal and chicken feed to wheat, oil, and drinkable water. A management-forced shutdown would crash the nation's already creaky supply chain, right before the mid-term election and the fall-winter holiday shopping season.
At 4 a.m. on September 15, after 20 straight hours of bargaining, including frequent phone calls from pro-worker "Amtrak Joe" President Biden, the two sides reached a tentative agreement. Details have yet to be sent to the rank-and-file railroaders, and must go through their unions' leaders and contract committees first. Grooters and Kaminkow estimated the process would take around a month. In the meantime, it's triggered another "cooling-off period" where the workers can't strike and the freight rail bosses can't lock them out.
But enough is known, both said, to send workers into informational picketing.
The 115,000 rail workers have worked under an old contract for more than two years, predating the coronavirus pandemic's start. Deemed "essential," they received only cost-of-living increases, no regular raises, and were subject to onerous work rules and erratic scheduling which the proposed contract did little to nothing to solve.
The freight firms proposed a five-year pact retroactive to July 1, 2020, with cumulative raises of 15%, and—most importantly—minimal changes in the rules. Workers, through their unions, sought 31%, retroactive to Jan. 1, 2020, and lots of changes.
Split the difference
The settlement split the financial difference, and that's virtually all, Kaminkow and Grooters said.
Railroads forced workers, particularly conductors and engineers represented by two of the 13 unions negotiating together–the Smart-Transportation Division and the Brotherhood of Locomotive Engineers & Trainmen, a Teamsters Rail Division member–into working weeks at a time without a break, even for weekends and holidays. Those two unions represent half, a vital half, of all the rail workers involved.
Workers can also be called in on short notice. If they can't make it—even for such things as doctors' visits or family funerals—the railroads docked "points" from their job records. Too few remaining points and the roads fired the workers.
Illustrating the impact of the roads' practices on workers, the Burlington Northern Santa Fe recently forced engineer Aaron Hiles to report to work on a moment's notice and drive his train even though he told his wife he "felt funny" from chest pains and wanted to go to a doctor. Days later, on June 16, Hiles, 51, dropped dead in his train's engine room of a massive heart attack, somewhere between Fort Madison, Iowa, and Kansas City, Mo.
His death got railroaders very upset.
"We need safe staffing levels, affordable health care, cost of living increases, and scheduling adjustments," Grooters said in the interview. That's in addition to higher pay and paid sick days. The proposed settlement adds one unpaid sick day per year. They now have none at all, paid or unpaid. The roads bent a little on doctors' visits, saying they wouldn't dock workers for that reason.
"They know we need a better workplace to come to," Grooters said of the freight railroads, represented by the National Carriers Conference Committee. The big Class I freight railroads—including the Burlington Northern Santa Fe, the Norfolk Southern, CSX, and the Union Pacific—lead that group.
One BNSF executive contends, and tried to bring it up in bargaining, that freight trains which now stretch for miles can be run with just an engineer—no conductor—or remotely with nobody at all. Norfolk Southern started cutting off shippers on September 11, hoping to force them to lobby lawmakers, especially Senate Republicans, to legislatively impose a contract on the workers.
There is one wild card. Each union involved must OK any settlement, otherwise, all could stay out after a cooling-off period ends. Several union boards—though not BLE&T or Smart's Transportation Division—have already approved the Biden-brokered settlement in principle. But Machinists District 19 put the skeleton pact to a vote. Grooters noted that 63% of the workers rejected it, in an 80% turnout.
"Each and every IAM D19 member should be extremely proud," its bargainers wrote after the vote. "You have delivered a strong message to the rail carriers and the entire industry by rejecting the tentative agreement and in favor of striking. This week, as we go back to the bargaining table…your strong stand is at the forefront of our endeavors to get a worthy contract.
"Many have asked why we extended the cooling-off period after the vote. The answer lies in what we are seeing now—a chance for a new tentative agreement that meets the needs of our members. Our extension also means we are able to address our particular needs" with the freight rail bosses. "Without an extension, there's a very real possibility Congress would have imposed a contract on us."