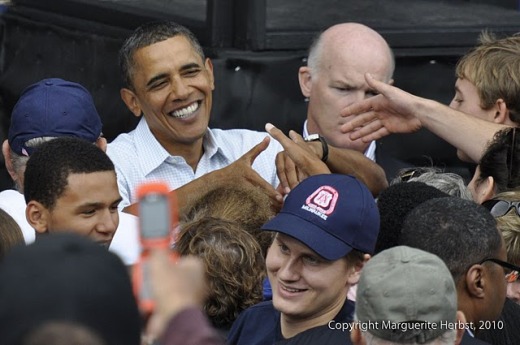 MILWAUKEE — There was one clear message everyone in the crowd at Laborfest here took home with them Sept. 6: the true meaning of Labor Day.
It will be hard for the thousands of people in attendance to view this holiday as just another three-day weekend, where picnics, ball games and beer prevail.
"Labor day should not be just a day off, but a day on," said Secretary of Labor Hilda Solis to a crowd of about 10,000 union members and their families.
What she meant was on this day all Americans should reflect on the trials and tribulations of those involved in the labor movement, from the millions of workers who work faithfully at their job to those who fight on behalf of labor.
"God bless the union," she concluded, having a bit of fun with the play on words. (Story continues after slideshow.)
Solis warmed up the crowd — already jubilant in anticipation of the main speaker — President Barack Obama. The Labor secretary was joined by a number of local labor leaders and Democratic politicians, along with her "friend" and "amigo" AFL-CIO President Richard Trumka.
Labor's historic and continuing contribution to the country, the economy and November's mid-term elections were all themes coming from the podium. Solis took a few moments to stump for Sen. Russ Feingold and Milwaukee Mayor Tom Barrett who is running for governor. Feingold is facing a tough re-election race this year.
Trumka, who has given many recent speeches on why preventing the Republicans from taking over Congress is important for job creation and working families, continued that theme, emphasizing the need for unions.
"Brothers and sisters, it's time to make working people number one in the world again," he said. "All work has dignity."
"Franklin Delano Roosevelt once mused to a friend, 'If I were a factory worker, I'd belong to a union,'" Trumka said. "For Barack Obama, however, Roosevelt's statement applies to all work."
Trumka and Sheila Cochran, chief operating officer of the Milwaukee Area Labor Council, inspired the crowd to be "economic patriots," emphasizing the need to manufacture things in the United States.
"Export the things we make," Trumka shouted, "not the jobs that are needed to make them!"
Milwaukee's Cochran urged the crowd to get their cell phones out-right there, right now-and text a simple one word message into it: S-T-R-O-N-G-E-R. At least half the crowd did it, and was instantly connected to the labor council campaign for jobs.
Milwaukee's popular congresswoman, Gwen Moore, riveted the crowd with a little-known page from labor's history. She recalled the Bay View massacre of 1886 when 7,000 building trade workers joined 5,000 Polish workers to strike for an eight-hour work day. However then-Governor Jeremiah Rusk ordered National Guardsmen to "shoot to kill" any workers who attempted to enter the Milwaukee Iron Company in Bay View. When the workers approached the mill the next day, they were fired upon. Seven died including a 13-year old boy.
"So this is what I want to ask you all," Moore said, firing up the crowd, as she then spoke in the vernacular of a slave during pre-Civil War times, "Is we is or is we ain't going back?"
In order to keep the labor movement strong, she insisted upon one important expression of solidarity: workers, union people and Democrats alike must vote.
"If you'll have this president back, then you had better watch his back," she said. "You've got to participate. They don't like anything Barack Obama does in Washington. You were great in '08, do it again in 2010!"
Many in the crowd proudly displayed their union tee-shirts, baseball caps and banners. And concerning the president, the mood was palpable even before he arrived. It was quite a sight when the crowd stood up, en mass, turned 180 degrees from the main stage and rapturously applauded Air Force One as it slowly descended across Lake Michigan on its way to Mitchell International Airport.
President Obama took the podium, and as eloquent as ever, he applauded the union movement. "It was the labor movement that worked so hard for what we all take for granted today."
Of course, the big news was his announcement on the $50 billion new plan to build America's infrastructure.
He applied impeccable logic when he remarked, "It doesn't make any sense to have so many skilled people off of work when there is so much to do."
He then turned his talk to a sustained attack on his Republican opponents.
"To steal a line from our old friend Ted Kennedy," he said, "what do they find about working men and women so offensive?"
"Even when the proposals clearly favor their own constituents, like small business owners, they say 'no'. If I say, 'The sky is blue,' they say 'no.'"
The president finished by saying the Republicans have had their way; their economic philosophy has been tested out-for 10 years-but it was shown to clearly be a dismal failure.
However, Obama said, when you ask them what they want to do next, they shout in unison: we want to go back and do the same thing. "They're betting that between now and November, you're going to come down with amnesia," he said.
The crowd — an even demographic of African American, Latino and white – shouted out to speakers throughout, "Don't' be a tea-bagger!" or "No more class war!" and "We love you Obama!"
Pauline Athans of Milwaukee said she wholeheartedly supports the president but was quick to point out to those around her what she didn't quite agree with. She would say, "Not I am, but we are."
Photos: Marguerite Hebrst © /PW/not covered under Creative Commons