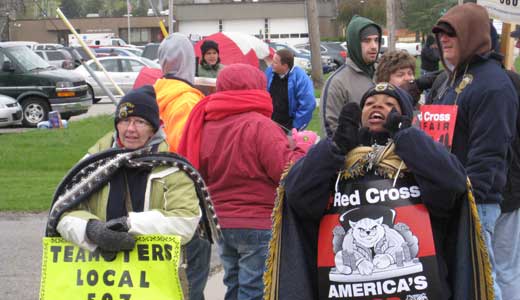 LANSING, Mich. – They are responsible for protecting and maintaining the nation's blood supply, bringing the mobile American Red Cross (ARC) units that collect blood to communities throughout our nation. They work extremely hard but the chance of mistakes increase when people are rushed and pushed to the limit. Reaching those limits has forced ARC workers to go on strike. "You don't want a truck driver out there driving 14 – 16 hours to the blood drive, work the blood drive and then drive home fatigued," said Lynne Meade President of Teamsters Local 580.
Meade was bundled up, as were all of the 200 or so people walking the picket line, on what was a very cold, windy and soon to become rainy Friday morning.
What started in Cleveland on Valentines Day and spread to Toledo has now come to Lansing. Striking workers are saying if ARC gets its way, their own health and safety and in turn the nation's blood supply will be further endangered.
Ironically, employee health insurance is another huge bargaining issue. ARC is attempting to make unilateral changes to employee health insurance that mean deductibles and co-pays could raise costs many thousands a year.
Dale Parker, United Food and Commercial Workers Local 75 organizer who represents ARC workers in Toledo, put it bluntly "We are not going to recommend an offer with insurance costs that your union representatives couldn't afford."
What really riles people up is that ARC says this is not about money and they are not claiming poverty, said Lance Rhines from the Office of the Office and Professional Employees International Union Local 459 in Lansing.
So why would ARC force the strike? Rhines had the answer. He said the ARC board used to be made up of 50 members with representatives from labor, regular donors, and folks from the community. During the Presidency of George W Bush, the board was "hijacked" and reduced to 20. They threw off everybody except a "who's who of the millionaire's club such as the President and CEO of Starbucks, Blockbuster Video, Wal Mart, and the list goes on and on."
He said, "They are bringing us the same type of treatment they brought their workers. They don't believe a working person deserves a fair day's pay for a fair day's work."
Another issue looms large in this strike. "It's about control, about the right to collectively bargain, a right that corporate America is working to destroy," said Teamster Vice President Al Mixon. Mixon had brought a group of 30 strikers from Cleveland. One of those who joined the 3:30 am caravan northward was Andrea Hereford "We came to support Michigan. They are going through the same things we are."
"We have to stick together," was a refrain heard from all this reporter spoke to.
Another theme heard was their love of their work and the donors they are responsible for. Meade put it simply, "we have a passion for our jobs."
That passion is leading them to fight for the health and safety of others as well as themselves. Meade would like to see a registered nurse be on every blood drive, especially when collecting at high school blood drives where children as young as sixteen may be donating.
"It's a calling," said Meade, and she said ARC takes advantage of their dedication. "We're out there taking care of people, yet for my employer, I'm the last person they want to take care of."
Photo: John Rummel/PW