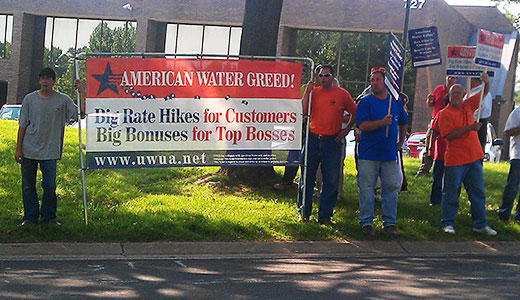 ST. LOUIS – "This is greed on steroids. This is union-busting at its finest," John Ebeling, vice president of the St. Louis Central Labor Council, told the People's World as about 100 members of Utility Workers Local 335 rallied outside the Missouri-American Water Company here June 7.
According to the union, American Water made $268 million in profits last year, had total revenue of $2.7 billion, and paid its top seven executives a combined $12.5 million.
Former CEO Don Correll made $3.5 million and new CEO Jeffry Sterba, who worked for the company less than five months last year, made $1.4 million. In other words, the new CEO made about $280,000 a month last year.
Tom Schneider, president of Local 335, said, "When they made less in profits, we got better wages."
Schneider said the water company recently started trading on the stock market, which has increased the drive to maximize profits for shareholders.
According to Ebeling, who also serves as vice president of Communications Workers of America (CWA) Local 6300, American Water's real goal is "to break the union."
In contract negotiations now under way, the company has tried to eliminate all seniority provisions, change job descriptions at will without bargaining or notifying the union of implemented changes, and combine truck driver, distribution system and construction work into a new classification. It has refused to agree to fill vacant positions with displaced union members, and wants to outsource work at will.
Furthermore the company imposed a 52 percent health insurance premium hike, steep increases in out-of-pocket payments and cuts to health care coverage levels.
Schneider said American Water's new health care proposal is "worse than the worst plan we had."
Nationally 11 different unions are negotiating with American Water – including the Laborers, Steelworkers, Electrical Workers and Service Employees along with the Utility Workers.
Schneider said the company's contract offer was rejected nationwide by 90 percent of the membership.
American Water is also seeking to increase rates for consumers: 13 percent in Pennsylvania, 16 percent in Iowa, 19 percent in New York, 20 percent in Hawaii, 22 percent in Virginia, and 35 percent in California.
State Rep. Eileen McGeoghegan, a Democrat, told union members at the rally here, "We have to stop them in their tracks. We can't let them get away with this."
Ebeling added, "The 100,000 union members and families of the St. Louis Central Labor Council have been with you and will continue to be with you."
Lew Moye, president of the St. Louis Chapter of the Coalition of Black Trade Unionists, summed up the mood of the rally when he said, "Your fight is our fight. And as long as you are fighting we'll be fighting."
Photo: Members of the Utility Workers rally outside he Missouri-American Water Company in St. Louis, June 7. Cathy Sherwin, Missouri AFL-CIO