It was a scene right out of an old "spaghetti western" film, as Ivan Savvidis, Russian owner of the Greek football club PAOK F.C., stormed onto the pitch, armed with a hip-holstered pistol, to confront a referee after his team's late goal was ruled out for offside against AEK Athens Sunday, March 11.
AEK's players, concerned for their safety, abandoned the pitch, and the match was officially ended two hours later.
Savvidis made a quiet exit Sunday, and local police were actively seeking his arrest.
The recent wave of soccer violence prompted Deputy Sports Minister Giorgos Vasiliadis to meet with Greek Prime Minister Alexis Tsipras and announce an indefinite stop to all league matches along with PAOK's F.C.'s suspension.
"At some point, we have to decide to cut the Gordian Knot, take collective action, and ignore the political consequences," Tsipras said, referring to the legendary conquests of Alexander the Great, and how to find a simple solution to an intractable problem—disentangling an impossible knot.
Savvidis apologized for his "emotional" reaction Tuesday, March 13, as a judicial investigation was ordered into the incident.
The league suspension is the latest attempt by the Greek government to curb the out of control and powerful Greek soccer bosses, who have far-reaching business interests in infrastructure, shipping, gambling, and news media. The sports moguls operate in the shadowy world of fan violence and face constant allegations of corruption.
This incident and team suspension comes ten days after a court convicted and sentenced 58 soccer club officials, players, managers, and former owners up to 10 years in prison for match-fixing.
Most of the sentences were suspended.
But as preparations continue for the 2018 FIFA World Cup, Greece now faces formal expulsion from international competitions due to widespread violence, according to FIFA official Herbert Huebel Wednesday.
"We all love football, but it's unbearable that people are scared to go to a stadium," Huebel said. "How can you bring children there when there are guns on the pitch?"
"The aim of the game is always to win, of course," he continued. "But it can't be forced by arms, by threats, or even by crime."
Soccer federation president Evangelos Grammenos said league officials will draft a declaration against violence by March 23.
"It was decided that professional soccer [officials] will commit in writing to a framework concerning violence inside and outside stadiums, and concerning stadium security," Grammenos said. "If the minister for sports finds these commitments satisfactory, he will decide on whether to revoke his decision."
Huebel's report to FIFA on the incident is expected in about ten days.
"The report will be serious," he said. "We don't know what the decisions by FIFA will be. There's a wide range which finally ends up at the FIFA Council…. The jurisdiction of UEFA and FIFA can be a very strict one."
While the Greek government has welcomed FIFA's involvement in finding a solution, more soccer violence was reported Wednesday at a local high school championship game.
Police said two people were taken to the hospital after a clash broke out between fans armed with wooden bats and iron rods. Fourteen people were held on suspicion of involvement.
As shocking as this incident may be to some, violence and soccer have a long, complicated history—one that has been romanticized on the big screen (see Gary Oldman in The Firm and Elija Woods in Green Street Hooligans).
It even has its own term: Football Hooliganism.
This type of disorderly, violent, and destructive behavior is organized and usually involves conflict between rival gangs, known better as football firms.
While this sports-related violence can be officially traced back to 1880s England, the reasons why it crops up so often are harder to pinpoint.
A 2008 Liverpool Hope University study found that the some causes of hooliganism came down to identity, legitimacy, class status, and power.  It's also thought to reflect strong emotional ties to a team, which helps a supporter's sense of identity.
It should come as no surprise then that certain political ideologies—especially fascism—who look for disaffected youth and people would use sports and "firms" to push a political agenda while giving back a sense of identity.
In Greece, that political football firm is the Galazia Stratia ("Blue Army"), founded by members of the fascist Golden Dawn party.
Their first violent act came after a 1999 football match between Greece and Albania, when an Albanian supporter burned a Greek flag in the stands. The burning flag was widely broadcast by Greek media.
On the night of October 22, 1999, Pantelis Kazakos, a nationalist and Golden Dawn member, who was "insulted by the burning of the Greek flag," killed two people and wounded seven others during a shooting rampage in central Athens.
All victims were immigrants.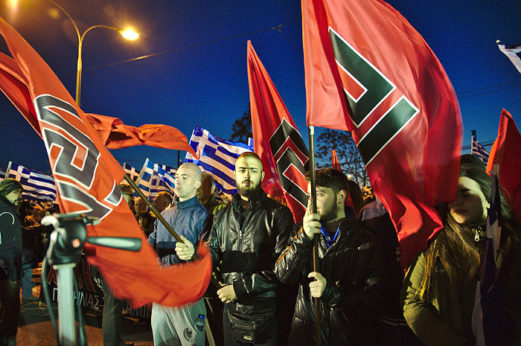 Kazakos' actions inspired fellow Golden Dawn members to form the firm in order to "to defend Greek national pride inside the stadiums."
Since its founding, the firm has been responsible for several incidents of sports-related violence.
In 2004, they attacked Albanian immigrants in the streets as they celebrated a 2-1 win against Greece, resulting in the murder of an Albanian in Zakynothos. In 2006, they assaulted Palestinian and Bangladeshi fans during celebrations after the Greek national basketball team's win at the FIBA World Championship.
So when it comes to Greek football, veteran sports commentator Dimitrios Malisiovas said it best:
"Since professional soccer started in 1979, the problem has always been there. Violence and corruption… It's a bit like the Greek national debt: Too hard to pay down. Or like Hercules in ancient mythology trying to cut the head off the monster, only to see another appear. But that's what we need to fix this problem, another Hercules. Someone who is fearless and determined."