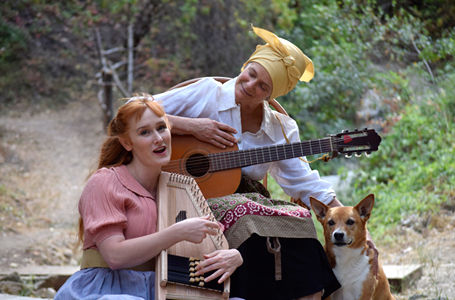 LOS ANGELES – This seems to be the stage and screen summer of "Oklahoma" – and all these productions set in what had been called "Indian Territory" have Native American connections. The recent LA Film Festival screened Sterlin Harjo's hard-hitting indigenous indie about homeless Natives in Tulsa. Les Blank's just released documentary about Leon Russell, A Poem is a Naked Person, was shot in the 1970s and includes traditionally garbed Natives performing. Will Geer's Theatricum Botanicum (WGTB) is presenting Tracey Letts' August: Osage County (see here for this critic's ruminations on the depiction of Osage's Cheyenne character portrayed by Jeanette Godoy).
As part of its current repertory season the Theatricum is also presenting the part-Cherokee playwright Lynn Riggs' 1931 classic Green Grow the Lilacs, wherein two of the townsfolk identify themselves as being one quarter Native. In any case, Lilacs inspired the fabled Rodgers and Hammerstein, who adapted Riggs' drama into a full-blown 1943 Broadway musical extravaganza, with Fred Zinnemann directing Hollywood's 1955 version of Oklahoma!, where "the corn is as high as an elephant's eye." (A production of the musical opened July 17 at Cabrillo Theatre in Thousand Oaks.)
The plot of Oklahoma! is similar to that of Lilacs, which incorporates folksy songs into the play, performed by a guitar-slinging Curly (Jeff Wiesen), Aunt Eller (Melora Marshall) and the ensemble. These standards include numbers such as the title song (from which Riggs presumably derived the name of his play) and "Skip to My Lou" – the tunes may be cornier than those elephant's eye stalks, but when theatergoers received their Playbills they were also given separate lyrics sheets and invited to sing along during the choruses. This, of course, enhanced a homey ambiance that served this play about ordinary people well.
Lilacs takes place around the turn of the last century, when Riggs was a boy, before Oklahoma joined the Union and was known as Indian Territory or Indian Country. The simple farm folk and story are drawn from Riggs' childhood – ironically, Riggs' sodbuster saga was largely written at Paris' famed café Les Deux Magots, his trip to France underwritten by a Guggenheim Fellowship. The Pulitzer Prize-nominated 1931 production was produced on Broadway by the Theatre Guild, which was part of the proletarian theater movement depicting the common man and woman, presenting works by playwrights such as leftist John Howard Lawson, as well as plays by Eugene O'Neill, bard par excellence of the heartbreaking family drama. Lilacs was directed by Herbert Biberman who, 20-odd years later as a blacklisted independent filmmaker, helmed another piece about ordinary people called Salt of the Earth.
Fun facts of the day: In the original Lilacs production Method Acting guru Lee Strasberg portrayed the Syrian Peddler (Zachary Davidson plays the part with comic panache in the WGTB production). On the Great White Way Tex Ritter sang four of Lilacs' songs as Cord Elam (Wendy Pigott plays a character named Cory Elam in the version by WGTB, which doesn't have reservations about switch hitting when it comes to gender or ethnicity). And Franchot Tone, who would co-star with Clark Gable and Charles Laughton in 1935's Oscar winning Mutiny on the Bounty, played the original Broadway production's Curly.
Many are familiar with the storyline of Oklahoma!, if not the original Lilacs. But allow this ink-stained wretch to render these observations: Sex (and the thwarting of it) is an important part of the plot. Laurey Williams (portrayed with aw-shucks aplomb by Willow Geer, who has incarnated many ingénue roles for WGTB over the years and is returning to the stage shortly after giving birth) spurns the advances of Jeeter (Fry, not Derek), a hired hand ignobly and savagely played by Steven Green. She then proceeds to pursue doing with Curly exactly what Jeeter had wanted to do with Laurey and had caused her such revulsion.
Interestingly enough, it is the repulsive Jeeter, the blue collar-less brute, who has the most class-conscious dialogue in Riggs' folk-poem, aware of the fact that he is looked down upon because he is a manual laborer with dirt under his nails who does not own land or property. As a sort of cowboy, Curly is a rung up the Indian Territory's social ladder, and along with his better looks, is more appealing to Laurey. So it's not a case so much of what is being sought as who is seeking it.
Laurey and Curly's troubled attempts to form their sexual union can be symbolic of the Indian Territory's transition upon joining the Union in 1907, becoming Oklahoma, the 46th state. The Green in the title may refer to the territorial status of a pre-statehood land not yet fully "mature" as one of the United States per se.
In any case, Riggs' play is a bit strange and doesn't actually have a denouement as such. But this production ambles amiably and dramatically along where appropriate in a folksy way that WGTB founder, mid-Westerner Will Geer, would likely have felt right at home with – especially as his TV alter ego, Grandpa Walton – and this Lilacs is quite enjoyable. Some ticket buyers will get a kick out of the sing-along portion in particular (follow the bouncing ball!).
Ado Annie is depicted with comic touches by Elizabeth Tobias. (In the musical Ado Annie is given a wonderfully witty song about being filled with sexual desire and promiscuity, "I Cain't Say No.") As is the Theatricum's wont, director Ellen Geer makes skillful use of the amphitheater's ample space amidst the great outdoors, and also deploys crowd scenes with multiple members of WGTB's troupe playing townsfolk. A standout among the ensemble is Devin Hollimon, a recent graduate of UCLA's school of Theater, Film and Television embarking upon her acting odyssey, who positively glows onstage, exuding joie de vivre. She is a delight to behold; casting directors should sit up and pay attention to this winsome young actor as she begins to tread the boards.
Which brings me to the marvelous Melora Marshall – who plays Laurey's guardian, Aunt Eller Murphy in Lilacs – an actress who never fails to drop your jaw and pop your eye. This chameleon-like thespian seems to cross genders, genres, ages and even species with the ease most mere mortals deploy when crossing the street. Melora is a shape shifter and gender bender of the first order. But seriously folks, is there any role Melora can't tackle and conquer? This Renaissance Woman could go from playing Lilacs to Shylocks. During this summer's repertory season, Melora's WGTB work includes one of the sisters in August: Osage County; a role somewhat similar to Aunt Eller as Maudie in Harper Lee's To Kill a Mockingbird; plus she is co-directing A Midsummer Night's Dream. For this critic's money, Melora Marshall is the most versatile actress on the L.A. theatre scene. Her Marshall Plan surely enriches the Angeleno stage.
Given that this seems to be the summer of the "Okies," I'd be remiss not to mention the Theatricum's other Oklahoma connection: That most famous "Okie" of them all, Dustbowl-refugee-turned-people's-balladeer Woody Guthrie, lived in a cabin on the grounds back in the day when he and Will Geer used their artistry to organize unions, agitating for working people's rights.
To find your way to Will Geer's Theatricum Botanicum, ensconced somewhere in Topanga Canyon north of Malibu, I suggest you use a treasure map. Because whether you see Lilacs or any/all of the other four shows being mounted in repertory, you are bound to discover unburied treasure – the jewels, gems and gold of L.A.'s stage.
Green Grow the Lilacs is playing in repertory through Sept. 26 at Will Geer's Theatricum Botanicum, 1419 N. Topanga Canyon Blvd., Topanga, Calif. 90290. For repertory schedule and other information call: (310) 455-3723 or see: www.Theatricum.com.
Photo: Willow Geer and Melora Marshall. Ian Flanders.