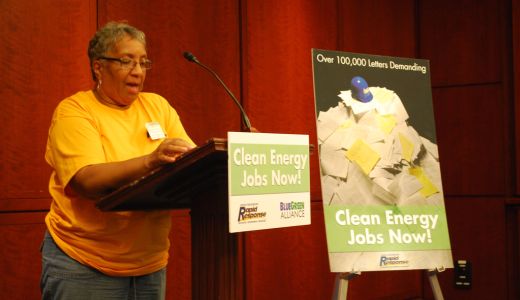 Steelworkers and environmentalists had a lot riding on the energy bill that was shelved last week.
Steelworkers union members had sent more than 100,000 letters to Congress urging "strong clean energy jobs legislation." Wilma Buckley, a USW member from Collierville, Tenn., said the energy bill was "an opportunity to make America a leader in building the components for the emerging clean energy economy."
USW Secretary-Treasurer Stan Johnson pointed out that "every wind turbine has 250 tons of steel and 8,000 parts. Solar panels, energy-efficient windows and numerous other clean energy products use glass, aluminum, steel, paper products and other materials."
But last Thursday Senate Majority Leader Harry Reid announced that the Senate's Democratic leadership was putting off action on comprehensive energy and climate legislation because they "didn't have the votes." The legislation, which would impose modest caps on greenhouse gas emissions, came up against an army of oil and coal industry lobbyists and a wall of opposition from Senate Republicans, joined by some Democrats, particularly from coal states.
Senate leaders are not expected to take up the bill again this year.
Instead, the Obama administration will move ahead on using its regulatory powers to curb emissions under the Clean Air Act.
For example, the Environmental Protection Agency has said it will begin to issue curbs on power plants and factories next January.
After the announcement that the bill was being pulled back, David Foster, executive director of the labor-environmental BlueGreen Alliance, said in a statement, "As China speeds ahead in the race for clean energy, the opportunity to create millions of clean energy jobs in America is stalled due to obstruction by Senate Republicans."
"America has been put on the sidelines as the rest of the world leads the transition to a clean energy economy and reaps the jobs that come with it – jobs that could and should be American jobs," Foster said.
League of Conservation Voters President Gene Karpinski called the shelving of the bill "disheartening." In a message to the group's members, Karpinski noted that the House had passed the "landmark" American Clean Energy and Security Act last year, and the hope was that the Senate would pass a companion measure. "It's deeply disappointing," he said, "that Big Oil, Dirty Coal and their allies in the Senate, led by the Republican leadership, continue to stand in the way of creating a clean energy economy that creates jobs, makes America more energy independent and protects the planet." He said environmentalists will continue the fight for clean energy legislation, and for the federal government to use the tools it already has to reduce emissions and clean up our air.
Karpinski also said it's clear that the November elections will be critical for ensuring clean energy supporters in the House are re-elected, and sending "new pro-environment champions to the Senate."
The Washington Post, in an editorial last week backing strong EPA action in the absence of federal legislation, noted that the regulatory process will be "messier" than legislation, involving case by case review of polluting sources, complicated lawsuits and "high risk that regulations will change from president to president."
For those very reasons, some industry groups have supported energy legislation. They include many of the nation's utility companies. Utilities like Duke Energy and Exelon say legislation would provide a predictable operating framework for them to invest and expand their operations. "There's a lot of capital sitting on the sidelines just waiting for more regulatory clarity," Lewis Hay, CEO of Juno-Beach, Florida-based NextEra Energy Inc., told Bloomberg News.
That capital investment would spur jobs, Foster noted.
"Comprehensive clean energy and climate change legislation will spark the creation and preservation of millions of jobs, jumpstart whole new industries, and establish the U.S. as a global leader in the production of clean energy technologies," he said.
Photo: At a Capitol Hill press event, Wilma Buckley, Steelworkers Local 7655 Rapid Response Coordinator, reads one of several thousand letters she collected from USW members employed at Carrier Corp., Collierville, Tenn., urging action on "clean energy jobs legislation." (BlueGreen Alliance)